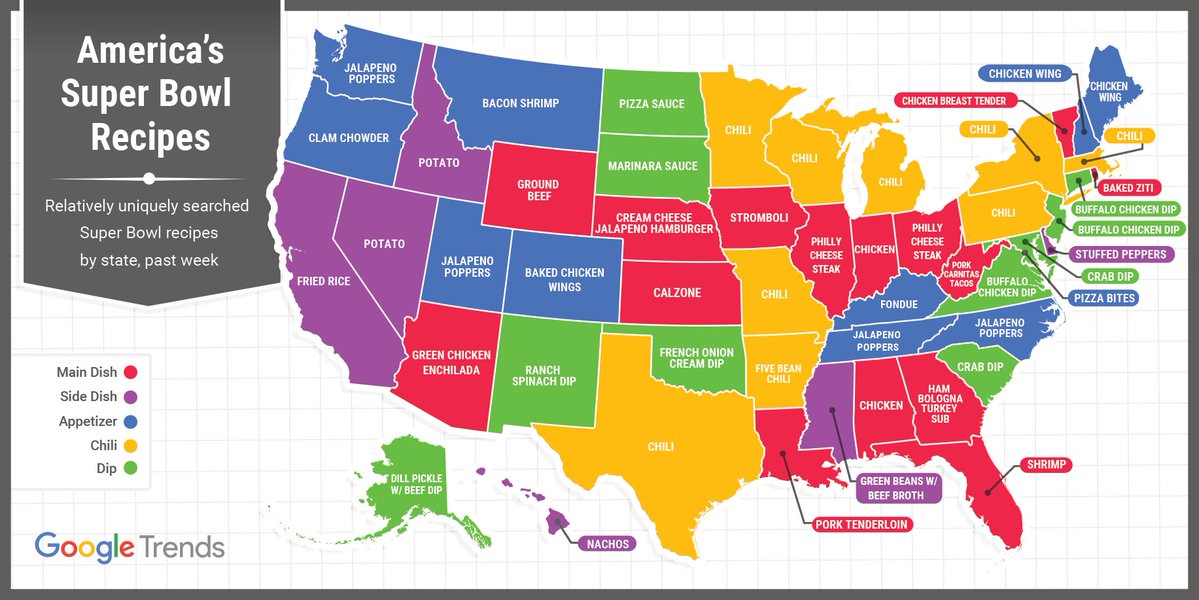 Local government and football go hand and hand?!?! Of course, they do. Local government plays a role in everything that we do. Below are examples of how local government crosses paths with football. ELGL co-founder Kent Wyatt will update this post throughout the weekend.
---
Let Us Break Bread Together…
America unites around food this afternoon. I am puzzled by Oregon's food selection and I can assure you that I will not be dining on clam chowder.

---
Two More Reasons….
that I have no desire to attend the Super Bowl (unless you pay for my airfare, hotel, and tickets).

---
It's About to Get Weird…
Cisco was unsuccessful so the Philly Police Department is kicking it up a notch.
Philly Police Are Now Trying Gear Oil to Keep Eagles Fans From Climbing Street Poles
The police are planning to use gear oil—the type a mechanic uses to keep your transmission running smoothly—to thwart any would-be pole climbers after the Super Bowl on Sunday, according to Fox 29 in Philadelphia.
Philly is greasing up the poles with some concoction of "motor oil." #SuperBowlLll #SuperBowlSunday pic.twitter.com/BhupO4YgOC

— Tyler Greenawalt (@TyGreen14) February 4, 2018
---
"Philadelphia Born and Raised…"
Thomas Brady, WaWa, could both teams lose and more…. Saturday Night Live nailed it…
"It's always lovely to hear another story about Thomas Brady."


---
Rewind…
I can't watch and NFL game without thinking about the Vikings old stadium, The Metrodome. The finest moment in Metrodome occured not during a football game but doing a snow storm.
Metrodome Collapses In Minnesota in HD picture
---
Welcome to Minneapolis (Unless You Are an Eagles Fan)
The Minneapolis Mayor has a hot take for those visiting his city for the Super Bowl.
Minneapolis mayor Jacob Frey can't stand welcoming Eagles fans
"For the Eagles fans, don't worry, we're going to be greasing all the lamp posts, so you will feel right at home," Frey adds in a playful jab to a tactic the city of Philadelphia has used to try to keep unruly fans from climbing them.

---
Debbie Downer…
Journalism is not dead. A number of thought-provoking pieces have been written surrounding the NFL, CTE, and domestic violence.
The search for Jackie Wallace
I couldn't have been more startled if he had been an alligator. His bed was overlaid with cardboard and tucked into a cleft of piers and brush. He was covered in a sheet of thick, clear plastic. His head rested on a wadded yellow jacket, also wrapped in plastic. Alongside the bed lay two discarded automotive floor mats, a five-gallon bucket for bathing, a pair of neatly-arranged sneakers, a clean set of clothes, a jug of water and a carefully folded copy of The Times-Picayune. He slept in the fetal position in only his briefs and undershirt.
---
I'm the Wife of a Former NFL Player
My husband, Rob Kelly, is a retired N.F.L. player. After five seasons as a safety beginning in the late 1990s, four with the New Orleans Saints and one with the New England Patriots, he sustained an injury to a nerve between his neck and shoulder during training camp that ended his career.
---
That's My Dog…
I don't have a "dog" in the fight in today's Super Bowl. I'm fine with a power outage that cancels the game. You can't possibly root for the Patriots and the Eagles fan base can be difficult. I give a slight H/T to the Eagles communications squad. Their social media is on point and their pump up videos get the blood flowing.
But the Eagles and Patriots have nothing on the Puppy Bowl. My friends at CBS Sunday Morning provided this insightful look into the greatness of the Puppy Bowl.
---
Don't Know Anything About Football….
Neither do these Jeopardy contests.

---
This Is How They Do It….
in Minneapolis.

---
Remember the Titans

Only Traeger Award winner Matt Horn could find a local government angle to Remember the Titans. Matt writes about the management skills that we can learn from Coach Herman Boone.
Real Characters: Coach Herman Boone, Remember the Titans
For the uninitiated, Coach Herman Boone (the real and the Hollywood-embellished) led the first racially integrated high school football team in the Washington, D.C. region to a Virginia state championship. Along the way, he battled lots of forces we experience in public management–internal strife among his team, a community divided over cultural differences, and an impatient cadre of leadership, ready to change course at the first sign of adversity. Coach Boone ultimately navigated these rough waters, but not without having to learn a few things along the way. In the end, he became a better leader for it. Good enough to be a City Manager?
---
Jordan Gilgenbach, ELGL member & Media Relations Coordinator at the City of Minneapolis, is working in the Joint Information Center. The Joint Information Center (JIC), located within the City of Minneapolis, will be responsible for managing public information and media requests for all public agency information requests related to the events, including but not limited to transit, transportation and public safety.
Stay tuned for a future GovLove episode on this unique partnership between multiple government agencies.
---
Hi, we're @mnsbjic. We're a team of local, state and federal PIOs that coordinate to get the right information to the right people at the right time. pic.twitter.com/aGBgBBprbV

— Minnesota Super Bowl Joint Information Center (@mnsbjic) February 2, 2018
---
Traffic control agents are out during #SuperBowl events to help ease traffic and keep event-goers safe. Coming downtown? Check out the @MNSuperBowl2018's website at https://t.co/3UeGPiXToI and @MetroTransitMN's website at https://t.co/OJ1LGcxSfH and know before you go. pic.twitter.com/6EQPI6Lwih

— City of Minneapolis (@CityMinneapolis) January 28, 2018
Minneapolis Public Works has helped make the festivities on Nicollet Mall safer and more enjoyable for the thousands of people attending. #SuperBowl pic.twitter.com/8CUF4xdhQF

— City of Minneapolis (@CityMinneapolis) February 3, 2018
---
Like Father, Like Son?
Not so much with Tom and Connor Barwin. Tom is the city manager of Sarasota, Florida while his son Connor is a star player in the NFL. Both appear in this ESPN feature which documents Connor's upbringing.
Tom and Connor will be recording a GovLove episode in April.