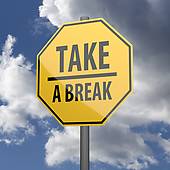 ---
What I'm Reading – US Census 2020 LUCA FAQ
What I'm Doing – Preparing for a City Council meeting and thinking ahead to Thursday
---
When I started my time as Acting City Administrator, one of the first things that I did was pick up the phone and call a couple of people I really admire in the profession who are serving or have served as Acting City Administrator.  One of them in particular was kind enough to share her "Top 10" list of rules for a successful Acting stint.  Her final rule, and arguably her most important rule, was to make time to take care of yourself- go to the gym, get out of the office, go on a vacation.  The point hit close to home for me- I'm one of those people who seems to find themselves always at the vacation cap or being forced to use vacation buyback so as not to lose benefit time.
Being a planning type of person, I immediately sat down and made up a short list of dates that I wanted to be away from the office- all of them 3 or 4 day weekends to attend weddings in other cities, see friends, or go somewhere I want to go.  One trip I made sure to get onto my calendar this year is my annual pilgrimage to GenCon in Indianapolis.  3 of the last 4 years my group of friends and I have taken off of work and hit the road to Indy for the greatest gaming event known to man.  The sheer number of events and vendors is so vast that planning your time feels like work- thousands of events to be reviewed, discussed, narrowed, and scheduled.  Yet the end result is a 4 day period that you reminisce about right up until next year's convention.
Taking time for myself is not a skill that has always come easily to me- I've talked about going to Europe again or taking a big trip out to CA/OR/WA for years now and never seem to find the time or the resources to make it happen.   I've certainly been burned out and frustrated before- both at situations and myself for not taking more time away from work- so these little trips in the next few months feel like real treats.  Sure I'll barely make a dent in my vacation bank, but at least its a start.
See you later this week in Indianapolis!