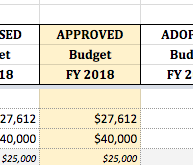 Yesterday, the ELGL Finance Committee reviewed and made tentative plans to approve a fiscal year 2018 budget.  Their meeting is on Tuesday, June 20 at noon PDT at http://AnyMeeting.com/ELGL50 and it will also be recorded for electronic minutes. Please feel free to log on and listen in to their discussions and vote on the approved budget.
Notable items:
The Finance Committee requested past years membership data; this spreadsheet is included in the workbook now.
The Finance Committee requested a new way to refer to resources not yet identified (previously, in the proposed budget, I tentatively tagged them as coming from foundations or granting organizations).
Similarly, the Finance Committee wanted to call out the Executive Director's salary is $40,000/year, with the potential to increase that based on available resources.
They also had ideas for better highlighting and selling sponsorship opportunities and a small workgroup will work with the board to develop these materials.
And, the Finance Committee specifically budgeted $2,o00 in FY18 for Supper Clubs, increasing the approved budget by the same amount over the proposed budget.
Heading into FY18, the Executive Director will provide monthly financial statements to the Finance Committee, and the Finance Committee will meet quarterly to discuss financial status and work on special projects.