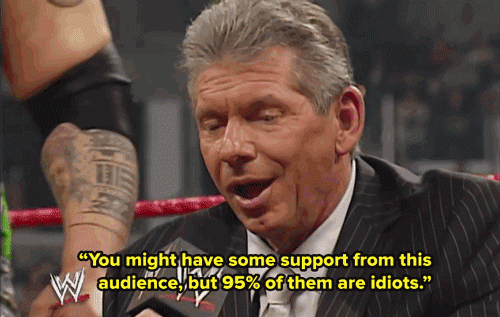 Kent Wyatt (LinkedIn and Twitter) returns with a running blog of all things relevant and irrelevant from the month of June. ELGL is no way endorses anything Mr. Wyatt writes, thinks, or sings.
Catch up on what you missed in April, May, and June.
July 25
Rubbin' Is Racin'
Tom Wolfe is one of my favorite writers. I have read most of his books – Bonfire of the Vanities, A Man in Full, I Am Charlotte Simmons. The magic of Twitter connected me with one of his most famous articles,"The Last American Hero Is Junior Johnson. Yes!" Esquire, March 1965. It's a worthy read and a reminder of the incredible storytellers from the 60's.

One Liners
Landlines vs. cellphones for surveys.
ADA turns 25.
A new Cat in the Hat.
Price of pot.
Uber Heads to the Hampton.

The Donald
I can't lie. I am following Donald Trump on Twitter. He earned my follow when he posted this gem.
.@ScottWalker despite your coming to my office to give me an award, your very dumb fundraiser hit me very hard— not smart!

— Donald J. Trump (@realDonaldTrump) July 25, 2015

Is this the next President of the United States?

 
Double Secret Job Posting
Portland City Auditor's Independent Police Review is Hiring an Investigator – Position officially opens July 27th. H/T to David Nyugen for 4-1-1.
The Complaint Investigator position in the City Auditor's Independent Police Review (IPR) is responsible for independently investigating complaints made by community members against the Portland Police Bureau. IPR is charged with civilian oversight of the Police Bureau and is located in the Auditor's Office to ensure its independence. Duties include initial complaint processing, intake interviews to establish the basis of an allegation, designing and conducting investigations, and analyzing applicable precedents and policies. The Complaint Investigator meets with members of the public, witnesses, police officials, and others and is expected to carry out duties and responsibilities with initiative, independence, and creativity while exercising sound professional judgment and problem-solving skills. A background in law enforcement or criminal defense investigation is preferred, but not required.
As a part of promoting an open and accountable government, the Auditor's Office values a diverse workforce and seeks ways to foster a culture of equity, diversity and inclusion in the bureau's public services and everyday interactions in the workplace. The Office encourages candidates with knowledge, ability and experience working with a broad range of individuals and diverse communities to apply.
This is a pre- announcement, the positon will officially open on July 27th at the this website www.portlandoregon.gov/jobs
For information about the hiring process, please contact BHR Allen Messer at [email protected]. For questions about the position, please contact IPR  [email protected]
July 22
Upcoming ELGL Articles
A review of engagement analytics by Monica Thompson, City of Reno, NV. Preview.
Who is the voice of your city? By Chris Floore, Macon-Bibb County, GA
The Door to Innovation Swings Open by Bobbi Nance, Park District of Oak Park, IL

Seize the Day (But Be Careful)
Drag Racin' a Nissan Stanza
Enough of your council cookouts, coffee with cops, or Twittersations with your city manager, Sonoma County created the ultimate community engagement activity. Area teenagers can drag race against a police officer in an actual police vehicle on an actual race track. I hate car racing but I would have loved to race my 1992 Nissan Stanza against a police vehicle when I was in high school. This well-written article describes the outreach effort which must be a risk manager's nightmare.
Bo' Better
If you haven't eaten at Bojangles' your life is not complete. Unfortunately, Bojangles' has not migrated to the West Coast. Since moving to Portland in 2007, I have been deprived of Bo' Berry biscuits, seasoned fries, and fried chicken. I have eaten at each Portland restaurant that claims to have the best Southern food on the West Coast. Each is equally disappointing. I bring this up because I miss Bojangles' and want you to feel sorry for me. I also bring it up because of this news story –  AT BOJANGLES' DRIVE-THRU IN VIRGINIA, MAN FINDS $4,500 IN HIS BOX OF CHICKEN. So, if any of our loyal East Coast members want to ship me a tailgate box from Bojangles', I will gladly accept and not share with any of my so-called family.
One-Liners
Every Major City's Actual Favorite Song, According to Spotify. (Side note: here is an article on the six stages of a Pitbull song.)   Japan throws away $2 billion.     Twitter is not dead.     A drunk, shirtless air traffic controller…another reason to avoid flying.     City employees told to stop talking.     Bring your flip phone to work.     Here's an article that Kirsten told me that I had to read. (Note: Can someone send me a short write up and talking points on the article, preferably in the next hour.)  
July 16
What I Am Reading
Ghettoside: A True Story of Murder in America
What I Am Watching
7 Days in Hell: HBO's tennis mockumentary is a grand slam
Local Government Fashion
If you subscribe to dressing nice at work, ELGL member Carrie Ann Taylor has created a Pinterest board with some of her favorite fashions. If you don't subscribe to presenting yourself in a positive manner, continue wearing your flip-flops, sweatpants, jorts, and fanny packs. Speaking of fanny packs, this poor fashion choice is becoming a trend among NFL quarterbacks. I blame Jay Cutler.
One-Liners
July 11
RIP Raccoon
  A dead raccoon is the newest internet phenomenon and hottest discussion topic on the ELGL Facebook group. Gail Sumi brought us the latest update via her Twitter feed.
This guy's timing is great! #RIPConrad #DeadRaccoonTO pic.twitter.com/y6TXUF72Ap — Adam Stiles (@AdamStilesCITY) July 10, 2015
 The episode highlights the need for cities to response quickly to the citizen complaints, or risk becoming the next City of Toronto. It also highlights that raccoons are people too. The question remains — will they apprehend the violent criminal who committed this act.    
One-Liners
Firefighters don't fight fires. Why is Charles Shaw so cheap? Uber for weed. Map of police homicides in the U.S. by state since 2000.
Live from Columbia, SC
Carmen Mays was on-scene when the Confederate flag came down yesterday. She took this short video of the proceeding.
@ELGL50 Here's the short video #AGoodDayInSC #FurledForever pic.twitter.com/Df3n30NaX5 — Carmen Mays, MPA (@CarmenMaysMPA) July 10, 2015
Pic of the Day
Serena rockin' her new trophy.

I Love Density Maps
…and so will you after checking out this visual.

July 6
One or Two

This Washington Post chat attempts to answer how many spaces should be used after a sentence.
Q. What's the rule now on spaces after a period/sentence ending punctuation? When I was in school a decade ago, it was always 2 spaces, but it doesn't seem like folks still abide by that as much. While we're at it, what was the point of 2 spaces too?
A. The theory, which may have been debunked, goes that double spacing was a typewriter convention. Typewriters had monospaced fonts, and the extra spaces made copy easier to read. Now we use proportional fonts. Whether that's right or not, one space is definitely the way to go today.
Unplugged
This is why I could never make it at summer camp, not to mention the lack of AC, comfort, and Netflix.
One Liners
iPhone 6 injures NBA player.
There's a lot of gambling in tennis.
Nike vs. New Balance.
In a van down by the river….a Chris Farley documentary is set for release.
The fascinating world of office space.
Who Deleted Me? tells you whether you've been unfriended on Facebook.

"Interesting" City Logo

Hat tip to Amanda Thomas for sending along this sad but true news item – Upstate New York Mayor Denies Town's Obviously Racist Official Seal Is Racist.

July 5
Until Next Year
You can put away your miniature USA flags until next year or you can break them out for the World Cup Final between the U.S of A and China. Read all about it — The United States women are winning the World Cup. Middle fingers up to the world.

Likes, Follows, Pins, Vine, and More
Population Growth in a GIF
Mapping the growth of the U.S of A.

July 3
You Ain't Go No Job….
Courtesy of one of the greatest movies ever.


One Liners
Charleston mayor keeps the city together.
Vermont is quirky about its roads.
When to post on Facebook.
How Miami Fought Gentrification and Won (for Now)

Jobs, Jobs, Jobs
Several new job postings have been added to our weekly list. You can add yours by sending the posting to [email protected].

Join the GIF Off

The response to Gail Sumi, League of Wisconsin Municipalities, joining ELGL has been to launch a GIF off. We encourage you to waste your holiday weekend by tweeting your best GIF.
We're changing 'Murica on GIF at a time.

July 2 
Happy 4th of July Weekend
Reading Aloud
I struggled with writing during graduate school. I spent many hours in the Writing Center which did little for my writing self-esteem. Looking back, the Writing Center was one of the most beneficial experiences of graduate school. I learned about the reading aloud approach to writing. Russell Bither-Terry shared an article on the approach. The two minute demo is worth your time.
#WeBuiltThisCity
More evidence that our nation's roads are a mess. Please tell me that you don't live in DC.


One-Liners
Tase your favorite city official.
Nominations sought for Gladfelter public service innovation awards.
#AskBobbyJindal or maybe don't.
Congress stops drinking (a little).
Feminism strikes in baseball.

July 1
First of the Month
If it's the first day of the month, we're playing this.


You've Got Mail
Regardless of your political affiliation, you have to love the newly released emails from Hillary Clinton. Below Hillary attempts to operate a fax machine.
 
One-Liners
Another reason to attend #ELGL15…..the food according to the Washington Post.
26 million people changed their Facebook profile picture.
Retirement home meets day care.
50 years of Phil Knight.
Back in the day….top albums from the 80's and 90's. Dookie, anyone?
Here's why you stick out your tongue.

Lifetime Membership to ELGL
Take our survey on diversity in the local government workforce and you will be entered for a chance to become the second ever lifetime member of ELGL. Happy, happy, joy, joy….