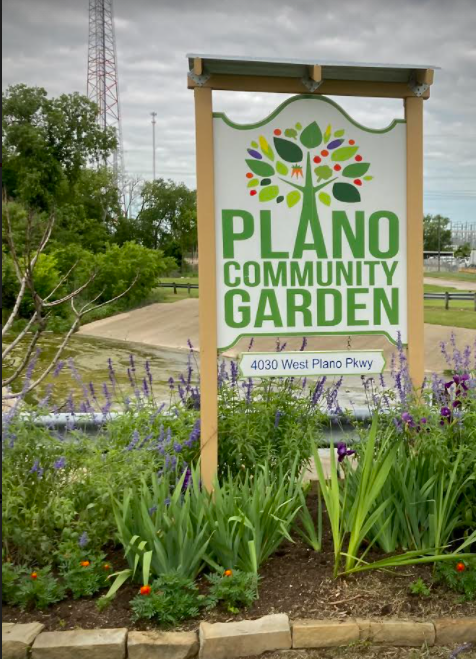 Today's Morning Buzz is by Rebecca Cormier, ELGL member, govtech enthusiast, and environmental advocate. Connect on Twitter and LinkedIn
---
---
About 2 months into the Covid Shutdown of 2020 in Plano, Texas, a craving to get outdoors, in nature, started to consume my mind. This was largely since the weather was gorgeous, as most North Texas Spring months are, and even though I could go outside and walk around, I was tired of seeing the same things every day and felt a disconnect from nature. Working at home, distancing from friends and family, and fears of what was to come in this new pandemic, started to take its toll. At this same time, I happened to learn that the city of Plano had a community garden. Sadly, I was unable to participate at the time due to a lack of knowledge on gardening, since those who could help were forced to distance, but it did pique my interest. Since then, I have learned that community gardens help us connect with and appreciate nature, improve our environment, and offer many social benefits. I wish I had discovered this concept long ago, as it may be one of the great, under-appreciated assets of our cities by many members of the community and I hope this article inspires others to learn more and get involved.
Connect with Nature
"In the Spring, at the end of the day, you should smell like dirt" -Margaret Atwood
There is something deeply satisfying about seeing a plant grow from a seed, especially if it grows into food, and something freeing and childlike to work in the dirt, given the right weather conditions, of course. Simon Worrall published an article in National Geographic, titled, "We are Wired to be Outside", in which he explains that our immune cells, or natural killer cells, which fight cancer, increase in forests." He goes on to explain, "science is showing that when we spend time in those spaces [outdoors], it can be tremendously helpful for our sense of self, for problem solving, social bonding, and rites of passage."
Seth J. Gillihan, PhD, tells us in his Psychology Today article, Why are Gardens are so Good for the Soul, Seven Ways of Finding Comfort and Healing in Gardens, "The honesty we find in a garden encourages our own honesty and authenticity…gardens can aid in the physical, mental, and emotional healing, in a myriad of ways" Community gardens are a means for anyone who desires to learn how to cultivate their own small patch of land, while spending time in nature. Many community gardens offer educational opportunities for local schools and organizations, allowing children the opportunity to learn about and develop an appreciation for gardening, nature, and the environment while enjoying the outdoors, too. If you live in an urban area, these gardens offer an excellent retreat from the hustle and bustle of the city and give you a moment to slow down and be at one with your surroundings.
Positive Environmental Impacts
"The garden suggests there might be a place where we can meet nature halfway" – Michael Pollan
Well designed community gardens are not only a great way to reconnect with nature, but they offer environmentally sustainable benefits, too. Brad Plumer writes in a Vox article, "The Real Value of Urban Farming. (Hint: It's not always the food)", that urban gardens "can help filter out local air pollution in the summertime and retain precipitation." Through retaining precipitation, these gardens aid in preventing run-off, which is responsible for polluting our streams and lakes, and ultimately, our water sources. Plumer further adds, "When designed well, urban gardens can provide valuable habitats for wild bees and other pollinators."
According to Aurora University's publication, "Plants and Policies: How Urban Farming is transforming Cities", researchers in the City of Phoenix's Cool Urban Spaces Report identified how urban agriculture can help with extreme heat and elaborates, "tree coverage and replacing paved and dirt surfaces with vegetation can significantly ease cooling needs." As a significant part of the United States, including Texas and the West Coast, recently experienced some of the most extreme heat in modern history, solutions like urban farms and community gardens, while not fixing the problem, will offer some relief.
Oftentimes, these gardens also reduce waste through compost programs and offer classes on how to create your own compost. CalRecycle, part of the California Environmental Protection Agency, states, "community gardens can process organic waste through onsite compost operations. Composting organic waste reduces emissions of methane, a greenhouse gas 25 times more potent than carbon dioxide, by preventing organic waste decomposition in landfills"
Social Benefits
"We can begin by doing small things at the local level, like planting community gardens or looking out for our neighbors. That is how change takes place in living systems, not from above but from within, from many local actions occurring simultaneously" – Grace Lee Boggs
In addition to environmental and personal health benefits, many cities offer examples of how they use community gardens to improve society and help those in need. The community garden in the city I live in, Plano, Texas, partners with the Junior League of Collin County and local food pantries to donate a large portion of produce to those in need. Other communities plant gardens in areas where access to healthy food is difficult and grocery stores are scarce, enabling residents to have access to healthier options in a vicinity within walking distance from home. According to research from Lamar University's Gardening Matters publication, Multiple Benefits of Community Gardening, "Community garden programs provide employment, education, and entrepreneurship opportunities for a wide variety of people, including students, recent immigrants, and homeless people."
One of my favorite examples of the benefits a community garden could have on society is from Our School at Blair Grocery, developed by Nat Turner, in New Orleans, Louisiana. Our School at Blair Grocery is a Charter School that teaches the students, in addition to the standard curriculum, how to farm while enabling them to benefit financially from the produce sold. Students not only learn lessons like English and History, but they learn a trade, and are involved in the growth of the school and farm. In the documentary, Growing Cities, Nat Turner explains that, when expanding the farm, he was able to teach his students about government processes and zoning, involving them in the process. The Aurora University publication, "Plants and Policies: How Urban Farming is Transforming Cities", further states how these community gardens and urban farms, "can bridge the gap between people of different cultures, genders, ages, races/ethnicities, and socioeconomic classes…the result is enough to strengthen residents' pride and lead to reduced crime rates".
To sum up, understanding the personal, environmental, and societal benefits from community gardens has helped me gain more appreciation for, and actively pursue involvement in, the city I reside. I encourage you to find out if your city has a local garden or urban farm that accepts volunteers and get involved. By doing so, you will not only be part of strengthening your community and environment, but you may also notice your wellbeing improve. If your community lacks a garden, maybe you can be the one to help get it started!
To learn more about the impacts of community gardening and urban farming, check out these documentaries: Growing Cities and Urban Roots, both streaming on Amazon Prime or Kanopy (free with many city library memberships).