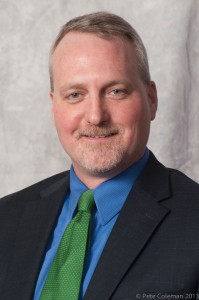 ---
Tom Carroll

Village Manager, Village of Silverton, OH
---
What was the very first paying job you held (that you paid taxes on)? 
Head Maintenance Engineer (i.e. janitor) for a doctors' office
What was your: undergraduate institution? Graduate institution? What was/were your degree(s) in? 
University of Virginia, Indiana University History (BA), Sociology (MA), and City Management (MPA)
What class(es) (if any) are applicable to your job today? 
All classes taught me something (even calculus!). All of us rely on a lifetime of education, and no class is without value.
Do you have a work or life motto? What is it? 
Yes, from a bumper sticker. "Drive it like you stole it." I feel I should explain this though. In life and city management, we are only here for a short time, and there is not enough time to be timid. Our organizations are not "ours"; we don't own them, but we are merely stewards for a period of time. But we must push them forward with urgency.
What book are you currently reading? Would you recommend it? 
Last Hope Island. I recommend it highly.
Other than ELGL – do you belong to any other professional associations? Which one(s)? 
ICMA, OCMA, the Cincinnati Area Management Association (CAMA), the Ohio Woodturners Guild
What's the best networking advice for job seekers you've heard or shared? 
I used to think networking was sort of self-serving, self-promoting. I frowned on it personally and was reluctant to do it. But I was mistaken. Networking is about seeing what you can learn from others and seeing what you can give to others.
What's the fastest way to NOT get a job or internship with you? (e.g. what should potential applicants avoid doing if they were to ever interview with you for a position). 
Always remember that the hiring authority is less interested in what this job or internship will do for you, but they are very interested in what you can do for the organization. Your objective is to show the hiring authority that you will make their jobs easier. I can look bad at my job all by myself, and I don't seek your help in looking bad. Rather, your job is to make me (through your hard work) look good. Reframe the application to show what you can do for the hiring authority.
Why should an undergraduate student consider a career working in local government?
It is extremely rewarding to be a catalyst for change. You will see overtime how the trajectory of a community is altered because of your efforts, actions, and policy implementation. It is tangible. And as a city manager or senior staff member who is a generalist, you work on a wide range of issues and projects. No two years are the same, and skills continue to grow and evolve. I would definitely do it all over again!
---