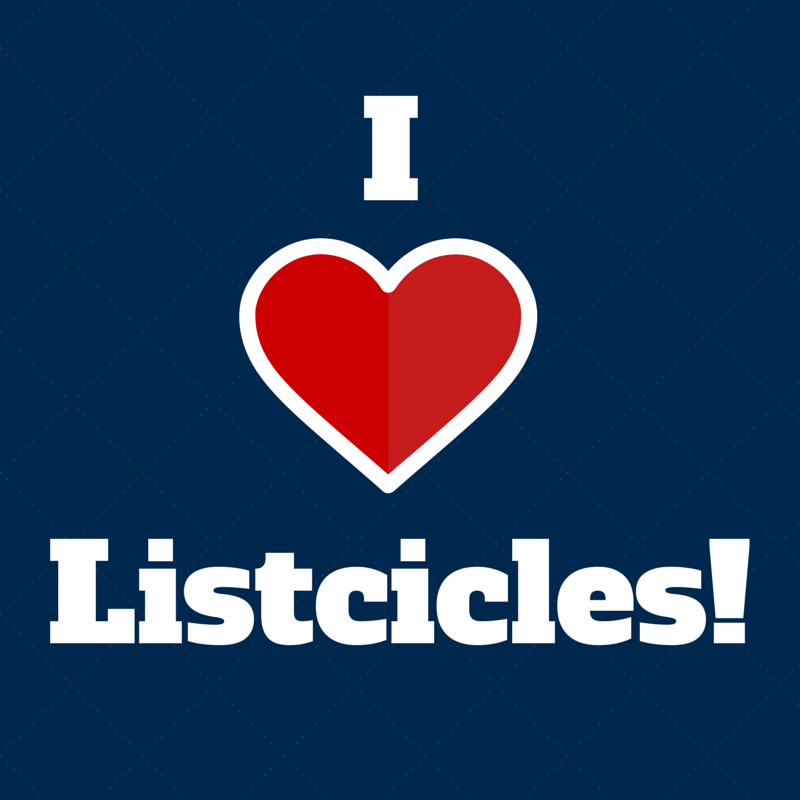 [vc_row full_width="" parallax="" parallax_image=""][vc_column width="1/1″][vc_column_text]
Hello, my name is Kirsten Wyatt and I love listcicles.
Now, I know that there are plenty of people out there who think that listcicles are pointless and facile and are contributing to the dumbing down of America, but I'm a fan and I'm not afraid to admit it. So, each week I'll be developing a listcicle for ELGL, focusing on relevant (and sometimes not so relevant) local government, public service, and communications topics.  Have an idea for a future ELGL listcicle? Email me your ideas!
Top Four Podcasts
I've become a huge podcast listener in the past year and I typically start my day with one or two while I am getting ready for work.  Not only does a well crafted podcast share important and relevant information, it also drowns out the sound of my kids fighting over My Little Ponies.[/vc_column_text][/vc_column][/vc_row][vc_row full_width="" parallax="" parallax_image=""][vc_column width="1/2″][vc_single_image image="225771″ border_color="grey" img_link_large="" img_link_target="_self" img_size="250×250″ alignment="center"][vc_column_text]
Naturally this is my top pick.  As you've read, ELGL is partnering with SeeClickFix to produce a weekly podcast on local government topics. Our plan is to produce and publish every Friday so you can listen and learn over the weekend. We have some exciting topics planned for the coming weeks, ranging from #13Percent, to new leadership styles, to innovative budgeting and citizen engagement techniques.  Plus, nerdy-cool theme music and the smoove vocal stylings of Ben Kittelson, Caroline Smith, and me.[/vc_column_text][/vc_column][vc_column width="1/2″][vc_single_image image="225773″ border_color="grey" img_link_large="" img_link_target="_self" img_size="250×250″ alignment="center"][vc_column_text]
This is my first listen in the morning.  Succinct and timely headlines and stories so I can quickly get up to speed on the news while I brush my teeth.  It updates hourly, and so it's a great way to get breaking news throughout your day, too.  I suppose you could argue that like listcicles, listening to news summaries is a watered down version of consuming real news, but I think NPR does a nice job of giving enough substance so you know what's going on in the world.[/vc_column_text][/vc_column][/vc_row][vc_row full_width="" parallax="" parallax_image=""][vc_column width="1/2″][vc_single_image image="225775″ border_color="grey" img_link_large="" img_link_target="_self" img_size="250×250″ alignment="center"][vc_column_text]
This podcast makes me LOL and I am eternally grateful to ELGL Superstar Bridget Doyle for introducing me to Ann and Aminatou.  Described as "a podcast for long distance besties everywhere," Ann and Aminatou talk about everything under the sun with wit, intelligence, and candor.  For example, here's the description of their latest show: "We answer listener questions about going braless, making it as a writer, how much we love Stanley Tucci and his polka dot apron, and a listener calls us out on how we talk about periods. Plus, an update on how white people are using diverse emoji and how to deal with an office frenemy."  A quick warning – they talk about diva cups all the time and this will probably freak most men out.[/vc_column_text][/vc_column][vc_column width="1/2″][vc_single_image image="225777″ border_color="grey" img_link_large="" img_link_target="_self" img_size="250×250″ alignment="center"][vc_column_text]
The production quality on this podcast is incredible.  RadioLab combines stories and music to talk about somewhat obscure science topics that are fascinating.  Listen to the "Eye in the Sky" and the "Fu-Go" episodes and you'll be hooked, I promise.  If you're new to the podcast world, I suggest adding to your subscription a podcast that introduces you to topics you wouldn't normally read about.  RadioLab is that podcast for me.[/vc_column_text][/vc_column][/vc_row]