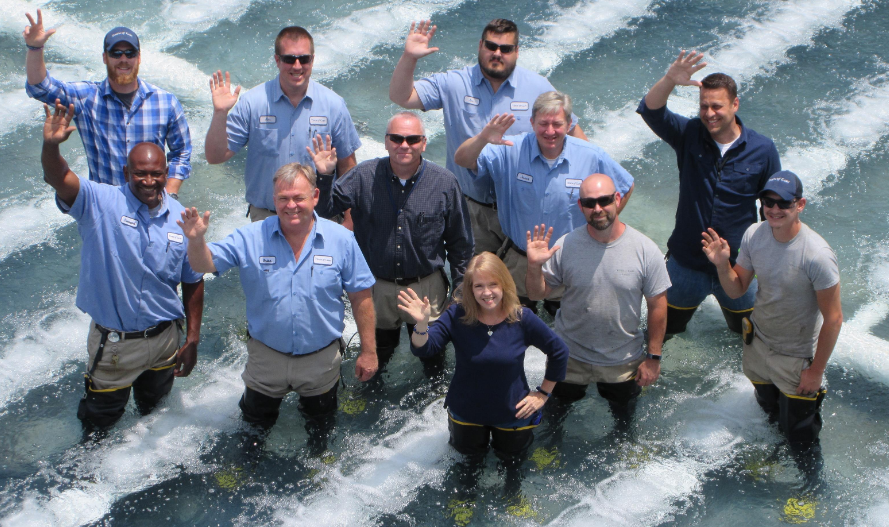 This guest blog is brought to you by one of our finalists for the 2019 Meagle Award, the Town of Cary, North Carolina! The Meagle Award recognizes the best places to work in local government.
---
Your first trip to Disney World. Your first car. Your first kiss — powerful experiences are memorable, and, at the Town of Cary, our goal for new employees is to craft yet another remarkable experience.
Welcome the Best
We seized the opportunity to reimagine our entire onboarding process — from the moment we select our preferred applicant to the end of the probationary period, which lasts one year. While orientation is just one piece of this yearlong experience, it's a milestone moment in an employee's career, and we wanted to create an orientation experience that would leave our new colleagues feeling supported, valued, energized and motivated.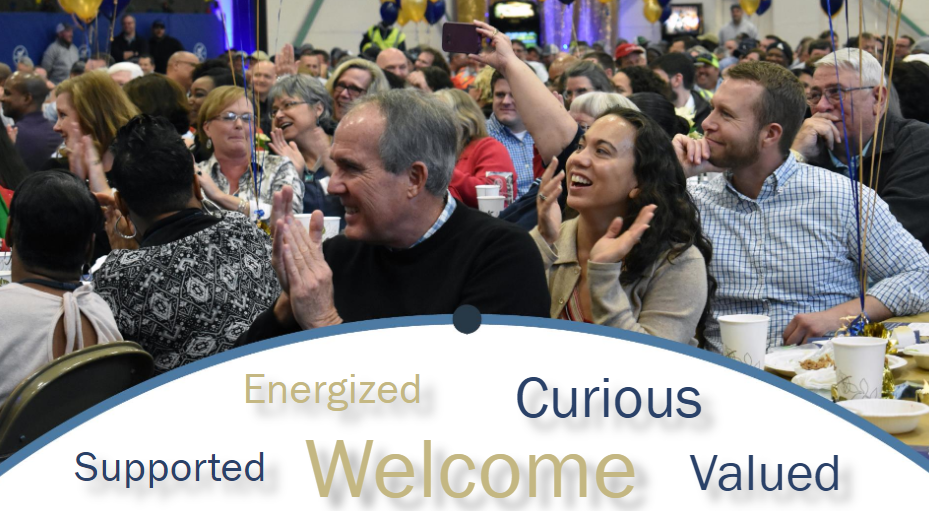 Cluttered to Clean
We started crafting this remarkable experience by streamlining our existing process. We went from cluttered (think a folder stuffed with standard procedures and forms) to clean, electronic resources. Roadmaps for the hiring manager and new employee keep everyone on track during the welcoming process and include a pre-arrival component to ensure our colleagues feel familiarity and excitement before they step through the door. Via a welcome email, we use friendly photos to introduce our new employees to their colleagues and teams. A wrapped gift is even delivered to them before their first day on the job further reinforcing our culture.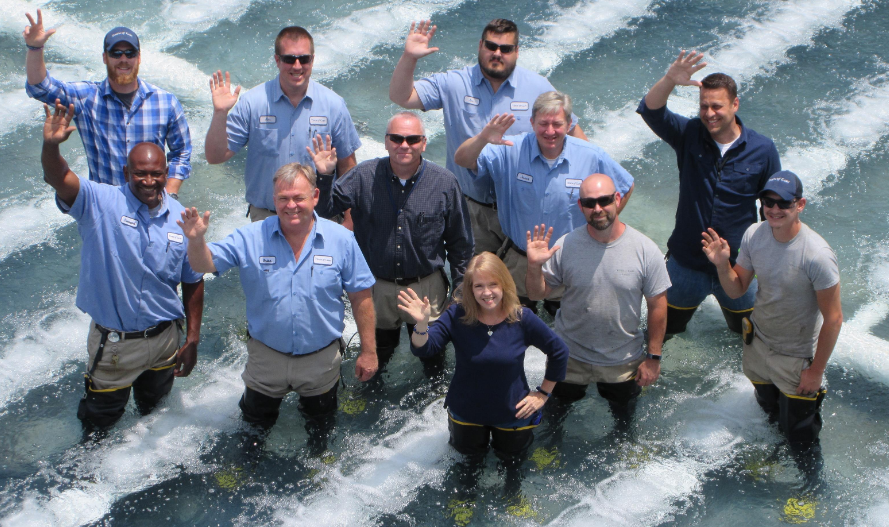 Orientation Day
In Cary, orientation is held every two months with approximately twenty people making up the cohort. The morning kicks off with a mix and mingle where new employees are joined by department directors for information, chats and greetings. Our Chief Human Resources officer is exactly the type of person you'd want to keynote the morning to teach about the culture and make everyone feel a part of the Cary team. The group is also joined by the Deputy Manager which reinforces the support of leadership in the lives and careers of every employee.
The morning progresses with the human resource consultants leading small group discussions about how we value our employees.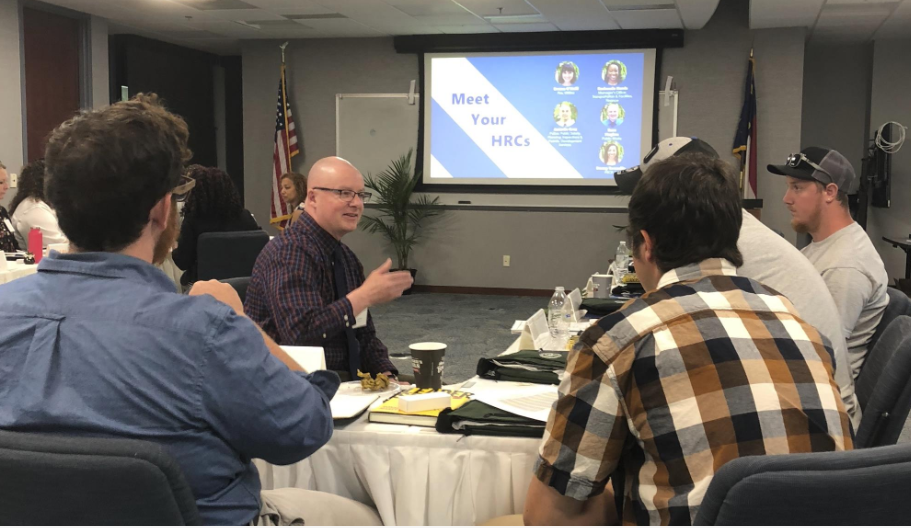 Fellowship at Fire Station 2
Eating lunch prepared by our firefighters at one of our fire stations creates a lasting impression and is certainly a topic of conversation with family and friends. Not only is it important that our orientation cohort get out of Town Hall, but it's also a great way for them to meet their public safety colleagues and get to know each other informally while sharing a meal.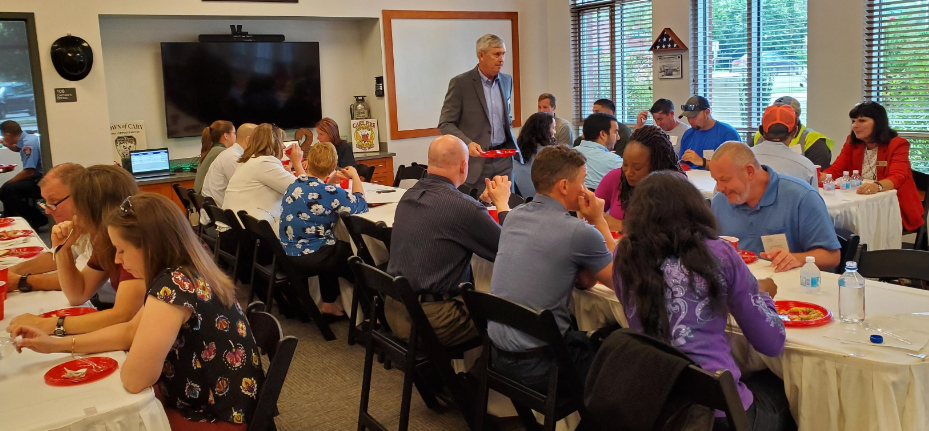 Exploring Cary
After lunch, the race is on! The group is divided into two teams by our Scavenger Hunt Guides (SHGs) to learn about Cary's history and community through a scavenger hunt visiting landmarks across the community. An important aspect of the Cary culture is to collaborate across departments, and there's no better way to understand our OneCary mindset than through friendly competition! Along the way, the SHGs guide teams to our traffic signal workshop at public works, enter a 311 case and take a trip on a GoCary bus. There's lots of fun and learning with plenty of selfies along the way!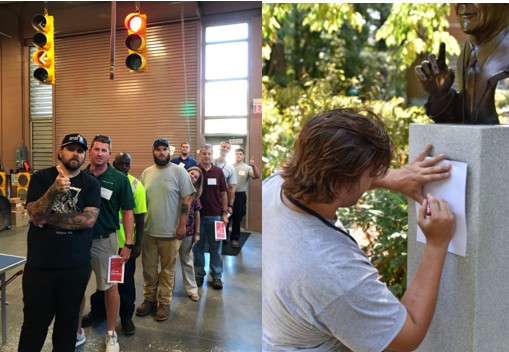 Lasting Memories
As the day closes, our hope is to create lasting memories and foster new friendships for our new colleagues. Continuous improvement is woven into all aspects of our onboarding initiative. To that end, we ask the orientation cohort to share with us aspects of the experience that either worked well or could be improved so we can continue to shape a remarkable experience.