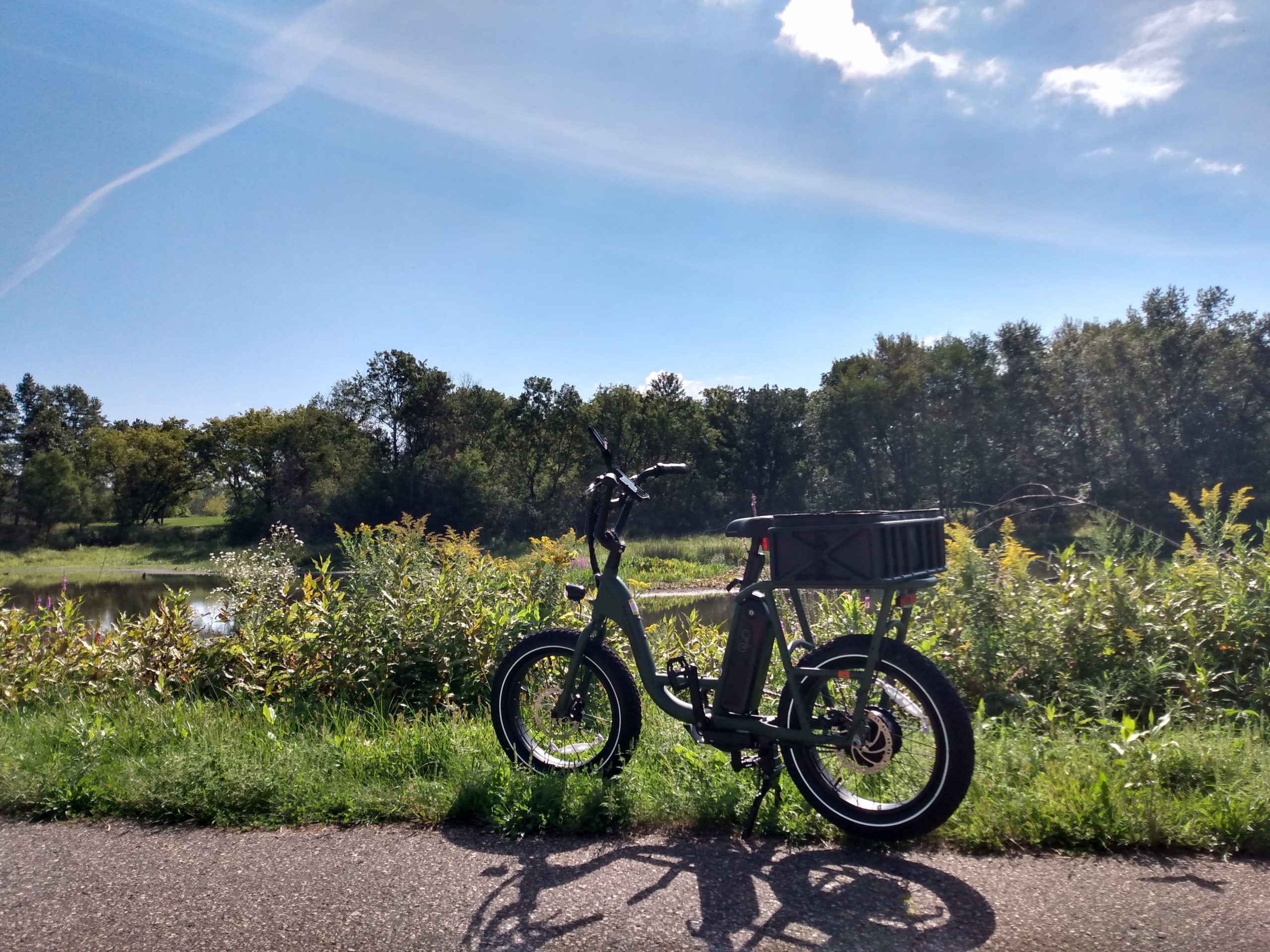 In August, I bought an e-bike. I like to bike recreationally because I love to experience the full vibrancy of Minnesota's dramatic seasons. I am proud to feel my body getting stronger each time I ride. I exchange smiles with strangers and get to know my neighbors. I spontaneously stop at intriguing storefronts instead of zooming past them or struggling to find a place to park. Over the last couple of years, I have also strived to bike more often as a transit choice – to maximize all these other factors, and also to avoid the queasy guilt of firing up an internal combustion engine for a 2-mile errand. Biking makes me feel good, and I believe it's good for my community too.
Even though I want to bike on a philosophical level, realistically, I knew I'd only do it if it could be safe, easy and fun. I feel nervous biking in traffic on city streets, and it gets really hard to carry a heavy load or go a long distance every day. That's why I chose the e-bike. When I picked up my new bike, I felt a complicated mix of excitement and buyer's remorse. I did a hundred calculations in my head: Can I really replace enough car trips to justify the expense?  Will this bike help me feel confident and safe biking on city streets? Will its small motor make it a reliable alternative for those little trips to the hardware store, to breweries, or daycare?
The only way I would reliably choose to bike is if it is as easy to bike as to drive – so I chose a model with a throttle in addition to pedal assist. My new bike also has a step-through frame, which means I don't have to worry about what I'm wearing when I go for a ride. The wide tires on this bike are comfortable and sturdy and the rear rack and large basket are a perfect fit for my dog, who comes with me almost everywhere. I also liked the price point – at $1,400, it is not a casual investment, but it is on the lower end of the cost spectrum and worth it to add joy to my mornings, reduce my carbon emissions, and build a stronger connection to my city and community.
I know so many people who, like me, philosophically want to bike and reduce car trips, but are prevented by small barriers: they don't want to show up sweaty to work; they lack the physical strength; or they have caretaking obligations that require 'backseats.' The e-bike eliminates these little hurdles that used to prompt me to choose driving over riding. With pedal assist and an optional throttle, getting up hills and starting at intersections is smooth and stress-free.
My sister's story shows how electric assist can make the dream of a bike-commute more accessible for a typical family. Last year, she was burned out from her job, and missed her kids. Every day, the family needed to travel about 27 miles to get everyone to where they needed to be. In the context of suburban America, their 27 miles was on the shorter end of the commute spectrum, but they were unhappy and stressed out.  "It felt like all I did was wrestle my sweet babies in and out of car seats and shriek inwardly at the enormous trucks that always seemed to be tailgating us," she recalls. Something needed to change.
Their new bike, marketed as one that can "replace the minivan," looks like a contraption out of a Dr. Seuss book: bright orange, six feet long, with a "back seat" consisting of a cushioned bench and a blue plastic kid seat. Each morning and evening for the past few months, Dad pedals in front with the 5-year-old perched behind him on the bench and the 3-year-old strapped into the kid seat in the back. The whole getup without passengers weighs 75 pounds. A custom sticker on the rear fender proclaims, "This Machine Fights Climate Change."
With the transition to a bike commute, the family's mornings have changed completely. In the Radwagon's "backseat," tiny passengers delight in the thrilling sensation of zooming up a hill. The 6-year-old giggles uproariously while the 3-year-old stretches his plump little arms wide and pretends to fly, singing an incoherent and joyful song at the top of his lungs. By getting out of the car, my sister transformed her morning commute from drudgery to joy.
There's lots of work to be done so that more families can get around without cars more often, if they want to. There are all sorts of reasons people choose to go car-free. Wrestling kids into car seats, struggling to find parking, and navigating stressful traffic can make car dependence miserable. For some, the expense of owning and maintaining a car is simply not an option.
At the individual level, one of the best ways to put a bike commute on the menu is simply by doing it! When we wave and smile and chat with neighbors from our bikes, we are making biking more welcoming to anyone who might feel intimidated by the lycra-clad speed racers they associate with the phrase 'urban cyclists.'  Every additional biker (and every fewer car) on the streets make them safer for us all.
ELGL readers also play a big role in making sure biking is a feasible option for residents and workers in our communities. I heard a city manager once say that sidewalks and trash are the hardest things to change in local government. I think bike infrastructure has got to be close to the top of the list as well. The conversation can be emotional, as residents and engineers and planners grapple with competing priorities. I am thankful that enough people have fought for better bike infrastructure where I live that I can cobble together safe routes using side streets, bike lanes, crosswalks, pedestrian tunnels, and even sidewalks when I can't avoid the busiest roads. Safe, convenient, and easy bike infrastructure is one of the best illustrations of how technical expertise and community values come together in our cities.
E-bikes can help us solve problems like climate change and car dependency, and that's part of why I bought mine. But for my family, the best reason to bike is the joy. I love to think about the memories my nephews will carry of their joyful morning commute. I believe that a happy childhood and the knowledge that their mom and dad and aunt worked to build a better world will give them the resilience and strength they need as they grow to adulthood in a climate crisis. I hope to be part of teams that bring this solution to cities and invite more people to enjoy an easy bike commute. In the meantime, we climb on our bikes, wave to our neighbors, and carry our precious cargo with the sun on our backs and smiles on our faces.