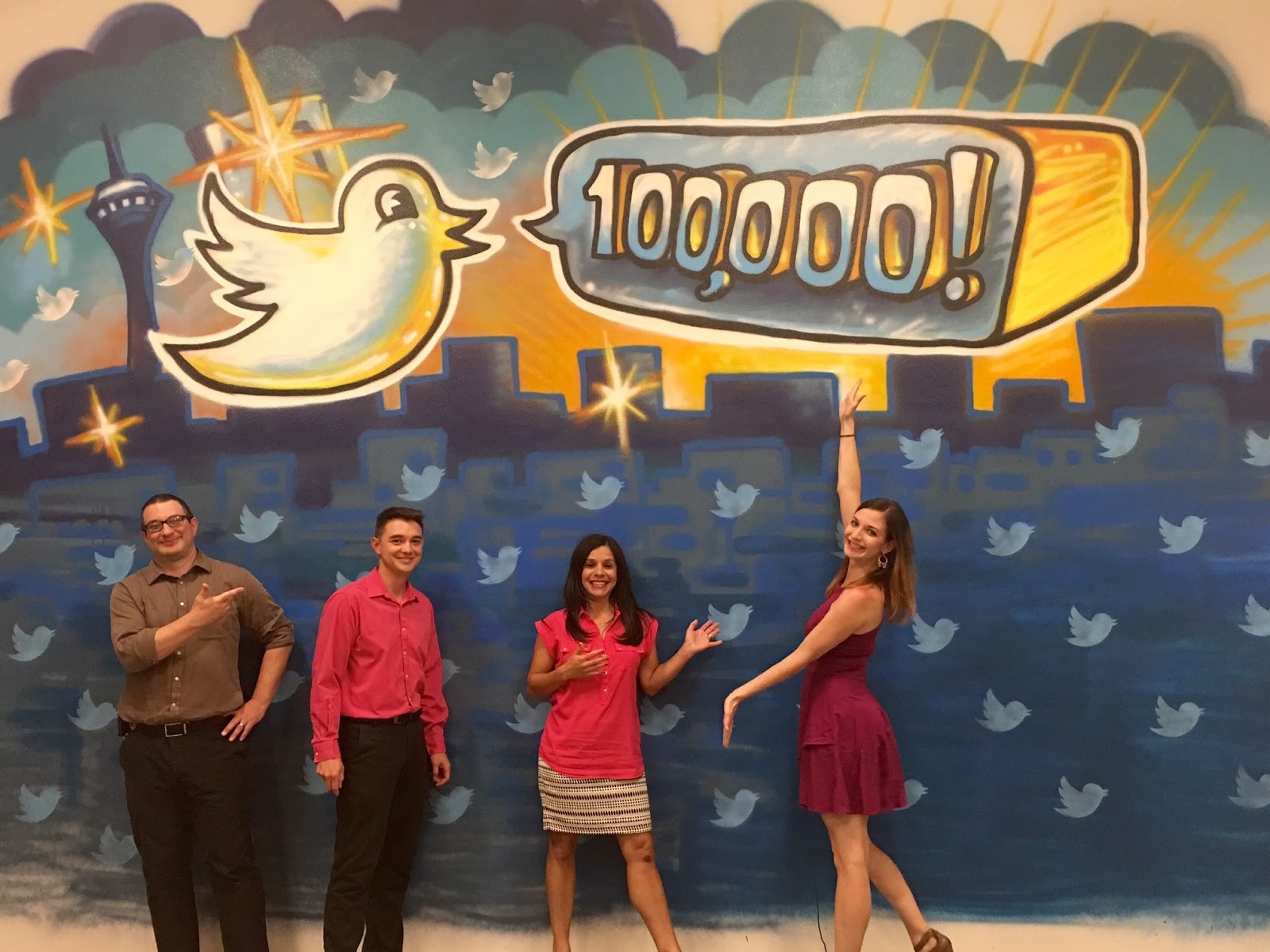 Let's meet our Trending Now! finalists. We started with the City of Hamilton, OH and City of Kansas City, MO, today we visit Las Vegas, NV.  Hat tip to Jennifer Davies for coordinating the city's response.
City of Las Vegas, NV
Link: City of Las Vegas competing for social media award
When you visit Las Vegas, you expect an incredible experience. When we (as local government junkies) interact with the City of Las Vegas government, we expect an experience that is unique and at the forefront of local government communication. The City of Las Vegas does not disappoint. Their social media presence spans from Facebook to Snapchat to Tumblr. Recently, the city has become one of the most successful users of Periscope among local government.
Las Vegas Fun Facts
The famous Las Vegas Strip is not located within the city limits of Las Vegas. The strip actually comes under the jurisdiction of Clark County.
Las Vegas will have one major professional team with the upcoming expansion Las Vegas NHL team of the National Hockey League, a team that will begin play in the 2017–18 NHL season.
The city owns the land for, but does not operate, four golf courses: Angel Park Golf Club, Desert Pines Golf Club, Durango Hills Golf Club and the Las Vegas Municipal Golf Course.
I Stand Behind Las Vegas Because….
Tell us why you love Las Vegas and we'll include your comments in our voter's pamphlet for the Final 4 voting which begins July 5. Each submission will add bonus points to your city's final vote tally.
[contact-form][contact-field label='Name %26amp; Email' type='name' required='1'/][contact-field label='I Stand Behind Las Vegas Because…' type='textarea' required='1'/][/contact-form]
Social Media Platforms
Thanks to YOU we've reached 100,000 followers! We CAN'T STOP THE FEELING ? ? ? pic.twitter.com/ERvjioek9w

— City of Las Vegas (@CityOfLasVegas) June 28, 2016
We use our Facebook page to share city news, events and videos of what is happening in our community. With nearly 40,000 fans, we regularly reach nearly 500,000 people each week with little advertising. Over the past few months, we have become extensive users of Facebook Live to put out real-time information to our residents. In the past year alone, we've seen 1.5 million video views on our page from things like special trainings by our fire department, a rebuttal to a Gillette Razors ad that threw a little shade at downtown Las Vegas, a hotel implosion on The Strip and a 360 degree view of the Slotzilla zipline along Fremont Street downtown. We also host a morning newscast called the Daily Dose that covers city news, events and what's trending in Las Vegas that day. Our followers love content like Throwback Thursday and celebrating the anniversaries and openings of new business in our downtown.
We use Twitter to share city news, events, live video and live announcements/meetings all in real-time. Our Twitter account just reached 100,000 followers; three years ago, when we began ramping up our social media efforts, we had only 7,000 followers. One of our biggest Twitter strategies is to participate in trending conversations each day. Topics like #FirstDayofSummer, to emphasize the importance of being safe in the summer heat, #Orlando, when City Hall was lit up like a rainbow in support of the shooting victims, sharing in the community's excitement when it was announced that #VegasGotHockey and sharing a special video for #MayThe4thBeWithYou when we had visitors at City Hall for a City Council meeting. In addition to scheduled posts about upcoming meetings, events and activities, we also regularly retweet information about what is happening in the community. Followers thank us for keeping them apprised about everything that is happening in the city from roadwork to events and celebrations.
Through Instagram, we promote the redevelopment of downtown and share other beautiful spots in our city. Our following has grown nearly 400 percent over the past year and we now have nearly 24,000 followers. We regularly use hashtags and regrammed photos to show different sides of our city. Our most popular post ever was of fall foliage (yes, in the desert!) at a local park that garnered nearly 1,000 views. Other popular posts included a regrammed unique shot of Fremont Street downtown and a post congratulating the Stratosphere hotel on their 20th anniversary. Ultimately, we use Instagram to connect our followers to our downtown and finding a greater appreciation for the hidden gems here in Las Vegas. Our followers love scenic shots free of faces and/or smiling people. We make every effort to give our followers what they want to see!
On our YouTube channels, followers can find KCLV programming from some of our original shows and original videos for our social media channels that were produced by our KCLV team.
Our Tumblr page serves as our official blog and gives us a place to give followers an inside look at city issues and events. We regularly take to Tumblr to dispute rumors and correct misinformation over events like code enforcement issues with a local golf course, union negotiations with our ambulance provider and explaining what happens at City Council meetings.
On our LinkedIn page, you'll find posts about employee culture and job openings. We make an effort to share information about how happy employees are to work here because we feel like many prospective job seekers head to our LinkedIn page for a first impression before applying. We want to show that we value our employees and are proud of the amazing work they do each day.
We use Nextdoor, a private social network for neighborhoods, to reach out to neighborhoods about issues and events in their area. When we began using Nextdoor in fall of 2014, there were several thousand residents on the site. Today, there are more than 20,000 members in more than 300 neighborhoods across the city.
We focus on promoting the redevelopment of downtown, city events, news and live coverage. We use the "story" feature to go behind-the-scenes with what is happening at a special event or place. This is an entirely new platform that we're exploring and seeing what impact we can have on reaching a new audience. We recently purchased a special geo-filter to celebrate the city's 111th birthday that was active along Fremont Street downtown; it garnered almost 1,000 downloads. Since we began regularly using Snapchat in early April, we have amassed almost 1,000 followers and continue to grow.
Social Media Team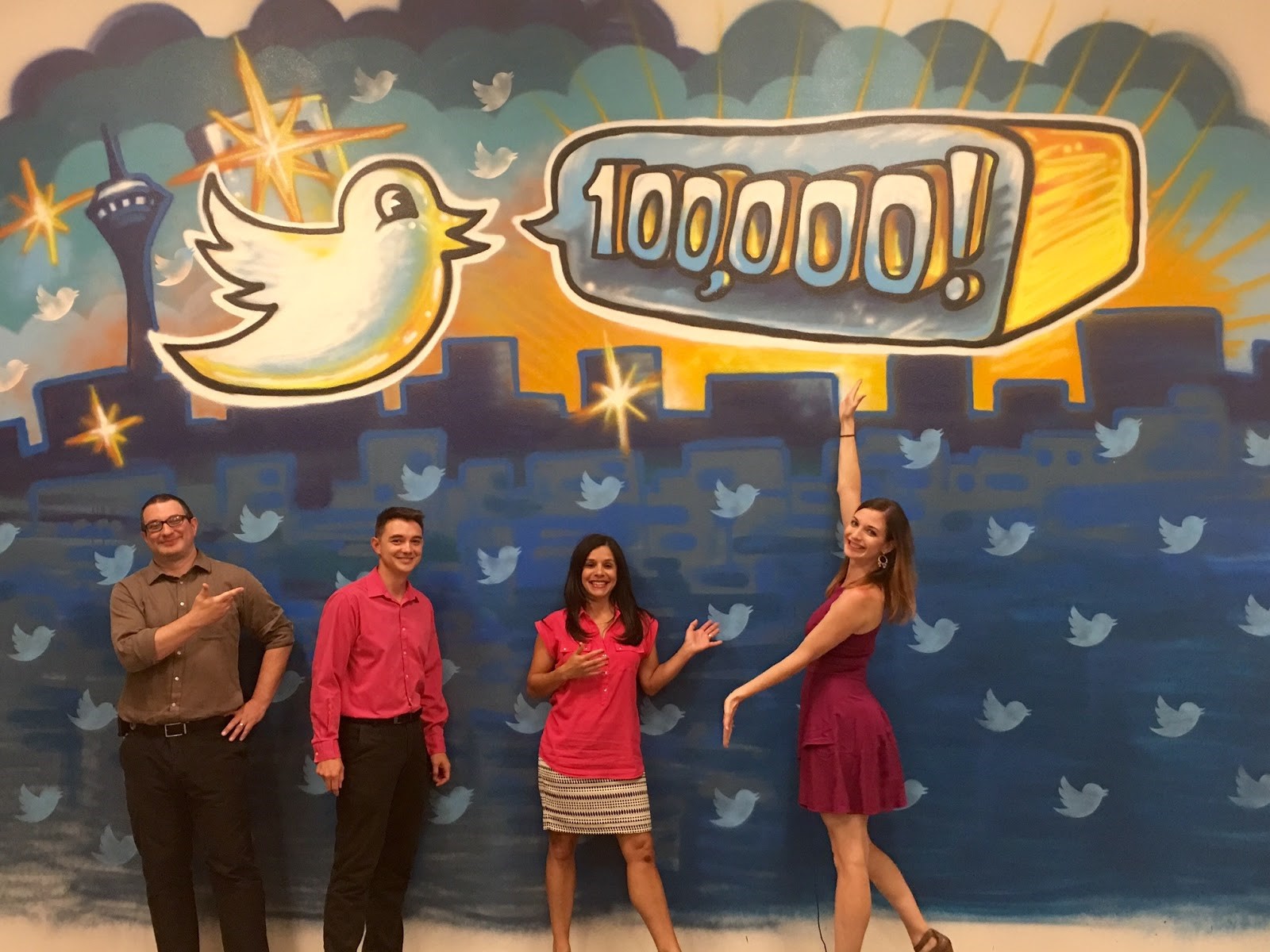 Jennifer Davies, Public Information Officer, Twitter
Shane Savanapridi, Public Information Officer, Twitter
Diana Paul, Public Affairs Manager, Twitter
Jace Radke, Senior Public Information Officer, Twitter
Keys to Success
Activating our employee ambassadors and not just asking followers for votes but reminding them that our success has been because of them.
Top Three Social Media Campaigns
Daily Dose
We host a morning newscast on Facebook Monday-Thursday called the Daily Dose that covers city news, events and what's trending in Las Vegas that day. We find that using trending conversations to promote city information is the most effective way to reach our audience. We're also able to highlight certain content that wouldn't necessarily perform well on our Facebook page because it is less visual. While some trending topics like National Pizza Day or First Day of Summer seem silly, they serve as spring boards for us to talk about important city services or convincing our followers to head downtown. We also try to take the public out and about to different locations that serve as our backdrop for the day. To celebrate EMS Week, we visited one of our fire stations. When an old casino was closing downtown, we were able to go live in front of it, etc. Daily Dose has gotten 152,000 views since launching on February 29. It has been an amazing promotional tool for us and is well worth the sometimes stressful mornings in writing the script and meeting up with one of our KCLV producers to do the broadcast.
Employee Ambassador Program
To continue to amplify the city's message, an employee social media ambassador program was launched in early 2015.  The purpose is to train employees on how to use their own social media channels to share content on behalf of the city and from their respective jobs. We have greatly increased our reach by having the ambassadors share content with their followers and fans.  Since last June, our employees have shared nearly 5,000 stories generating 3.2 million impressions. They were a huge key to our success with the recent voting requirements and pushing out critical city messages in general.
#DTLVParking
Take advantage of these spaces for quick stops in #dtlv. This lot is on 6th between Carson/LV Blvd. #dtlvparking pic.twitter.com/dCPEamqMuu

— City of Las Vegas (@CityOfLasVegas) April 5, 2016
We have used a new hashtag to help clear up rumors about the difficulty of parking downtown, which is something we hear about consistently from the public and in citizen surveys. There is a big misconception that parking is too expensive or that there isn't ample parking available. Using Twitter and special videos, we have been able to help residents find affordable parking downtown. In collaboration with our parking and KCLV teams, we have put together fun videos like finding love at the parking meter (which was a big hit over Valentine's Day)  and how to download an app to find parking. We also regularly schedule tweets at later times on the weekends using popular downtown hashtags to remind followers about where to find cheap parking. We also offer ideas on where to park for major events that we know will bring people downtown. We also have a special text group set up with our parking enforcement officers so they can send us funny things they see in the field like this tweet about not creating your own covered parking. The reception from the public has been incredibly positive!
What's Next?
We continue to invest in video and live video and hope to roll out some additional shows that focus on producing news segments that interview our city leaders and elected officials on key issues. We want to increase transparency and break down the walls of City Hall to give our residents access to the people who are making decisions that impact their daily lives.
Shout-Outs!
Our social media presence is a team effort among our entire communications department of 25+ people. From our social media team in Public Affairs to our graphic artists and amazing team in KCLV Channel 2. It is a full-scale production for our entire communications team and we could not do what we do with live video and real-time content without their support. We also appreciate the unwavering support of our City Manager Betsy Fretwell who not only supports us but pushes us to try new things to stay on the cutting-edge of the social media world.
(Editor's Note: Check out #AskBetsy Twitter Chat.)
What question(s) should we have asked?
What is your most successful social media channel and why?
What has been your most successful post to date and why?
Jobs, Jobs, Jobs
Here's a list of current job openings with the City of Las Vegas, NV.
Supplemental Reading
City of Las Vegas participates in #CantStopTheFeeling challenge
Jennifer Davies: Las Vegas' head of social media
Las Vegas mayor: We'll have three 'major league' teams in 10 years
City Hall plaza to be named after ex-Mayor Oscar Goodman