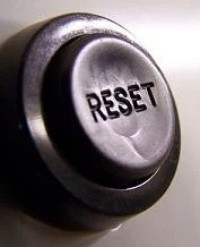 Today's Morning Buzz comes from Clay Campbell, Administrative Supervisor for the Downers Grove Sanitary District.
Trending with Clay Campbell
What I'm Struggling With – Getting consistent sleep! What day is it again?
What the Family is Talking About – Getting a dog (do we dare?)
What I'm Watching ­– The Witcher (on Netflix)
What I'm Doing – Growing a bunch of perennials indoors from seeds
Connect with him at Twitter  / LinkedIn
I was on the phone this week with a peer of mine from another wastewater industry in Illinois. Like many conversations with others do nowadays, the topic turned to COVID-19, how each of us are trying to keep the ship afloat, and what all of this means for our workplaces and the communities we serve. He shared with me a term someone else had coined that seemed to be very appropriate to explain our current state of affairs – "Societal Reset".  We were talking about it in terms of our world trying to make sense of the senseless. In discussions and strategic planning with our leadership team at the District, in recent weeks we've been phrasing things in terms of, "When things get back to normal."
Realization is starting to set in…things may not really get back to normal…ever. And I don't mean to be such a pessimist, rather it's more an acknowledgement that what we once considered normal is gone. At least for the foreseeable future, "societal reset" may very well be what's afoot. Those two words might just be a lens to consider all of this through. So much of what used to be routine for many of us has been disrupted by current events. The threads that connect our communities together: places of worship, libraries, parks, schools, coffee shops, mass transit; are all being stretched in ways never thought possible. When I see that friend in the neighborhood I haven't seen in a while, I have to remind myself – "we" don't shake hands anymore, remember? A bit of the social intimacy that comes from living in community seems to have evaporated. 
This time of constraint, of limitation, and restriction, like many things, reveals a silver lining. Too often in local government our mantra is to "do more with less." BUT THIS IS DIFFERENT. We're being asked to dig deeper – that pressure to innovate has never been stronger – to continue providing essential services to our citizens all while keeping our people (aren't they all really "our" people, not just the ones that are government employees) safe. Embrace it – local government is at its most resilient and dependable for its citizens when it's reinventing public service delivery. If any of you ever used to play video games in the arcade growing up (even if it was that Galaga/Pac-Man console while you waited in Pizza Hut for a booth) – there was always that "RESET" button that offered a shot at redemption/refinement/rebirth. What's your societal reset look like?