Kansas City, Mo., Must Set Aside Millions as Complex Falls Short of Projections
By 
ELIOT BROWN
, Wall Street Journal  
The tab is mounting for Kansas City, Mo., on a bet it made during the real-estate boom on an $850 million entertainment district meant to breathe new life into its struggling downtown.
The lingering shortfalls come as many municipalities across the U.S. face headaches for years for bullish assumptions made riding the real-estate wave. The pain persists amid a slow recovery of property values and rents, a trend analysts expect to continue.
Some cities followed similar models, such as Rockford, Ill., which has been paying hundreds of thousands of dollars each year in debt service to cover gaps for a set of planned housing and retail-development projects that stalled with the downturn. The city expects the deficits to narrow or turn positive as the economy recovers.
 Continue reading: Kansas City's Urban Center a Budget Hole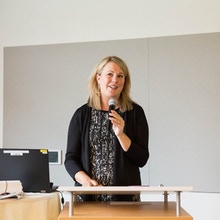 I'm the co-founder and executive director of ELGL. I love my job. Other things I love: local government, my family, my dog Michael Jordan, sandwiches, naps, books, and skee-ball.