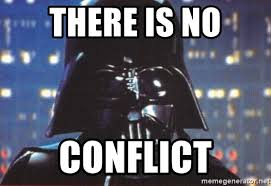 Right Now with Kevin Teater
What I'm Listening to – True Strength by John Dreamer
What I'm Reading – Asher's Garden by Derek Pangelinan
What I'm Watching ­– Dungeons & Dragons YouTube videos so I can learn ?
What I'm Doing – Typing up this blog post before going to improv
---
"There is. No. Conflict." – Darth Vader
Ah. Sorry, Darth. I've faced a lot of difficult decisions throughout my first year in nonprofit leadership, and many of them have had some sort of deep value conflict. What am I supposed to do about that? I can't just ignore it.
Even our organization's mission statement can be at odds with itself, specifically the section that states, "to promote the historic preservation of downtown and support its economic environment…"
Time and time again, we have seen historic preservation and economic development flow against each other. This does not always happen, but it can; when it does, the conflict can become quite noticeable.
What is my role? The stand I take must represent that of my Board of Directors. So I act, so much as I can, as a nonbiased subject matter expert and guide. My personality and leadership style is very inclusive and facilitative. I want to act as a peacemaker. If there is a way to bring "wins" to every side of an issue, that is the path that I want to take. But it isn't always that simple.
My graduate school professors actually warned me after I completed my final exam that the real world would not always have people unifying for common purposes as easily I made it sound.
Still, I believe that our organization can come to a healthy consensus during difficult decisions when our mission statement allows for that space of conflict. So far, we have been doing this through a culture of mutual respect, collaboration, and vision.
The vision must always remain the highest priority, and it cannot be compromised. However, we can compromise on the strategy of how we move forward, and our teams understand this. What does my organization hope to see in the future? We see an active and vibrant downtown community. We are flexible on the steps we take to get there.
This is the beginning of the journey for me, and I am still learning. How about you? How do you address value conflicts in your roles?
---
Kevin Teater is the executive director of the Beaverton Downtown Association.