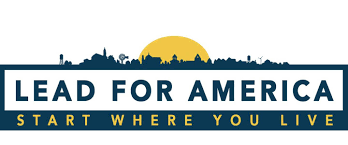 Lead for America (LFA) seeks host cities for two-year fellowship programs!
About LFA: 
Lead For America works to ensure that our most dynamic and diverse young talent is working on our communities' toughest challenges. Our flagship program is a paid two-year high impact fellowship with a four-year commitment for leaders ages 21-30 to serve their hometowns. Fellows work full-time alongside community leaders to 1) address critical challenges (i.e. the opioid epidemic, affordable housing etc) and 2) recruit other young leaders to return to and remain in the community.
Our second cohort of 50 Fellows returned home in August, joining their peers from our inaugural cohort to make up a leadership force of nearly 100 Fellows serving 81 communities in 24 states — from Boone County, WV, and Monument Valley, UT on the Navajo Nation, to Worthington, MN, and the Flathead Indian Reservation in Montana.
The cohort includes Truman, Udall, and Gates Millennium Scholars, as well as military veterans and TFA alumni; 59% of Cohort 2 Fellows are people of color, 76% are women or gender nonconforming, and 47% of Fellows are from family incomes of <$50k.
The basics of the program: 
Each Fellow works full-time alongside dynamic local leaders and receives ongoing support and training from us to ensure they are critical contributors on your highest priority projects from the start. But the core of the theory of change is actually what happens after the two years. Every Fellow already has a connection to the community AND makes at least a four-year commitment to serving the community/region. We provide additional support to alumni to help them not only advance into positions of civic leadership, but also to recruit and pave the way for other young leaders to be able to do the same. So while each Fellow absolutely provides critical contributions during the first two years, every host is also making a long-term investment in the future civic leadership of the community.
We ask each host community to make three commitments in return: 1) provide the Fellow with meaningful work and mentorship during the two years; 2) a financial commitment of ~$39,000/year (depends on cost of living) that can be split between local philanthropy and host contributions, while we raise the rest of the funds nationally to subsidize the program; and 3) a commitment to supporting the Fellow in identifying potential next steps as a civic leader in the community.
For more information or to explore the possibility of hosting, please fill out our one-minute intake form or reach out directly to LFA's Chief Program Officer, Maya Pace at 

[email protected]