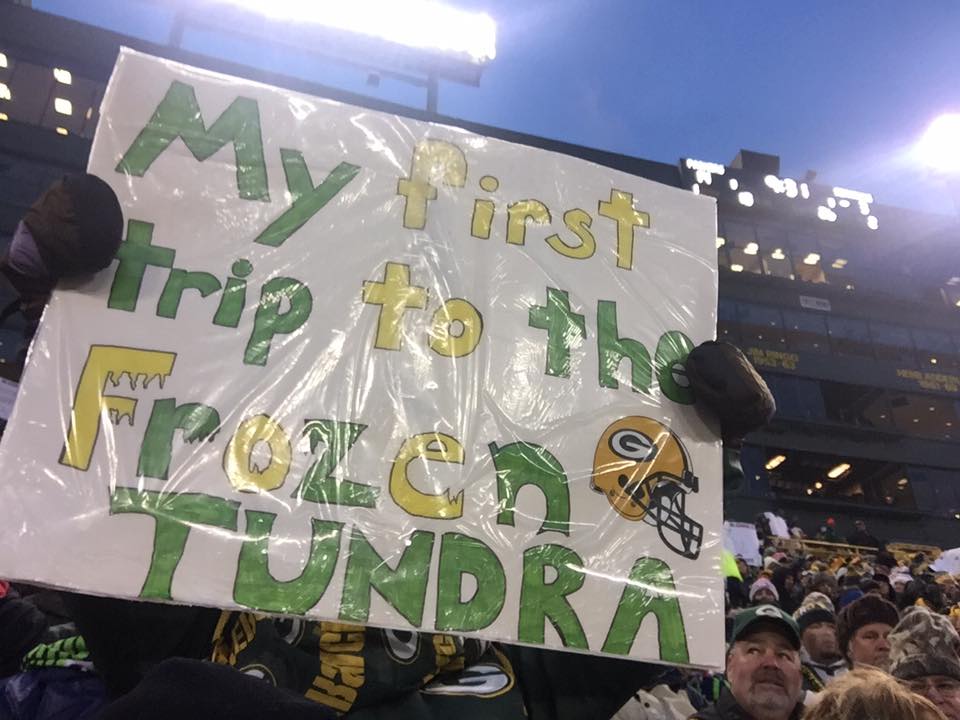 In August, Josh Dukelow extended a coveted invitation to ELGL co-founder Kent Wyatt. Josh invited Kent to journey to the land of cheese curds, recounts, and whitetail deer for the Seattle Seahawks vs. Green Bay Packers game. Kent didn't think twice and accepted the invitation. The journey begins now to "America's Dairyland" and Kent and others will be tracking every single minute of the adventure. You can play along by offering restaurants recommendations, things-to-do in Appleton, and other tidbits of Wisconsin culture.
Relive the Trip: Facebook and Twitter
---
Monday, December 12
The Aftermath
I feel the need to disclose that I am bloggin' from my first class seat on a United flight from Milwaukee to Denver. I note this because if this blog post doesn't meet my usual journalist standards I blame it on becoming fat and happy from not having to sit with the rest of the herd (also known as coach). Slow down before you think I'm throwing back cocktails for the two hour flight, instead I am loading up on coffee and orange juice to combat the cheese curds and gravy rumbling in my tummy. (Side note: beverages are served in real glasses in first class. NBD)
I suppose we suppose debrief the Lambeau experience, although I am not sure Russell Wilson is finished throwing inceptions.
Visitors to Lambeau Field will rave about the history, Frozen Tundra (some ELGL members will buy frozen tundra (i.e. a bag of dirt), and the beer. I will not (although all of that is incredible). I am raving about the stadium sing-along to  "Roll out the Barrel" at the end of the third quarter.
---
---
I hate to interrupt this post (again) but did you know the flight attendants call you by your name when you sit in first class. This doesn't happen at my house 90% of the time. Back to the action…
I find the cheeseheads hats, bras, jorts, etc. a bit much (no offense to Zach Navin's Cheesehead Christmas sweater. I gave that a pass). I did find one cheesehead item that was well worth the $10.
My children will be gifted pencils with a cheesehead eraser. Lucky kids. If you see my kids today before I do, please don't ruin their surprise gift. Also, if my kids (Eleanor and Josephine — you know who you are) are reading this post, you are grounded but I still love you.
Side note: I am never biting my nails again. My seatmate in first class is attacking her nails like they are cake pops. This is in between a Zika-like cough.
Collective Soul is back. You may have forgotten about them or never heard of them. The Packers organization remains a fan. A Collective Soul song (not 'Shine') blasted through the speakers during one of the timeouts. In government evaluation terms, the Packers musical selection "needs improvement". My suggestion? Stick with what works….more Roll Out the Barrel.
If not more 'Roll Out the Barrel', the Packers have a drum line which would beat Collective Soul in any battle of the bands. (Collective Soul, really, I am still bothered by this, Steve Miller Band or some other band from Wisconsin would suffice. #GoPackGo needs to get to work on this.)
In Da Club…Josh Dukelow managed to get us into the club level at Lambeau. It was a tad warmer. We went to the top of the club level for this picture.
On top of the world… almost pic.twitter.com/tSwhinVP0Y

— Josh Dukelow? (@joshdukelow) December 12, 2016
---
Best part of the club level experience? Short bathroom lines? Nope. Beer selection? Comfortable seats? Nope. The death stare that an older Packers fan gave Josh while Josh stealthily ate the chocolate cake of the kid that was sitting in the club seats before we arrived. (Full disclosure: Josh knew the kid.) When the older gentleman then looked at me, I helped Josh by looking the other way and pretending that I didn't know Josh. Just a free perk of ELGL membership.
Fun Fact: We saw the mayor of Green Bay. Not fun fact: the Green Bay Mayor Jim Schmitt is paying $4,000 in fines and completing 40 hours of community service for his campaign finance violations. Interesting fact: Green Bay mayor, alderman exchange words after meeting.
You wouldn't think the Lambeau crowd would regulate their seatmates who drop F-bombs, but they do and good from them. The drunk couple next to us who had been tailgating since noon was admonished by a number of fans who didn't appreciate the use of the F-bomb. I love the community feel of not putting up with drunks dropping period f-bombs. The classy, intoxicated couple had a parting shot by telling everyone, when they were leaving, that they hoped they enjoyed the "f#cking game". I'd put the odds at 75% that the couple has no recollection of the instance when they wake up. Society gets the last laugh as the couple has a 2-year old and 5-year old who probably wake up around 6:00 a.m.
Want to hear more about the Lambeau experience (maybe), fake news, and the recount in Wisconsin? Love hot take? You do, I know you do…Josh Dukelow's morning radio show proves that "Fresh Takes" are the new "Hot Takes".
I'll wrap up #ELGLSconnie by borrowing from the past acceptance speeches at the Academy Awards….First, I'd like to thank Josh Dukelow for extending the invitation and making this trip possible…I'd be remiss if I didn't acknowledge one of GovLove's most popular guests Josh Schoemann, who was my driver, roommate, and tour guide…Hang on I'm not done…Chad Doran for hanging out with us on Friday and Saturday and providing the exclusive behind the scenes tour of the Appleton City Hall…Mitch Foster for attending Supper Club and representing what ELGL is all about, keep Mitch in your thoughts as he stays strong during a family situation…Zach Navin, keeping smiling, applying for jobs, and rooting for the Seahawks…Oh, I am not done yet…Katherine Westaby, a newer ELGL member who is sparking change in local government….before you cut off the mic, I must thank the Riverwalk Hotel in Neenah for being the worst 3.5 star hotel in U.S, keep doing what you're doing — tearing out anything and everything that mentions Holiday Inn and just leaving giant holes in their place. I'll never forget you…
Peace and love…time for more orange juice and coffee…
P.S: There's a good chance my seatmate read this post.
---
Sunday, December 11
Blog Spot
This has to be the best place to blog — snow falling outside, great music selection, strong coffee, and a view of the Town Council Kitchen & Bar. Timshel Cafe is the spot.
---
#WeAre12
Super excited that Josh Dukelow will be rocking the face paint for the battle at Lambeau.
---
The Greatest Supper Club…
Lived up to its billing. Just check out the pictures – smiles, cheese curds, and gravy.
Zach is an Administrative Intern at City of Wauwatosa, student at University of Wisconsin-Milwaukee Master's of Public Administration, and a fan of Larry the Goldfish and Pardon My Take. Zach would be a great hire for any local government. Tweet at him, email him or call me if you can help.
Gail Sumi is the only person who could have made last night better. That said, I am glad that she was where she needed to be. Next time, Gail!
Jim Healy (who missed Supper Club…that's a $250 fine) contributes his local government success to Jordy Flakes.
With the Santa Pub Crawl running from noon to 6:00 p.m. on the streets of downtown Appleton, I have to think there were a number of young children confused about why Santa was talking in a slurred voice, karaoking to Justin Timberlake, and smoking cigarettes outside the bar.
Fun Fact: Chad Doran paid $20 for a bag of dirt. (Internal note to myself: Start selling dirt from city halls.)
It's weird to be in a place where it's snowing and no one is making a big deal about it. In fact, some people volunteer to shovel snow at places like Lambeau Field. If I wasn't busy blogging, I am sure that I'd be out there. Bloggers gottan blog…
Lambeau cam showing prep for today's #Packers game is well underway. #wiwx #snow pic.twitter.com/UP9fmTl5Dt

— Jeff Last (@JeffLast) December 11, 2016
I am sure many of you have been wanting to see a picture of the first mayor of Appleton. I grant your wish.
Lastly, big ups and cheers to the hospitality of Wisconsin. Incredibly friendly people who love the state and its traditions. Special thanks to my tour guides Josh Schoemann and Josh Dukelow. If I ever need a local government agent, Josh S. is my man. If I ever need help revitalizing a downtown, Josh D. is my man.
Last words…..Sea-HAWKS…Sea-HAWKS…Sea-HAWKS…
---
Saturday, December 10
Round of Beer for the Family
At the conclusion of sightseeing, the ultimate mind blow occurred. Josh (2) informed me about the unique drinking laws in Wisconsin.
Those under the legal drinking age may be served, possess, or consume alcohol if they are with a parent, legal guardian, or spouse who is of legal drinking age. Those age 18 to 20 may also possess (but not consume) alcohol as part of their employment.
What does this mean? You can take your seven-year old to the local pub and split a pitcher of Miller Lite. Take a deeper dive – Confusion Over Wisconsin Drinking Law – Story.
---
Tour Takeaways
Before we get started, it's important to know that a Santa pub crawl has taken over downtown Appleton. Naturally, the pub crawl began at noon and things are progressing well for the local watering holes. We went to a bar at 2:00 p.m. and the bar was at maximum capacity. Appleton is gettin' its drink on today/tonight. I hope the children of Appleton don't run into too many drunken Santas this afternoon.
Municipal sign of the day (very Knope-like)
---
Library of the Day: Kaukauna Public Library is housed in an old paper mill.
---
Best City Hall near a Windmill: Village of Little Chute
---
Best Use of Public Art: What Does a Fox Say?
---
Most Random Item: Light Saber Display at the Appleton Public Library
---
The Pride of Appleton: Joseph McCarthy
---
Most Education Exhibit: The Invisible Project at the History Museum at the Castle. Homeless individuals were given cameras and asked to document their daily routine.
---
Most Likely to Own a Pager/Beeper: Josh Schoemann already has two cell phones so he might as well add to the collection.
---
Photo Album
Check out the pictures from #ELGLSconnie.
---
Biggest Governing Board Ever
Wisconsin loves elected officials. Washington County has 26 members of the Board of Supervisors.
---
Accommodations
You may be wondering where Josh S. and I are staying, of course, we're staying at the finest lodging in Neenah. Here's a taste of our 3.5 star hotel.
---
Friday Night Lights in Neenah
#ELGLSconnie has landed the resort city (?) of Neenah, WI. Only the best accommodations for Josh Schoemann and I. We are staying at the Riverwalk Hotel (formerly a Holiday Inn). The hotel owner did not want to pay the franchise fee to Holiday Inn so the Riverwalk Hotel is now an independent joint, and it shows. A sketchy elevator, the formerly Holiday Inn sign covered by a huge garbage bag, and no free newspaper outside our door. I would challenge the experts who gifted 3.5 stars to the Hotel.
Moving on, here are takeaways from night one:
Josh Dukelow is a real person. We met up for dinner and drinks Greene's Pour House.
Town Council is the name of restaurant in downtown Neenah.
The real Statute of Liberty is in Neenah.
Fun Fact: the City of Neenah has a Twitter account.
Chad Doran should be a television analyst for women's basketball.
Josh Schoemann ordered the fish fry special last night. The "fish" was one that I've never heard of, my working theory is it was a goldfish.
Update: Josh tells me that the goldfish was in fact "perch". Not sure if I believe him.
Update to the update: Josh carries two cell phones, unfortunately, neither has power and Josh forgot his charger.
---
Rain, Sleet, or Snow…
Six to 12 inches of snow is no match for Supper Club. Supper Club will go on as planned. We'll be breaking down why Wisconsin names winter storms.
---
#CityHallSelfie
---
Friday, December 9
Asking for a Friend…
Is there a Seahawks bar in Appleton, WI?
---
Milwaukee Airport
Ping-pong, Miller beer, and Cheesehead stuff…There's doesn't seem to be a Beastmode store anywhere. I'll keep looking.
---
---
---
Hat Tip
We don't have ads on the ELGL website so I'll take a minute to thank Josh Schoemann for picking me up from the Milwaukee airport. I am excited to ride in his new Cadillac Escalade. Last time I saw Josh he was developing a mancrush on our Uber driver's car. I was slightly worried for our Uber driver. (Mental note: avoid Uber rides with Josh).
Let's all show appreciation for Josh by listening to his GovLove episode.
---
Holiday Lazers
ELGL member Jim Proce, Rowlett, TX assistant city manager, encourages you to embrace the holiday season by watching this video.
---
---
People Are Asking
People are asking whether I have more Wisconsin blood than Zach Navin. I'll let you decide. I direct you toward the evidence…
I had to Google if "Wiscy" was a thing, or if @kwyatt23 made a typo in #elglwiscy blog post. https://t.co/mSCbBnvhds @joshdukelow @joshomen

— Kirsten Wyatt (@kowyatt) December 9, 2016
touché… I've never heard of them!

— Zach Navin (@ZachNavin) December 9, 2016
Look who is the real Wisconsian. #ELGLWiscy #ELGLWiscy #ELGLWiscy

— Kent Wyatt #ELGLPopUps (@kwyatt23) December 9, 2016
---
What! What!
…and what to my wandering eyes did appear. I subscribe to the Katie Couric podcast but I rarely listen to any of the episode. That changed this afternoon. Edward Snowden was the guest. That's right, the Edward Snowden (I had no idea he was hitting the podcast circuit. GovLove will extend an invitation.) It's worth a listen. Snowden reveals more than expected, and discusses the possibility of being turned over to Donald Trump. Spoiler alert! Snowden girlfriend is now living with him. Romance in Russia.
---
I'm Worried
Kent, what's your biggest concern with your trip to Wisconsin? Thanks for asking, Mr. & Mrs. Reader. You might think it'd be the weather. You'd be wrong. (Here's where I need anyone from Wisconsin to stop reading and skip to the next entry.)
I am most worried about the beer selection. I am not a young buck at Elon College. I am not a wise bird at the UNC-Chapel Hill MPA program. I am a 38-year old white male who has an opposition to the beer of my youth – Miller Lite, Milwaukee's Best, and Busch Lite. My fear of fears is that Wisconsin will be devoid of IPA's. I woke up from a horrible nap on the plane where I was dreaming about cans of Milwaukee's Best following me around the streets of Appleton and Green Bay. Now that I got that off my chest, I feel better.
---
Wisconsin Hospitality
Michael Karlik, created and operator of our 2nd favorite podcast and website, must have know that I was headed to Wisconsin. Anticipating my visit, Michael Karlik and City Council Chronicles spotlighted the Beloit, WI council meeting, and as luck would have it, one of the "characters" in his story is a UNC fan. Small world.
Since you need to get back to Twitter, I'll highlight the best parts of the Beloit feature:
Okay, I have to admit something: I had a hard time focusing on the Beloit city council meeting. It's not because it was boring (it wasn't). It's not because I was under the influence of alcohol (I was).. It's because all I could think about…was the wall. The brick wall. AROUND the city council.
City Manager Lori Curtis Luther jumped into the fray. "I just want to make a cautionary note that we shouldn't ASSUME what someone does or does not want," she attempted to out-sensitize De Forest's sensitivity. "I don't want to imply that we think you NEED a translator. I think that can be insulting to some."
"The Holidazzle was fantastic. I happened to go in where you work, Mark," he slyly grinned, referring to Councilor Mark Preuschl's candy shop.
Here's a fun fact that you put in your pipe and smoke…At the IL/WI conference this summer, I was on a panel with Lori Luther. That's all.
---
Plane Etiquette
I'd like to make a motion — whereas, beginning the 9th day of December in twenty-sixteen, passengers traveling on any United Airlines flight with Mr. Kent S. Wyatt must refrain from holding hands and hugging in the aisle. Aisle is defined as any area of the aircraft from the cockpit to the lavatory.
Can I get a second?
---
Why Appleton Why?
John Mayer asked "Why Georgia Why" and we ask a follow up questions "Why Appleton Why". Why does every NFL team stay in Appleton instead of Green Bay. Is Appleton so irresistible that players demand a taste of Appleton?
This is the most peculiar hotel situation in the NFL. While there are numerous fine hotels within spitting distance of Lambeau, teams choose to stay a ways away at what is not exactly a luxury establishment.
Okay so that isn't it. Maybe, Appleton is home to numerous luxury hotels.
The Paper Valley is not luxurious, unique, or sophisticated. It does have one standout feature: Vince Lombardi's Steakhouse, which looks like a more upscale version of Applebee's, Packers paraphernalia borrowed from the Lombardi estate covering the walls like papier-mâche. But in the rest of the hotel, the décor is low-key. The cream-colored walls sometimes have distressed patches, though it's difficult to tell which are intentional and which are not. Rustic lighting fixtures sprout from the walls every dozen or so steps, their design a more deliberate attempt to tap into weathered chic. A cinnamon scent courses through the building; follow your nose, and it seems to emanate from one of the restrooms.
Just brainstorming…Appleton is a family friendly location. Staying in Appleton gives the players' a chance to bring the kiddos along.
Appleton is a sleepy town roughly three-quarters the size of Green Bay and nearly 30 miles southwest of Lambeau Field on I-41. In May, the site 24/7 Wall St.named it the "drunkest city in America." More than two dozen bars line each side of College Avenue in downtown Appleton.
We give up. Here's the history of Appleton and the Packers. Spoiler alert: none of your questions will be answer in Why Do the Green Bay Packers' Opponents Stay at a Radisson in Appleton?
---
Internet Famous
H/T to Josh Dukelow for making us Internet famous. I have a plea for families in Wisconsin…stop watching "Elf" with your children and introduce them to real a story…the plight of two guys…one Supper Club…one football game…one Internet…
---
---
J.Cole
Can I be serious for a minute?…….Thanks. J. Cole dropped a new album right before I boarded the plane. This is Christmas coming early. (Fun Fact: J.Cole is from North Carolina.) I've been to his high school. NBD. There are 10 tracks and each is worth a listen even if you're like me and you mix in some Pearl Jam, Bruce Springsteen, and Caveman.
---
Breaking News
Cover your ears, Chad Doran. I've been researching Appleton, WI which is where we'll be staying on tonight and Saturday. My crack research stumbled upon this gem – Appleton named "drunkest city in America",  Twelve of 20 drunkest U.S. cities are in Wisconsin, and Drunkest city in US? It's Appleton, report says. I will stay woke for signage around Appleton noting this prestigious award. Oshkosh, it's time to step up your game.
Let's see if you agree with Appleton winning the Lombardi trophy of drinking.
[contact-form][contact-field label='Name' type='name' required='1'/][contact-field label='What%26#039;s the drunkest city in the US? Wisconsin?' type='text'/][/contact-form]
FYI: We will not use your name in sharing the results.
---
"I Got the McRib Blues, the McRib Blues…"
Ben Clark, one of our award-winning members, followed up on a story that we posted in the Confidential about local government's role in bringing the McRib to town. Apparently, after the dramatic testimony in front of council, McRib girl grabbed a pen and pad to write the McRib Song. Let's take a listen, but first, an official comment from McRib girl:
"On 24/11/2015 I spoke to the Santa Clarita City Council to help me bring back the McRib. It received mild media attention but not enough to influence any of the 10 restaurants in SCV to answer my plight."
---
---
Friday, December 9
Smooth Sailing
Don't worry about me #ELGLWiscy is off to the perfect start.
What does this mean? Family and friends should expect Christmas gifts from the airport newsstand. Be honest, you can't have too many keychains and generic "Portland" shirts.
---
Thursday, December 8
Greatest Supper Club Ever 
The tailgate before the tailgate…The greatest Supper Club Ever takes place in Appleton on Saturday night. Join us. All are welcome and based on this article it is bound to be a good time – Appleton named "drunkest city in America," seven Wisconsin cities in the top 10. If you planning on attending and want ELGL swag, send an email to [email protected].
---
Travelin' Tunes: Caveman
I've added a bunch of songs from the Caveman to my iTunes playlist.
---
---
The Calm Before the Cold 
It snowed in Portland today. No big deal. The winter "storm" that blew through the Pacific Northwest dropped a whopping 1 to 2 inches of snow. So, I don't want to be overconfident but I am pretty sure that this prepares me for anything Wisconsin has to offer.
My flight leaves tomorrow morning (hopefully). My biggest question in packing for the trip is whether I need a ski mask. I am not a big ski guy (i.e: I don't own one and would prefer never to own one) but my cheeks are worried about hypothermia.
[polldaddy poll=9604203]