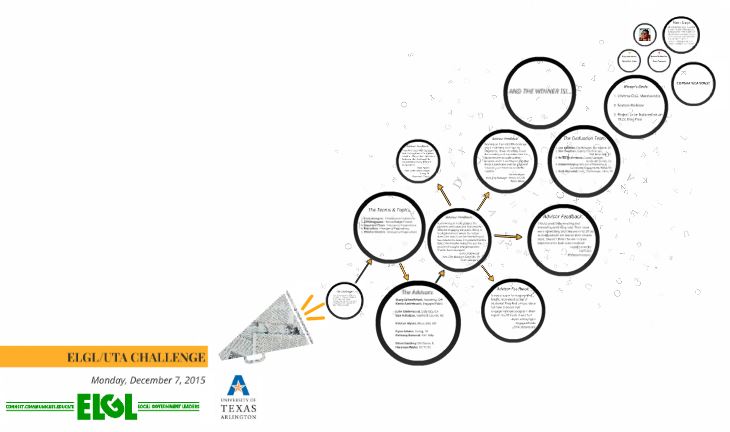 The Details
Last Fall ELGL partnered with Dr. Colleen Casey's PhD course from the University of Texas at Arlington's College of Architecture, Planning, & Public Affairs. In this class, ELGL & Dr. Casey issued a challenge to students to provide solutions for a systemic problem in local government management.
That problem: How to 1) Improve citizen input, 2) Increase community engagement, and 3) Foster communication to constituents.
Students grouped into teams and were given the opportunity to fine tune their solutions to fit a specific area of focus such as:
Annual Budget Process
Infrastructure Investment
Planning & Zoning
Emergency Preparedness
The winners of the challenge were chosen by a panel of ELGL members that looked at items such as feasibility, practicality of implementation, and how well the solution addressed the main problem of citizen input, community engagement, and fostering communication.
The team that was chosen as the winner of the ELGL/UTA Challenge was Team Organized Chaos!
This team proposed a cold weather crisis response for unsheltered homeless as a part of addressing the focus area on emergency preparedness. Ensuring that those most at risk are safe and secure reduces healthcare costs, saves lives, and may even begin the journey to transitional housing that could end homelessness. Engaging local citizens to assist those in need with cold-weather homeless backpacks and survival infographics gives the community an opportunity to reach all constituents in a sustainable, altruistic, and socially beneficial manner.
This webinar will feature the members of Team Organized Chaos as they explain how their proposal can bring communities together to address an urgent problem!
Meet the Team
Brandie Green, MPH, is the Assistant Director for the Health Careers Institute at the University of Texas at Arlington where she has the opportunity to use innovative methods to develop and introduce new or in-demand healthcare courses that would benefit the surrounding community. Mrs. Green is also currently a second year doctoral student at the University of Texas at Arlington in the Public and Urban Administration Program. Her research interests focus on healthcare policies, access to quality healthcare, maternal and child health, and bridging the gaps in health disparities.
Wes Parks is a Fort Worth-based psychotherapist with a keen interest in how public policy can shape mental health treatment for disenfranchised populations. In fact, he feels there is a psychological perspective to any public policy issue and better understanding that psychology can improve stakeholder outcomes. His research interests include effects of exposure to traumatic events, groupthink, business and organizational psychology, and the symbiotic relationship between psychology and public policy.
Joycelyn Caesar is recently retired from the City of Dallas after 32 years in the field of public administration. Her PhD field of interest is homeless prevention.
Annissa Macon currently serves as an Educational Consultant for Region 11.  She has been in the PhD program at UTA for two years and is interested in how schools and communities can provide coordinated services for students considered at risk.  She plans to become an administrator in the public or education sector working to provide support to struggling students and their families.
Mark your calendars! Sign up today to attend the webinar on Thursday, March 3rd at 12:00 p.m. CST/10:00 a.m. PST.
Supplemental Reading
WINNER, Organized Chaos, Creative Engagement Solutions for Emergency Preparedness
Final Report: ELGL/UTA Local Government Challenge