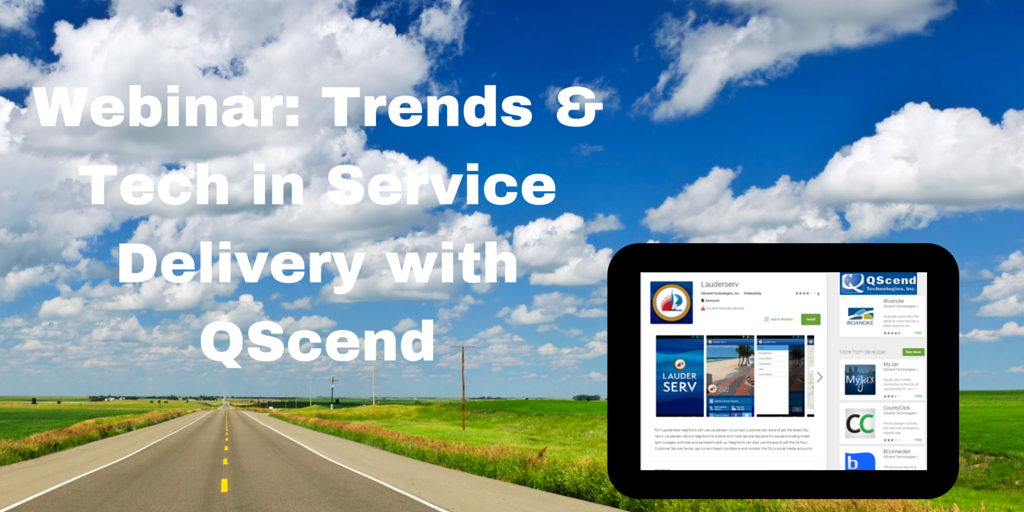 [vc_row full_width="" parallax="" parallax_image=""][vc_column width="1/1″][vc_column_text]
#ELGLInnovation
Join ELGL for the next installment to our Innovation webinar series! The next webinar in partnership with organizational member QScend Technologies (LinkedIn and Twitter) will focus on how local governments interact with residents and manage citizen requests. This webinar will cover the challenges and emerging trends local governments face when they incorporate technology into classic models of service delivery.
We've partnered with Qscend to put together a panel of local governments finest to share their experience developing, implementing, and transitioning to a new processes. ELGL and our panelists are looking forward to your questions and comments on September 10!

Service Delivery
The way in which local governments provide services is changing. Recently the City of Toronto became the latest internet phenomenon when someone used Twitter to alert the city of a dead raccoon (Twitter). The City responded saying they had notified animal control but animal control did not show up until several hours later.  In the meantime, the poor little guy had already become an internet sensation.
This highlights the changing expectations that residents have in how cities/local governments provide services. Residents expect governments to be mobile, be responsive to technology, and to be able to respond quickly. There is a rising expectation that government be as mobile and technologically savvy as residents both at city hall and in the field, or risk becoming the next internet sensation.
QScend Technologies is a recognized leader in helping cities and counties more effectively manage the requests of their citizens. Join us for a free webinar as we explore how to effectively make the transition from the classic model of service delivery to a new electronic and mobile model of service delivery.
Meet the Panelists
Who can you expect to hear from on September 10? Our panelists have first hand knowledge of implementing technology into existing local government processes. Our panelists include:

Lieutenant Daniel T. Lauer (LinkedIn)
The City of Waterbury has faced a perfect storm in recent years of a deteriorating and aging housing stock, absentee landlordism, and a stagnant economy. This has put a strain on an already difficult situation of addressing the issues of blight, litter and abandoned properties. In response to these concerns, Lieutenant Lauer has managed the implementation of a citywide, comprehensive anti-blight program that stresses education as well as enforcement. A key component to the success of this program is active citizen engagement. Hear how Waterbury has used a Citizen Request Management technology to quickly respond to and remediate blight and other quality of life issues.
Marla Donald (LinkedIn)
Marla Donald is the Customer Service Manager for the City of Fort Lauderdale. Marla oversees the logistics and business needs of the city's 24/365 call center. Under her leadership, her team is responsible for monitoring City Resources and answering over 120,000 calls a year from Fort Lauderdale's neighbors, visitors, and stakeholders. Hear how Marla and her team provide support and streamline their resources with the help of QAlert Citizen Request Management technology.

[/vc_column_text][/vc_column][/vc_row]