Back in December we learned about a new offering from Virginia Tech's Graduate Certificate in Local Government Management; they recently implemented an online version of their certificate program. ELGL loves new ideas and innovation, so we wanted to find out more.


Background: The Virginia Tech Center for Public Administration and Policy (CPAP), in partnership with the Virginia Local Government Management Association (VLGMA), developed a graduate certificate program in local government management that provides the next generation of local government managers with the tools to advance their careers and provide exceptional leadership within the communities where they work. The International City/County Management association (ICMA) has identified leadership development as one of the most important issues that local governments will face in the coming decade.
When: Feb, 26 at 10am Pacific, 1pm Eastern. This is a webinar, register here!
Related Reading:
Never Stop Learning: Virginia Tech Launches New Initiative
Pulaski County, Virginia Tech work together for government management program
Graduate Certificate in Local Government Management Brochure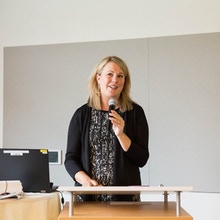 I'm the co-founder and executive director of ELGL. I love my job. Other things I love: local government, my family, my dog Michael Jordan, sandwiches, naps, books, and skee-ball.