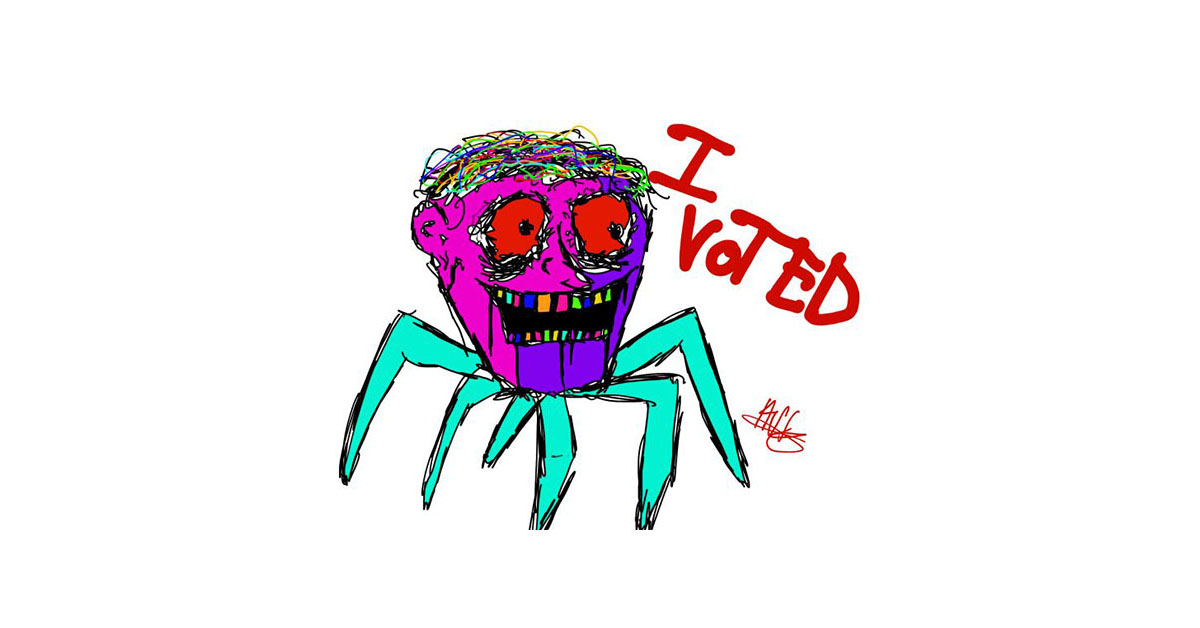 Today's Morning Buzz is by Warren Kagarise, digital engagement manager for King County, WA. Connect on LinkedIn, Twitter and Instagram.
What I'm Reading: A look at how the long, deliberate process to build the 11th Street Bridge Park is working to change a Washington, DC neighborhood without fueling further gentrification.
What I'm Watching: "Chernobyl: The Lost Tapes" — a new documentary about the clean-up and cover-up of the 1986 nuclear disaster in the former Soviet Union.
---
When you picture a local government's "I voted" sticker, you probably imagine something quietly patriotic: a motif in red, white, and blue, of course, maybe with the addition of a U.S. flag or a bald eagle.
Enter Ulster County, NY.
The county, located about 90 miles north of New York City, recently held a contest to choose its next "I voted" sticker. The winning design, created by Hudson Rowan, a 14-year-old county resident, features a human head with red eyes perched atop six insect-like legs.
"It hits a nerve. It makes people on both sides of the aisle feel like, yep, this is what voting is like," Ashley Dittus, commissioner of the Ulster County Board of Elections, told NPR last month. "This is what participating in our democracy looks like in 2022."
Yeah, sounds about right.
The sticker contest received 243,000 votes, with a lopsided 93% going for Hudson's design. Not bad for a place with about 122,000 active registered voters and about 180,000 residents.
Ulster County voters who participate in the November election will receive Hudson's sticker design. (The other five "I voted" sticker submissions will be used for the August primary.) The county's elections board hopes the stickers boost voter turnout.
Call it a Boaty McBoatface moment for Ulster County. The viral response to Hudson's sticker design already accomplished something monumental — and rare — in local government: getting people to pay attention and participate in the process.
Voting for a sticker design is not quite the same as voting in the actual election, but each complements the other. As government communicators, we often put our energy into a specific issue or campaign; building a sustainable, engaged audience is more daunting, and plays out over a much longer term.
But the first step can be as simple as asking people to choose a favorite sticker.
When we go to our communities for feedback or direction, we tend to ask a lot, not just in the number of questions or total minutes, but also in what we want to accomplish through a single survey or public meeting. In our rush to meet deadlines, we can ignore or downplay the engagement fatigue our residents feel.
Something we often miss when we invite community members to participate in the civic process: a sense of fun.
I understand the reluctance to try something new, especially something with the potential to backfire. The last thing you, or any public servant, wants to do is portray your agency or your community in a negative light. And, yes, a lot of what government does is not fun — or funny.
Nationwide, local government is getting better about using humor as a way to engage residents, when appropriate. The ability to thread the needle on topics serious and less so is vital to staying relevant with the people we serve. Showing some irreverence can also act as a way to lower the temperature, especially the polarization of national politics seeps into local government.
While no single public agency has cracked a secret code for sustaining engagement and building trust over the long term, Ulster County showed people what can happen when government uses some levity and trusts others to help make decisions.
As public servants, we can learn a lot from Hudson Rowan's red-eyed, six-legged, democracy-loving creature.