This guest blog is by ELGL member Josie Gatti Schafer, the Director and Senior Research Associate at the Center for Public Affairs Research at the University of Nebraska – Omaha. She's conducting research on evidence-based management, and she's sharing her research process and methods with ELGL.
---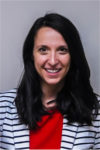 Last May, I joined the ELGL crowd at their Golden, Colorado Annual Conference.  I can go on for a while about how awesome the event was and how much I learned; however, one thing really stood out – this group of local government folks was smarter and more innovative than I could have ever expected and I better get with it!
When I graduated with my Master of Public Administration, I wanted to be a local government manager.  However, in a short two-month internship, I got the feeling this was not for me. Everything I had just learned was about research, rational decision-making, and how to apply both to make better decisions.
Countless, times, I was asked to provide the evidence for each and every claim I made.  However, once in the real world, I just didn't feel like people were picking up what I was putting down. Hindsight, that was my fault, but too late for that now.
So, I thought a Ph.d was the answer. With another degree, I thought, practitioners would me more likely to listen to me about how to gather and apply data to make informed decisions.  However, while off writing my dissertation, then teaching and following up on other research projects, I feel like the practitioners have passed me by.
On display in Golden, Colorado was a voracious agenda of evidence informed practices that made me rethink what local government management is today.  
So here I am today, playing major catch up, begging you all, to take a survey so I can know what you know.  Over the past several years, the movement known as "evidence based management" has taken hold.  
The crux of evidence-based management is that managerial and policy decisions should be grounded in evidence – the best available evidence- and critical thinking.   
It should come as no big surprise to anyone that evidence based management is a good thing, and so the purpose of my work is less on what evidence based management is doing for us, but more on how you got there and how we get better.  What are the antecedents to evidence based management? How is it practiced? What are the barriers? How do we maintain it and spread it?
Thank you all for your time and commitment.
---
Note: An email with the link to the survey should have been sent directly to you if you are a current ELGL active member and a current practitioner of local government.  If you did not receive the survey and would like to be able to take it – email Josie.