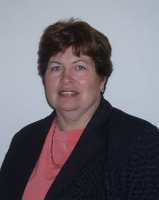 As part of the grueling ELGL initiation process, new members are asked to complete the ELGL version of the Wonderlic test. It's an open book test and participants aren't faced with the challenge of using a dull number 2 pencil to fill in tiny circles. Let's learn about today's participant.
Robin Weaver (LinkedIn and Twitter) is a local government professional in Illinois with more than 30 years of experience serving communities ranging in size from 9,000 to 53,000 in population. e has notable leadership experience in the area of Intergovernmental/Regional groups including Northwest Municipal Conference, DuPage Mayors and Managers Conference, IRMA (risk pool), cable consortia, regional planning, IPWMAN (mutual aid), and GIS consortia. government.Robin earned her baccalaureate degree in Political Science and her Masters of Public Administration from Northern Illinois University.
Part I: Complete the following sentences.
I feel….

Happy (nod to Pharrell Williams).
I joined ELGL because of the energy and dedication to public service as exemplified in the online interaction.
If I was in a talent show I would perform, it's not going to happen.
My life is complete by being full of blessings:  family, friends, successful career, health and travel.  It is far from over but certainly complete.
You should probably know that although retired, I volunteer as a Senior Advisor for ICMA and ILCMA (Illinois City/County Management Association) and take some part-time interim jobs.
Part II: Agree/disagree with the following statement(s)……Explain….
My peer group views local government as a desirable profession. 
My non-government friends admire my work but don't understand why anyone would work for the government.
I plan on spending the rest of my career in local government. 
Yes…because I am able to make a difference.
Potlucks are a good idea. 

Yes, potlucks are great for interaction and exposure to different foods.
City staff should be required to live in the city in which they work. 
City staff should not be required to live in the city in which they work although it is preferable for the city manager to live there.  Location of one's home involves more than just a job site.  Other factors include partner's work, schools, proximity to family or friends, housing costs, costs of moving/house purchase/sale costs, and disruption to the family.  Living elsewhere can provide a separation from work and a different perspective.
Local governments should have an employee dress code. 
A dress code is imperative to good customer service and good employee interactions.