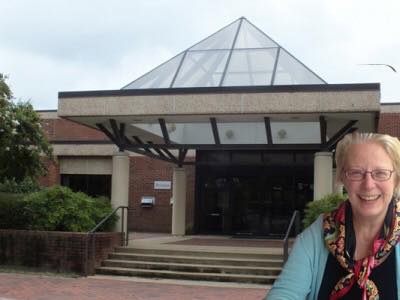 It's Library Week! Vote about the Williamsburg Public Library. Join ELGL for daily score updates from the National Championship. We'll update this post throughtout the week.
---
Leslie B. Knope Award National Finalist
Williamsburg, VA Public Library
Connect: Facebook, Twitter, and World Wide Web
---
Williamsburg Regional Library on ELGL
---
10 Questions with Barry Trott, Williamsburg Regional Library
Most circulated book in the last year…..
A quick look in our ebook collection indicates that "Hillbilly Elegy" by J.D Vance was the top circulating ebook title, closely followed by Marie Benedict's The Other Einstein.

Number of full-time and part-time staff? Number of volunteers?
We have 103 employees and 106 volunteers.
Most popular program (based on attendance) offered in the last year?
Our Chesapeake Bay Day event brought in over 500 children and families to enjoy a visit from the Virginia Aquarium. The Chesapeake Bay came to the library with a marine science touch tank. Children were able to  touch live marine invertebrates and artifacts, and talk with Virginia Aquarium educators about ocean conservation.
Most frequently asked question from patrons? Oddest question?
The most frequently asked question is to place a hold on something to read, listen to, or watch.
One recent unique question was from a mom who asked us to create a reading list based on the family vacation plans so that her kids could read about the places they were going to go. She wanted a mix of fiction and nonfiction, and it was a great example of how libraries can support their communities.
Most common misconception about libraries or librarians?
Too often, people think that the popular stereotype of the library as a quiet space haunted by a quiet, mousy librarian shushing people is a reality. It never was, and it is certainly not the case today, as libraries are vibrant community centers where people can gather to discuss, learn, engage, and explore what interest them.
What do you consider the most innovative program offered by your library?

We have offered several new and exciting programs this past year. Our STEAM Saturdays events which launched in January have each brought in over 500 children and family members to enjoy programs, activities, and interactive stations all centered around science, technology, engineering, arts, and math.
The library is fortunate to have a 268-seat professional theatre as part of our facilities, and it provides space for a variety of library and community events, including our long-running Dewey Decibel Concert Series, three film series, theatrical productions, and more throughout the year.
Recognizing a need in the community, this winter WRL began a new series—The Getaway Café—which allows adults with early memory loss and their care partners to share conversation, experiences, and memories.
What new programs or initiatives does the library have planned in the next year?
WRL will be renovating our children's area at our James City County Library to offer our community science and art activity stations and interactive programs in addition to collections of great materials. This initiative will expand the library's role as a place to engage and learn.

What is the biggest challenge on the horizon for the library?
The biggest challenge for all public libraries is to evolve to remain engaging, exciting, and relevant to their whole communities.
Name three libraries that you consider to be a leader among public libraries.
Henrico County (VA) Public Library for its pioneering development of library spaces.
Louisville (KY) Free Public Library for its innovative and exciting programming.
Darien (CT) Library for its inventive approaches to public service.
What question should we have asked? What's your answer to that question?
Why are libraries important today?
In an age of information uncertainty, public libraries remain a reliable community source for accurate information that is vetted by specialists dedicated to providing the community with information they can trust. This role is essential to the survival of democracy.
---
Word on the Street – What the Community Thinks About the Library?
Because my son grew up loving his local library. Got his first gold card at six from their summer reading program. Saw his first snake from a show there, made his first friend there, wrote his first middle school research paper there, put on shows there…..it is part if the culture in this area to meet many people, and attend events and especially find that special book that turns your child into a great reader
They are so involved with the children of this community. My grandchildren love to go to the library.
I work at a local senior community, and the Mobile Library Service brings books, movies, and music to our residents once each month. The library employees call each resident prior to their visit to further personalize the service, and to meet the resident's needs. This is by far the most popular program at the property! I love our library!!!
Our library is so warm and welcoming. The people are wonderful. The architecture is open and sunny, the landscaping is beautiful. It is such a nice place to spend time. They have a great collection of books, tapes, etc, and a robust book re-sale library. They maintain wait lists for in-demand books, and are happy to get anything they may not have through a speedy intra-library loan.
It has more to offer then your average Library. Movies every Thursday. Special activities in the evenings and weekends. Entertainment. Plus all the things it should have. All for free.
The Library has a wide range of materials and convenient hours. Staff always ready to assist folks with a smile.
Williamsburg embraces both innovation and history…a perfect combination!
Easy to access. Good selection of material. Serves community well with information and facility usage. Staff very helpful and welcoming.. Has bookmobile to support those patrons with transportation issues – especially those at retirement communities.
Beyond traditional books and magazines, it presents plays, movies and has become a community meeting place. E books are also a nice feature.
I love WRL because of the wide variety of offerings for our family. From ebooks, DVDs, computer use to kids' activities & music concerts, WRL is a tremendous community asset.
Helpful staff, programming for all ages, easy access, innovative, great facility, essential part of our community.
Williamsburg is absolutely amazing. My kids enjoy this library every week and have added so many new books recently. An amazing addition to our community and loved by all.
Virginia is for Lover's and WE LOVE our libraries in Virginia. Great customer service, dedicated staff and awesome materials!

The library reaches out to our retirement facility, Windsor Meade, by bringing their mobile van to our facility.
Many excellent trainning courses offered, friendly staff and great environment!
This Library is close to home and has all the books, periodicals, and media that I could possible need. The staff are VERY friendly and always willing to help!
They consider all individual requests and usually order them. Best stocked library. They also will order materials from other libraries if they don't have them.
It's a beautiful place to relax and read. The selection of books is part of the reason I visit this library.
I love the events and special presentations they do for the community. It's so helpful for families that want something educational for kids and doesn't hurt the pockets of others that can't afford it. The staff is always helpful when I tell my kids to ask for themselves. At 5 and 8 speaking with an adult can be intimidating. I'm so thankful for the library and so are my kids.
I lived here and just moved, but this is one of the best libraries in the surrounding areas. It has a great selection for all ages and holds many events for kids and adults.

Our library goes above and beyond, providing not only a fabulous selection of resources for all ages, but great service and help(our librarians seemingly can't wait to solve a mystery or request of any sort—it seems like they're having FUN, helping us to find what we need! It's as though they feed on the challenge!) Our three children, now college students, grew up in our library, attending the many programs offered, including Paws to Read, the Summer Reading Program, and StoryTime. We've enjoyed plays, movies, music groups, and magicians in the library's theater, while the meeting rooms have helped community organizations have a place to gather. Regular art exhibits, photography exhibits, and local school art expose us to the best of our community. The Williamsburg Regional Library is a valued and cherished part of our vibrant community.
The reading program for kids is fantastic, as well as the youth area. When my children were young, they asked to go to the library regularly. My 22 year old is still in love with books today, and prefers books to all other forms of entertainment. We owe her love of books to WRL. I love the library because of the knowledgeable, helpful staff, access to computers, quiet reading area, magazine and movie selections, etc., etc.
Great community asset and gathering place for young and old. The management and staff are outstanding.
The youth area of the library is a wonderful space for kids to interact, read, learn to use the book search on the computer; and, the youth librarians are so friendly and willing to teach the kids.
I love Williamsburg Library because of all the varied programs offered at the library. I attend lectures, classes, films and musical events in the theater part of the library. My local Delta Kappa Gamma Chapter has had meetings in the smaller meeting rooms. The book selection is great also.
The day after I moved to Williamsburg in 1993 my entire family got our library cards. My son grew up with story time, Both kids participated in the awesome summer reading program every year. The only place I go more than the library is church!
WRL organizes many activities for children of all ages! Story time is not just about reading books, but also about listening to music, playing musical instruments, and learning about colors, number, modes of transportation, animals, holidays, etc. The librarians are warm, friendly, dedicated, and passionate about spreading their love of reading. My two-year-old loves WRL and so do I! 🙂
The Williamsburg Library offers a wealth of books in different genres, and there are many periodicals and reference books to enjoy as well. The Williamsburg Regional Library has a Battle of the Books Program for young readers in grades 4-7. There is storybook time and crafts for younger children and even visits by animals for the children to enjoy!!!!
We love to check the daily and monthly calendar of events on the Williamsburg Regional Library's website which has activities, meetings and computer classes for individuals visiting this wonderful library.
The Williamsburg Public Library was a very important part of raising my three children here in Williamsburg. We made weekly visits to collect books to read at home, play educational games on the computer, and gather books for school research. We also attended a myriad of wonderful events for children and families- magic shows, crafts, science shows among the offerings. We also participated in their wonderful summer reading program where the kids read books for prizes and proudly met with teen volunteers to tell them about their reading. Every employee at the WRL was always welcoming and helpful and passionate about what they do. The WRL is a real treasure of our town and will always hold special memories for my entire family.
It's innovative and positive. They respond to so many problems in communities, they bring happy and beneficial ideas and entertainment. I have lived and visited many libraries. While they are all good, this library is exceptional. I feel fortunate to live in a place with such a wonderful LIBRARY
Our Wonderful Williamsburg Library is a most welcoming facility! The staff are all so very helpful, friendly and committed to the community! A delightful place to "hang out " and a well stocked and organized space to get down to serious research! We are so very fortunate to have this facility in our community!!
The Williamsburg Library is my sanctuary, a temple of knowledge that connects me to the world beyond its walls.They usually have what I'm looking for and, if they don't, I can request they acquire it.–and they have, on several occasions. The staff is knowledgeable, friendly, and eager to help. Sometimes I wish I could move in.
We love the library because there is an unlimited amount of books and props to check out for my home daycare and my class for teachings English as a second language for children. Thanks for all you do!!
There are many special programs offered by The Williamsburg Regional library. We have enjoyed classical and contemporary music, plays and historical presentations just to name a few. Also the Williamsburg Regional Library website is well organized and presented and there is a daily calendar of events offering activities, meetings, art displays and other special events. We are blessed to have such a wonderful library in our community which is open to individuals of all ages and from all over the world!!!!
WRL has a brilliant collection of audio and visual items to keep us entertained and informed. Hard copy books ( which I still prefer ) can be picked up or ordered in a timely fashion. They also provide programs to service and entertain the community from Tax help to lectures as well as movies and concerts. We have dedicated staff, some who have become friends, who are always available to help. Thank you for being our favorite library.
The children's programs provide opportunities for my students to experience cultures in ways they may not otherwise do. I also love the summer reading programs which keeps my own children and my students motivated to read throughout the school break.
I have watched my Williamsburg, VA library grow and adapt to the challenges of a changing media world in a way that made the changes virtually seamless for its patrons. Staff always seemed a step ahead and have proved amazingly adept at assisting patrons. Further, one cannot say enough about the unfailing patience and courtesy always exhibited by members of tthe WRL staff.
As an activity team member here at the Williamsburgs Landing we apprecite the panrtnership we have with The Williamsburg Regional Library who provides our residents with excepectional service as well as assistive items for those indiviuals with limited physical abilities. We along with the residents look forward to their monthly visits that provides informative subject matter as well as reminisces of pasts time in history. We hope much consideration and support will be provided for The Williamsburg Regional Library to achieve this honor.
WRL is a wonderful place to spend quiet time with helpful staff when needed and a variety of activities that meet the demands of the community. Williamsburg is SO fortunate to have this Library in a convenient location in the city for its residents as well as for residents of York and James City Counties.
Our family has been relocated 15 times and we have depended on public libraries in each community where we have lived and the Williamsburg library is the best. The expansive services offered by WRL and hours of operation are by far the most impressive of any other we have experienced.
Perfect mixture of great staff, opportunities to learn, entertainment for the whole family, and a wonderful collection. They have a heart for the entire community of Williamsburg, James City County, and Upper York County. Whether it's providing yoga classes for tots or a safe shelter for the homeless, they provide services in an atmosphere that is welcoming to all.
I love my library because I'm enjoying taking a new generation to this beautiful building and amazing staff to learn to love books, reading, and learning just as I did my daughter. The library serves the entire community well with their collection, programs, and cultural facilities. It adds so much to the excellent quality of life here!!
Williamsburg Regional Library not only has great books, but they open their facilities to the community by allowing groups to rooms for meetings and tax preparation help, and their auditorium for lectures, concerts, and adult Learning classes!
They always have the best in both older and latest reading material. And they usually have items in regular and large print. All of the people who work there are very helpful, courteous, and usually take care of any request you make of them. I have supported our library for as long as it has been in existence and will continue to do so. The programs presented; art exhibits, and much more are always top quality.
The Williamsburg library is the best library in the whole united states of america. All the staff members are extremely kind and helpful. its super easy to find what youre looking for and its a nice silent place to study. they have great activities for kids, teens and adults. they really think of everything around here. I love the Williamsburg Library!
We have very varied programs and are happy to have a theater space. Inter-library access is most appreciated. Our two buildings are a few miles apart and are attractive and accessible. The best part is the employees. They are always friendly and helpful.
WRL is all about community. We have something awesome to offer every age group. Everyone feels comfortable and welcome as they come to their home away from home. Their purpose for coming is to enhance their lives through reading, listening, learning, sharing, enjoying, playing, and growing. Our mobile library services offer the same excellent opportunities to people in the community that are unable to travel to the library.
The Williamsburg Library has such a large selection of books and are always adding new and up-to-date ones. Their children's selection is very diverse and extensive. They also offer a whole range of additional cultural activities for all ages from infant through retirees and aged.
Our library adds so much to our community. The collection and resources are amazing. The staff is welcoming, friendly and so well informed. The building serves as a beautiful community gathering place in one sense, as I see people of all ages enjoying the facilities and one another's presence as well. From youth programs, films, talks, plays and live music in their theatre, to the beautiful building with both quiet books for study and a well stocked educational play area surrounded by the stacks of children's books, to the pretty park outside… Williamsburg Library has it all. It also has my heart.
I love my library because I'm enjoying taking a new generation to this beautiful building and amazing staff to learn to love books, reading, and learning just as I did my daughter. The library serves the entire community well with their collection, programs, and cultural facilities. It adds so much to the excellent quality of life here!!
The staff at the Williamsburg Regional library are wonderful. They are willing to help with arcane searches for books that are not easily available. They seem to make every borrower or researcher feel special.
The WRL has great concert series every year and showcases local talent. The theater room is great for intimate concerts and such a treat to have performers – both local and international perform in a great venue.
I love the Williamsburg Public Library because I grew up with it. Ten years ago, I moved into the Williamsburg area with my mother and we both fell in love with the staff and collection. Every Friday, I came into the library and selected familiar and unknown titles to read, listen and watch. Of course, I started with all the classics, Dickens, Spielberg, and the Beatles, but eventually I began to discover new books every week. Like a connoisseur with his cabinet of curiosity, I cultivated knowledge, taste and expertise from the diverse and expansive collection available at the Williamsburg library.
As I grew older and started reading more niche titles, the collection continued to surprise and support me in these new ventures. It opened doors and pathways to other worlds, experiences and complimented the education I received at college. I'm always pleased and surprised to find that Williamsburg does in fact own such and such title. There is something for everyone, from a tortured love affair in the Scottish Highlands, to the newest James Patterson book, to the anxious teen, who wants to read the next book in their favorite young adult fantasy, and history texts for the casual Williamsburg historian.
Additionally, as a staff member, I've come to witness and love the hard work and dedication put in by all departments in creating new programs and a friendly environment for everyone. This is a library that continues to evolve in order to satisfy the needs of its users at all ages. It provides programs, assistance, as well as, a collection that encourages individuals to think for themselves, investigate every nook and cranny of the world, and learn new information in the same capacity I did and still continue to do so with its affable librarians and distinct collection.
When I was new to town and pregnant, the library did an informational visit to the hospital where I was having my baby. The volunteer introduced me to the library, how to get a card and all the programs available for families. I decided to take her at 4 weeks old and we've been going ever since.
Thanks to this, and other great library programs, my daughter has blossomed into a smart, social girl who LOVES to read! The librarians always help me pick out the best books, especially themes that we are looking for. We go to the library about 3 times a week and it truly is our happy place.
I have been a volunteer for about 12 years and it is the most amazing place. The staff are the most friendly and helpful; the services offered exceed anything I've seen before anywhere with the Book Corner where you can purchase donated books; classes to improve computer skills; children's programs; "vintage" films that I remember from my youth; reservations services; even help with making coffee when the League of Women Voters organizes their Great Devisions series of talks annually, etc etc etc. So Williamsburg Library and its staff are the GREATEST.
I love my library because it has become a heart of our community. They host a wide variety of events, classes, workshops, concerts….you name it. And they serve everyone: kids, senior citizens, families, single people. I work as an events coordinator for a college bookstore, and I live that we have a mutually beneficial relationship with the library, cross-promoting each other's events. I love that several if the librarians know me and my family by name. I love our library so much that i have decided, at the ripe old age of 53, to go back to school and work towards obtaining a Master's in Library Science. Vive l' libre!
For two decades or more, Williamsburg Regional Library has hosted the IRS-AARP TaxAide program, first at the Williamsburg site, later adding the James City County site. I don't low the precise numbers but I think between two and three thousand returns are prepared at this sites each year. Library staff could not be more helpful with set-up, use of library printers, fax machines and the like, monitoring volunteers arriving before opening to let them in and also assisting clients of the tax assistance waiting in line ahead of the opening hour. In short, excellent hosting of an excellent free tax service for the elderly and low to moderate income taxpayers in our region.
Supports community with guest speakers,performers, plays, movies. Has superior children's section & support. Great magazine & newspaper section. Fantastic selection of books, movies & music tapes & cd's. During tax season offers AARP tax preparation for free. Has my favorite author, Walter Mosley.
WRL is a fantastic library. It has great family programs, knowledgeable staff, and is generally a wonderful member of the community. Libraries are part of the promise that anyone can learn, anyone can grow. WRL embodies this fully. I have been a member for over 30 years and it is still a little bit magical every time I go in.
WLR is accessible and friendly, the two branches have terrific book and media collections (books on tape, dvds, cds, ebooks), the staff is friendly, and the concert series "The Dewey Decibel Series" not only has a terrific name, it is a wonderful and ecletic series!
This library does more for the community it serves that any library in any community where I have ever lived and I have lived in many different communities and have had a library card since I was in the first grade!
That's my library! I've been going there ever since I was four (now 30) everything is well organized, the staff is so well informed & friendly. they host a lot of activities for all ages in crafts, learning classes, & performing arts shows & I love their yearly friends of the library book sale.
The Williamsburg VA public library and its employees and volunteers are outstanding. They all are eager to help, have a wonderful facility and are a community asset. Not only typical library services, but great film festivals, support to Great Decisions and many different musical performances. I absolutely love this library. Williamsburg, VA is a wonderful place to live and retire. One of the main reasons is the Williamsburg public library, its employees and volunteers.
My library connects three realities: past present future. Cast under a pyramid-shaped dome that entices and invites exploration, discovery, proclamation, Williamsburg Regional Library holds and shares the creations of minds and bodies experienced and to be experienced. It influences all comers to go out into our land where Native people lived first; where Europeans landed of choice and control; where Africans had no choice and made survival a purpose; where ideas became law, trade, education, transit; and where explorers head toward celestial spots. My library has Connectivity!
I met my husband through one of its book clubs.
I love my library because it's not just my library, it's OUR library! It is for everyone! WRL intentionally reaches out to our community to serve and support people of every age, economic and cultural background, utilizing technology and vision to connect people regardless of physical ability, digital experience, access to transportation, and education. The staff is friendly, knowledgeable, and share a love of life-long learning and community!
I love all the "extra" things they do – film festivals, musical performances, great decisions, League of Women Voters forums! I will go there 2-3 times/week without a book being involved!
My library has an exceptional staff and serves not only the local community, but also the worldwide visitors who come to the nation's premier history museum, Colonial Williamsburg, VA.
This library offers more than just a chance to peruse the shelves in search of a good book. The Williamsburg library offers a place for budding and seasoned artists to pursue their dreams. It displays art, offers a stage to perform theatre and since, and it gives the community a place to come together. Recently our library held a reading for a play written by a 17 year old local high school student, it give the playwright a chance to see his work on stage in front of an audience and a chance to bring the community a little closer together.
They have wide selections of books, tapes, magazines ect. and the librarians are friendly, courteous, and helpful. The physical state of the library is excellent. Books are arranged in an appealing manner. There is plenty of space for meetings and the copier is always ready to use!
Our library is simply the best – awesome children's section, great staff, wonderful nonfiction selection, and terrific events.
I love the summer reading program for the children. And all of the children programs that are offered at the library such as Mad Science visits, and authors who visit the libraryy and share their story and their love for books. The librarians are also always willing to assist in the library.
The staff cares about the users. A checkout staffer even sent me a card after my husband died, and offered to help.
Williamsburg Library brings our community together through its events-performances, storytelling, events for children, etc. It's a gathering place. Our library is the best!
One reason I love the Williamsburg Library is because of the various programs they offer in the lovely auditorium.
I love the Williamsburg Library! The teen program has brought my teenager back to the library!!!
Libraries & librarians are the heart & soul of our learning community. We enjoy the benefits of exploration & discovery for a lifetime because the Williamsburg library staff thoughtfully designs opportunities & programs for all ages.
Williamsburg Regional Library offers something for every age group from activities for toddlers, to teen evenings, to music and plays, and help with computers and taxes. Rather than just sit behind desks, the staff is constantly willing to help patrons, no matter how simple or complicated their needs are. It's a great library!
Williamsburg library has more programs and involvement than other libraries in Anaheim, California, Fairfax, Virginia and Washington, DC. It has an extensive book collection and a very efficient process to reserve books that may not be immediately available. The children's programs are outstanding–our grandchildren look forward to attending them when they're in town. The library is like our town center with the performances, meetings, courses,and movies they host. It is welcoming and warm and an important part of our lives.
The WRL offers much more than just books. There are movies, seminars, enrichment programs, online research services, not to mention the most helpful people you could ever want to meet.
The Williamsburg, VA Public Library includes the original, restored and reconstructed 18th century Colonial Williamsburg, VA as well as the College of William and Mary. This Public Library serves an an outstanding resource for the early history of the USA. A job well done.
I have lived in several different places and our library in Williamsburg, VA is the most vital and busy. It always feels like home when I walk into the library.
I love Williamsburg Regional Library because of their fantastic Youth Services Librarians and their amazing reading programs.
Our library has a wonderful collection both on and offline. And the have a large auditorium where I attend classes and concerts regularly.
I love Williamsburg Regional Library for all the WONDERFUL programming routinely provided to our community, so much of which is FREE and open to the general public! We have been frequent users for many years and I am proud now to be a member of an exceptional staff!
There are so many resources in my library.
When I need help it is there.
My library is within walking distance to the city and The College of William and Mary.
In the spring and summer you can relax in the beautiful arbor of fragrant flowers.
I also love the water that cascades down outside! I
The children's section is great!
 I love WRL for books, movies, magazines, computers, musical programs, and helpfulness when needed.