Today's Morning Buzz is by Kirsten Wyatt, the ELGL Co-founder and Executive Director. Connect with Kirsten on LinkedIn and Twitter.
---
I knew I wanted to write today's Morning Buzz all about ELGL's new membership community, and perhaps I've been playing too much Wordle, so I was figuring out anagrams of "membership" to title this post. In addition to some very inappropriate words, two stood out to me: shimmer, and shrimp.
Before I tell you why, please take a minute to head over to Community.ELGL.org and double check that your ELGL membership is up to date. Your annual dues allow ELGL to hire great staff, produce helpful content, and offer unique programming.
While we don't often make a sales pitch for paying dues, every so often I do want to remind our local gov community that it's with your support that ELGL is possible. If your membership has expired, please consider renewing and if you don't have a membership yet – today is a great day to join! Thank you for checking your account – now back to the Buzz:
Shimmer
You can't spell membership without "shimmer."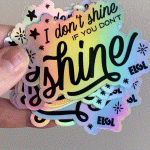 On Friday, we'll host our second annual "Galentine's Day Lunch." This great event is open to anyone who works in local government and wants to spend an hour with other inspirational leaders, sharing and exchanging ideas. At ELGL, we often talk about "shine theory," or the concept that "…I don't shine if you don't shine." So we've made special stickers for the attendees at the Galentine's Day Lunch; it is a chance to shimmer and shine with other amazing people who work in public service.
On a larger level, ELGL membership is all about helping each other shine (but shine isn't an anagram of "membership," so…). Joining ELGL is a way to affirm that you support the work we are doing to lift up and celebrate all of the good things in local government.
And, we're also currently accepting nominations for our annual "Best Places in Local Government" award. This year, we're showcasing historic and cultural places. Running award programs quarterly is another key ELGL program designed to amplify the good in local government. If you have a locally beloved location, please consider making a nomination for this year's March Madness bracket. It's a way to help your local government shimmer and shine – and showcase the ways that local government helps tell the stories of our history and culture.
Shrimp
You can't spell membership without "shrimp."
I often talk about ELGL as a content organization and a friendship organization. It's a little cheesy when I really get into the friendship topic, but I am an earnest believer that making friends is much better than networking.
So we've structured ELGL in ways that encourage people to meet each other, often online, and find commonalities and connections that often have nothing to do with work, and everything to do with being a human. One of my favorite examples of this was when a few of our members shared their love of jumbo shrimp and then proceeded to tweet at each other every time they encountered a shrimp buffet.
It makes me strangely proud that we've build a network that celebrates #localgov professionals *and* jumbo shrimp aficionados.

— Kirsten Wyatt (@kowyatt) February 9, 2021
For my birthday dinner in December I ate an entire platter of cocktail shrimp. Only. I think it's fair to think of me as the shrimp lady. @novalsi we are who we are

— Bridget Kozlowski (@bridgetdkoz) February 10, 2021
I love the idea that our members can find ways to connect authentically with each other, around things that matter to them, that have nothing to do with professional development. I want us to find ways to nurture these relationships so ELGL members can form a network that supports and sustains them when work gets tough.
The reason we made the switch to our new membership community is to foster these types of conversations (not specifically about shrimp, but generally about whatever it is that our members are thinking and talking about). And so another reason to log on and make sure your membership is up to date is to ensure that you're plugged in to the groups and cohorts that we're running that are designed to include high quality local government learning, and also the chance to form authentic friendships with others who work in local government.
One last reminder – update your profile and make sure your membership is current at Community.ELGL.org!