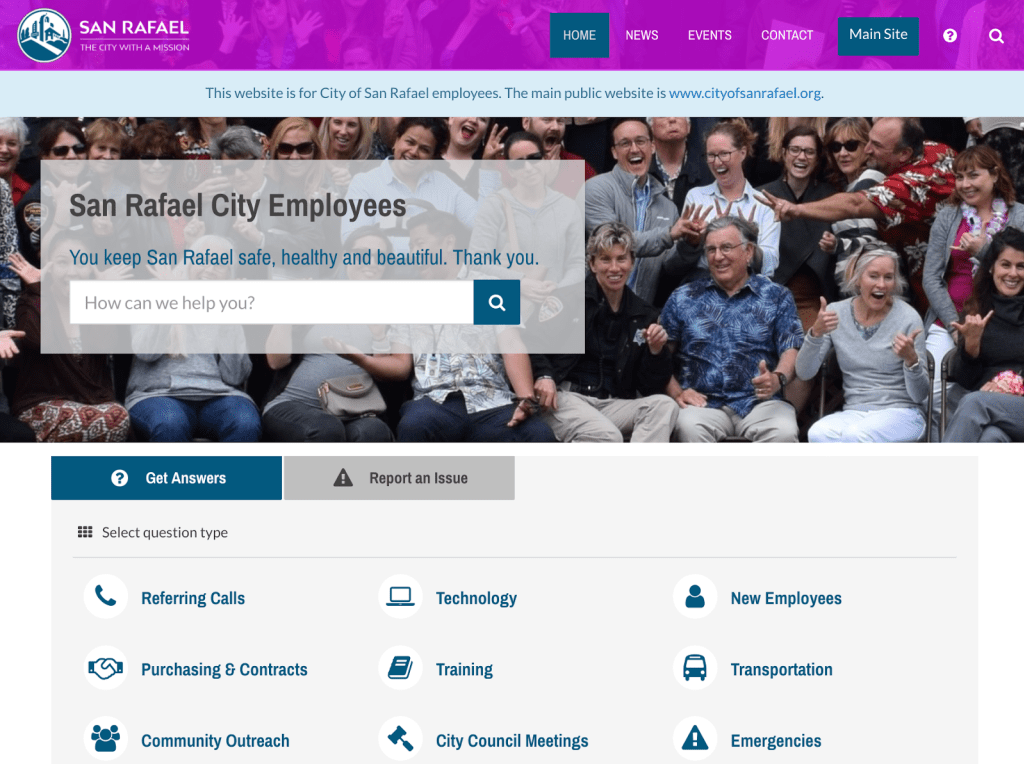 Right now with Rebecca Woodbury (LinkedIn/Twitter)
What I'm Listening to – mostly dream pop these days
What I'm Reading – Technology and Public Management (yes, it's a textbook)
What I'm Watching – Flint Town
What I'm Doing – planning a vacation to Spain!
---
So, at the City of San Rafael we have an intranet. It's a Sharepoint site from like 2005 or something. Nobody uses it. There are some documents on there.
To get to the intranet, you need to be signed onto the City network. But, nothing on there is confidential. It's mostly a bunch of forms (mostly documents that you have to download and print) or other resources like phone numbers or the list of holidays we get off.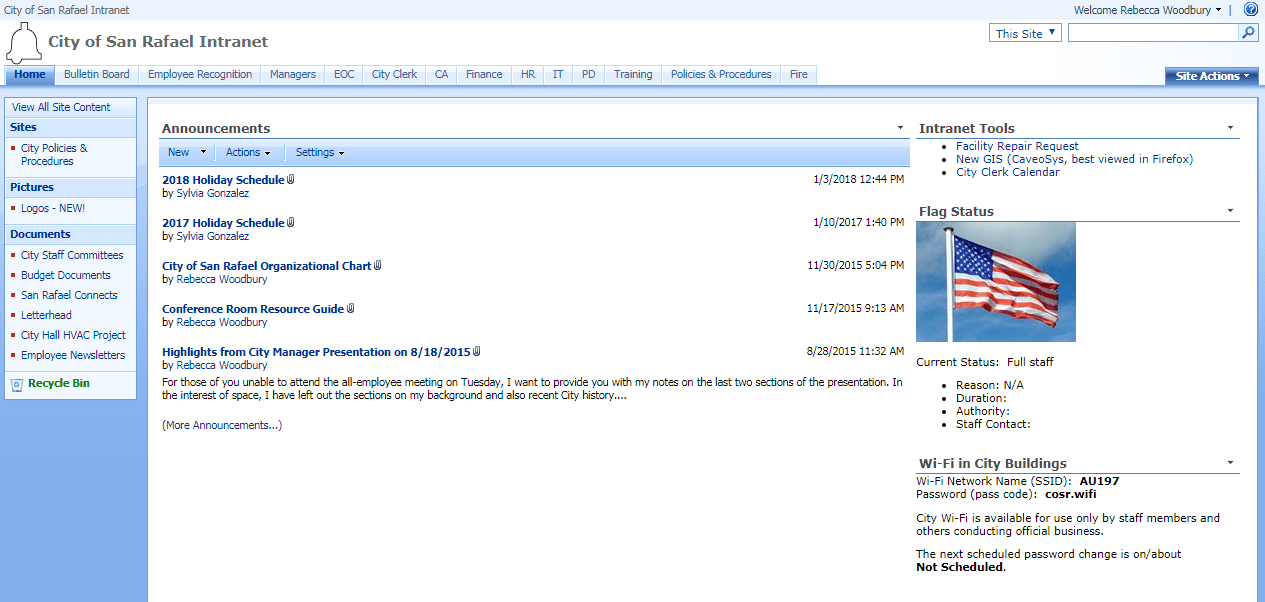 If you can't tell by now, let me be clear: it's a horrible place.
So, we're building a website for employees. Most of the content is not password-protected which means job seekers will have a window into what it's like here, other cities and towns will have access to our procedures and forms, and, well, open government is cool. Also, employees can easily access it wherever they are (it's mobile-first!).
So far, it looks like this: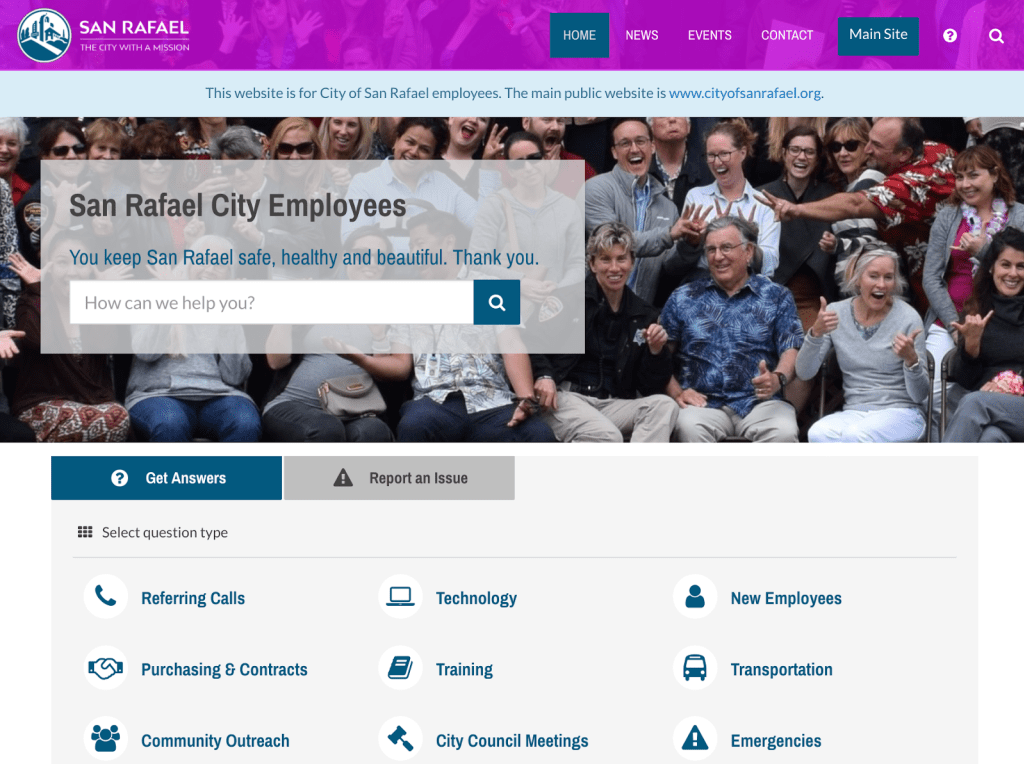 We're still in Alpha – a lot of the content has yet to be developed. A cross-departmental team is working through a series of sprints to develop the content and build out the site. We started with an inventory and evaluation of the current resources we have available to staff, such as checklists and forms, etc. We've found that most of these are not easy to understand and paper-based. As part of this process, we'll be changing that.
Right now, we are working on a series of "guides" for employees. Here's an example of the guide for public outreach: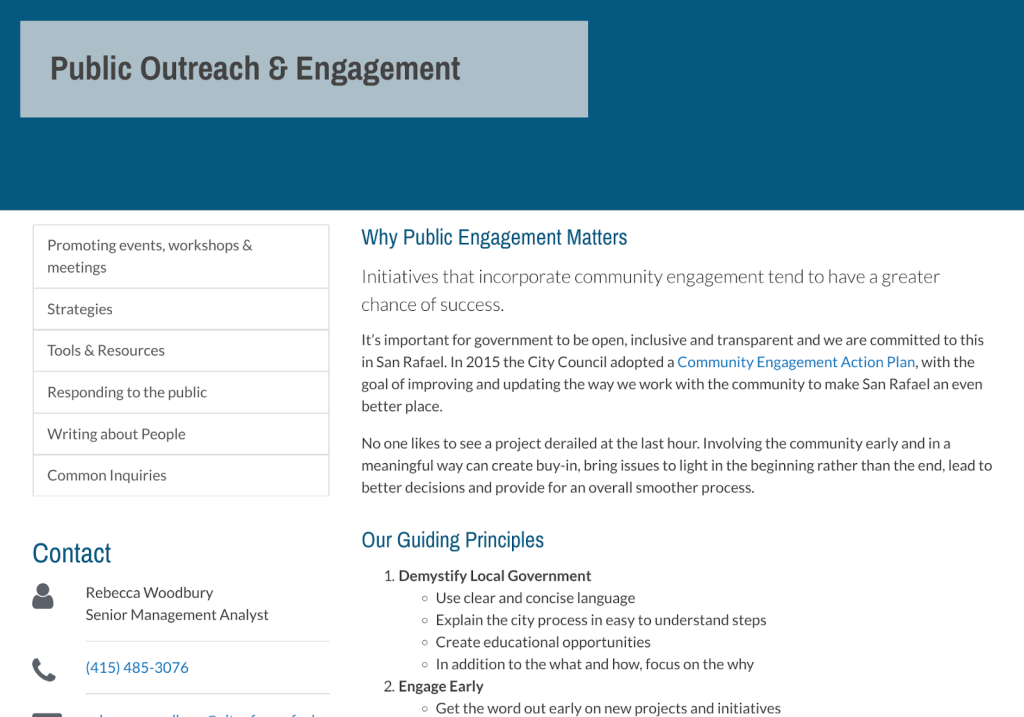 The one and only Daniel Soto is working on a guide to purchasing and agreements. This is going to help employees navigate everything from how to purchase office supplies to writing RFPs to buying technology. The goal is to make the process easier to understand and also to lead to better buying decisions. This is going to be so money.
(sidebar) Speaking of making better buying decisions – Luke Fretwell, of ProudCity, just wrote a great blog post 'Modernizing local government website procurement' that highlights some of the challenges we face buying modern technology solutions. They've designed a government website procurement template that looks awesome.
OK, back to our website. We're also working on guides for new employee onboarding, developing the budget, what to do in an emergency, understanding benefits and retirement, commuting, and more.
From Inbox to FAQ
In addition to guides, employees will be able to find answers to frequently asked questions such as:

Often things like this just are emailed out to employees at the beginning of the year and get lost in inboxes.
From Paper Form to Online Form
We're also taking this opportunity to digitize paper-based forms. Here's one we made for employees to submit a request to the City Clerk for an item to be placed on the Council agenda: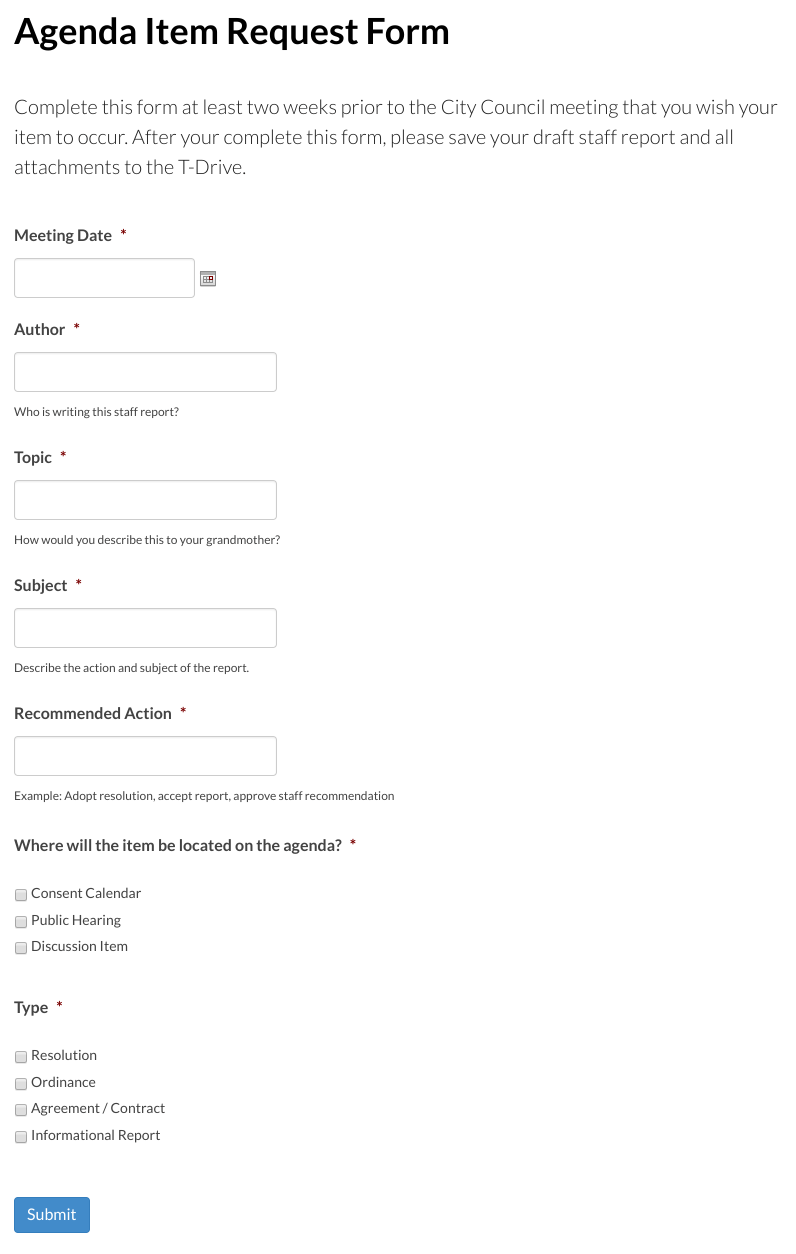 From PDF to Webpage
One of the resources we've been wrestling with most is a guide for employees on "who does what" so we can do a better job routing and transferring issues. Our first attempt is simply digitizing a PDF so the words are searchable on the website and we've added links to helpful webpages. Other ideas are brewing, such as turning this into more of a directory, categorizing the issues better, and also working with our CRM vendor to help automate some of this.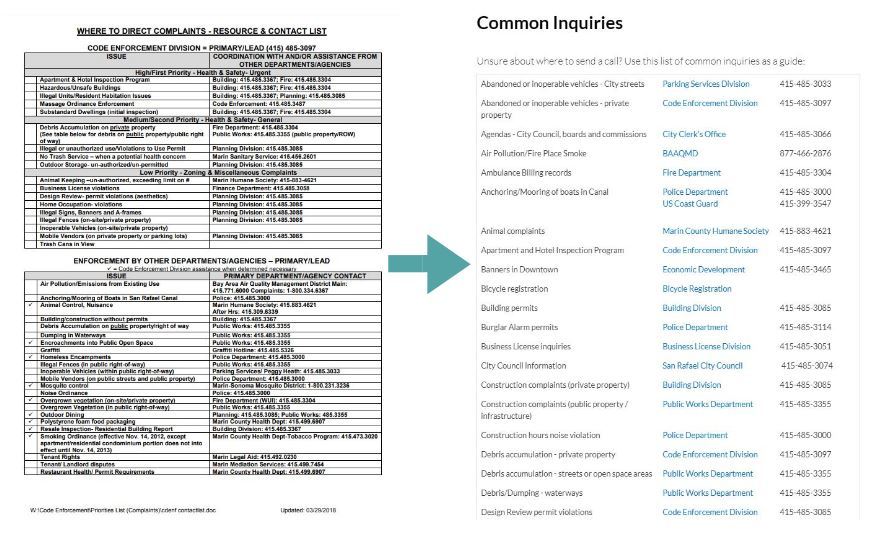 From Email Requests to CRMs
We're also providing easier and better ways for employees to report issues or make requests, starting with our IT Help Desk (who use Zendesk) and our Facilities division (who use Romulus):

Behind the Password
Though most of the content is not password-protected, we are also creating an area behind a password for employees to connect and collaborate. This will include an employee directory and a place where teams can have online discussions and share documents.
Here's an example of an employee profile in the directory: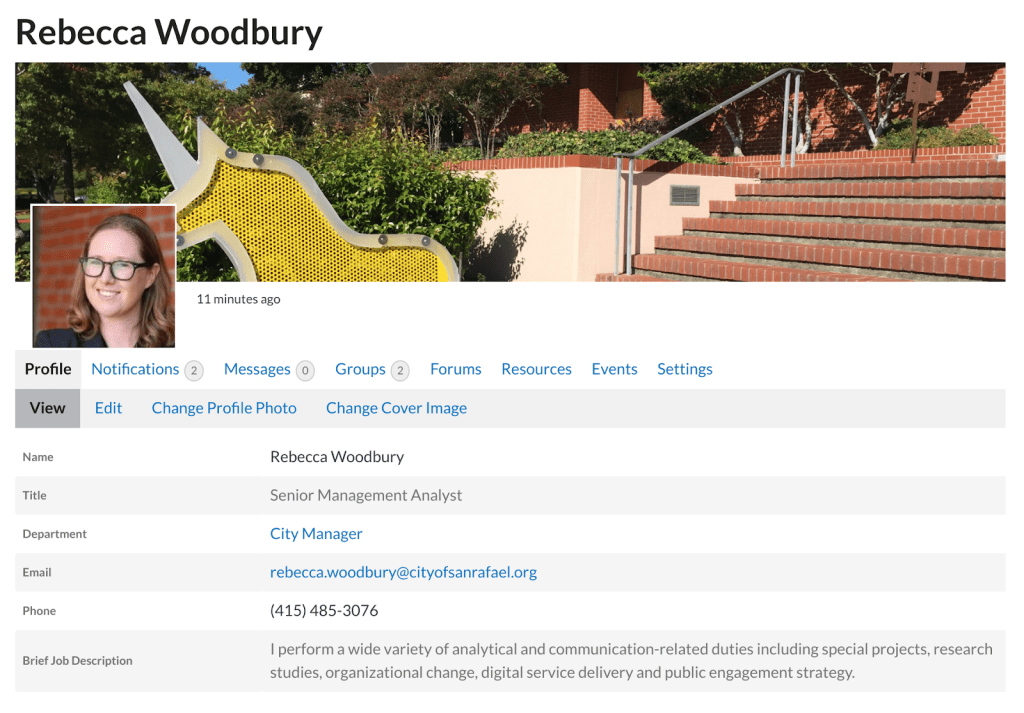 Still a lot of work ahead of us, but we think this is going to become a great resource for current employees, future employees, and other local governments.