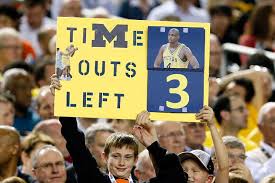 Greetings from Battle Creek, MI! While my ELGL colleagues have made their way down to the Strategic Government Resources (SGR) conference in Texas, I am in Battle Creek for the Michigan Local Government Manager's Association (MLGMA) Winter Institute. This week we're back in the Midwest taking a look at flying cases of beer, cutting the Michigan Legislature's pay and, of course, the Super Bowl.
Before we get to the headlines, a big welcome to Stacey Udoni of Strategic Government Resources (SGR).  Stacey is launching SGR's efforts in the Midwest. Follow Stacey and SGR on Twitter for the latest on their Midwest efforts.
The Headlines
1. A Pay Cut for Legislators?
Voters in Michigan may be faced with the question of establishing a part-time legislature this fall if a petition drive to put the measure on the ballot is successful. If the measure passes the legislature would meet for 60 days and have their pay more than cut in half. Proponents argue that legislators will better represent their constituents if they work and live among them most of the year. Opponents argue that reductions in salary and time spent in the Capitol may lead to more influence from special interests. Michigan is the only state in the Midwest with a full-time legislature. Wisconsin, Illinois and Ohio have semi-full time legislatures. If the amendment passes, it would be possible for a legislator to qualify for the federal Earned Income Tax while in office.
2. Flu Not Flying South for the Winter

As if this terrible weather was not enough the Midwest has been hit hard by one of the worst flu seasons in recent memories. In the past week the flu has claimed 11 lives in Indiana, most of which were a result of the H1N1 virus, AKA the Swine Flu. This season is particularly strange because most of the deaths are occurring among young, healthy people. Over half of those who lost their lives in Indiana this week were between 25 and 64. The flu season is not unique to Indiana, much of the Midwest and the country at large has widespread problems with the proportion of deaths attributed to pneumonia and influenza (P&I) above the epidemic threshold nationwide.
3. Arch Support
Officials in Des Moines, Iowa say reconstruction of the iconic downtown Grand Avenue Bridge may cost the City the "iconic" arches on the current bridge. Plans are in the works to demolish the almost 100 year old bridge in the summer of 2015. The total project would cost $7.2 million. Opponents of the demolition say that the arches are part of the City's image and rehabilitation is the answer. However, rehabilitation efforts would be expensive and the life of the bridge would only be extended 20 years, compared to 50 years for a brand new bridge.
4. The Amazing Flying 12 Pack
Lakemaid beer of Minnesota had a genius idea; what if we used a drone to deliver 12 packs of beer to ice fisherman? But the FAA had other ideas, grounding the idea for now stating safety concerns as the chief reason for the stoppage. Looks like for now ice fisherman are going to have to plan ahead or stay sober.
5. Let It Snow, Let It Snow
The winter weather continues. Every time I think it can't get any worse, it gets worse. January was the coldest month in Michigan in over 40 years and set a record for snow fall. Although we in the Midwest can deal with winter weather a bit better than our colleagues in the south, the weather has continued to present problems across the region by closing schools and snarling highways.
It's Raining Jobs (Hallelujah)
Chief Information Officer. Northbrook, IL
Village Manager. Village of Tinley Park, IL
Assistant City Manager. Traverse City, MI
City Manager. Vandalia, OH
Special Projects Manager. Gardner, KS
Chief Administrative Officer. Kirkwood, MO
Thoughts From the Mitten State
This week I'm coming at you from the Michigan Local Government Manager's Association (MLGMA) Winter Institute in Battle Creek; the epicenter of local government nerdery in Michigan. My ELGL colleagues are down at the Strategic Government Resources (SGR) Conference in Texas this week. I thought it would be an appropriate week to talk about professional development.
In our ELGL Midwest Google Hangout last week Bridget Doyle (ELGL Midwest Co-Founder) brought up a great point about communicating the importance of professional development to potential members. We have to answer the question, "What do you do?" In my recruitment efforts I'm finding more and more young professionals don't immediately see the value or utility in organizations like ELGL, SGR and MLGMA.
Most young professionals are focused on getting their first job or moving up to the next level; their first question is "will this help me get a job?" It's a loaded question and I would answer yes for two reasons. The first is that professional organizations are essentially networks of like-minded people. Meeting people through these organizations will make connections that can pay off in the long run. Not to mention most professional development organizations have jobs listed on their website; all of which pale in comparison to Jobs, Jobs, Jobs, of course. Even having the membership or involvement on your resume is a good thing.
Second, and in my opinion most important, is the opportunity to learn real, practical knowledge. Meeting people and rubbing elbows with the higher-ups is great but the on-the-job knowledge is what will pay off in the long run. Conference sessions, white papers, best practices and other content are designed for members and, often, by members. For instance this morning I went to a session on municipal finance for non-finance people. I am not a finance guru but now I have a page of notes on the new GASB standards, which will be helpful come budget time.
During my first week as an intern in Novi the great Clay Pearson and Victor Cardenas advised me to sign up for every organization I could and I've found just about all of them a useful source of information at one time or another. Spread the word: if you're serious about local government, get serious about professional development.
Midwest Music
The rivalry between Michigan and Ohio seems to transcend college football and permeate just about every aspect of the relationship between the two states but I have to give credit where credit is due; the Black keys (of Akron, OH) are the best rock group of my generation. I've had the pleasure of seeing them three times and they keep getting better (and more expensive) every time.
I whole-heartedly jumped on the band-wagon after the Black Keys' 2008 Attack & Release and I have not gotten off since. My life has not been the same since the first time I heard I Got Mine. Dan Auerbach and Patrick Carney are awesome in their own right (Patrick has a radio show with SirusXM and Dan's solo album is full of solid tracks) but together they are unstoppable. Although they are widely labeled as a garage-rock band, I would argue their music is much more than that. True, tracks like I Got mine and Your Touch scream garage rock but they also did an entire album of Junior Kimbrough covers with songs like Meet Me in the City and My Mind is Ramblin' that could not be farther from garage-rock. Their first album, The Big Come Up, is gritty yet full of catchy songs that reflects the deep Junior Kimbrough influences. The band also did a hip-hop side project (Blakroc) with Mos Def and a few other hip-hip staples. Listen to it right now.
Like the Black keys? Check out White Denim, White Stripes, The Vines, Arctic Monkeys, Band of Skulls, Alabama Shakes, Black Rebel Motorcycle Club
Coming next week: A full wrap up Friday night's Ann Arbor Folk Festival!
A follow-up from last week's Midwest Music: Shakey Graves is coming to the west coast!
The Scoreboard
The Midwest is not a stranger to bitter cold temperatures. Our football teams take pride in their outdoor, cold weather stadiums (at least the cool ones do) but is an outdoor stadium the right place for a Super Bowl? The question becomes especially poignant when you have it in a cold weather state like it is this year in New Jersey.
I have no doubt that Seattle fans are rooting for cold, snowy temperatures that could ground Peyton Manning but should that even be a factor in the championship game? On the one hand you have those who say that the weather plays such a huge factor in the game that it should be taken out of the equation. The game is about who is better at football, not who plays better in cold weather. If it were Brett Favre would still be winning Super Bowls. Remember when Peyton got his last ring in that terrible outdoor game against Sexy Rexy Grossman and the Chicago Bears? It was a great time to take a nap.

On the other hand you have those who say that football is an outdoor game meant to be played in the elements. Until the space-aged Astrodome came along all games were played outdoors. Plus even in cold weather conditions games can be great. New Year 's Day 2012 I was at Lambeau to see Matt Flynn throw for 7 touchdowns. Cold weather cities may also object. The Super Bowl can give a local economy a major boost not in only in money coming in for Super Bowl week but also in exposure. It's a great way to showcase the venue hosting (which is oftentimes new) and the city as a whole. After all, we are local government people; we have to consider the impacts on the local economy, right?
I tend to side with those opposed to having the Super Bowl outside. If we are really interested in finding out who the best team we have to control for as many variables as possible, including weather; I think it's quantitative nerd in me. If you have time to read up on the history, the New York Times did an excellent piece on past championship games in New York.
Super Bowl Prediction



Seattle: 17
Denver: 24