ELGL members receive full access to our content, webinars, and social groups on Slack and Facebook, as well as discounted event registration, access to the best local government job board on the planet, and the joy of supporting programs that help make local government better! For more information about the benefits of joining ELGL, take a look here!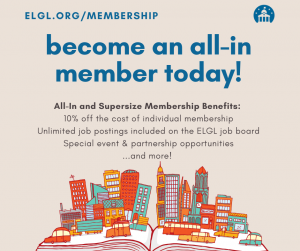 Already a member?
Existing organizational memberships and individual memberships can  login here.
Are you an administrator looking for information about organizational memberships? Reach out to Hallee Haygood, ELGL's Membership & Projects Coordinator, at [email protected] for more information about how to set up, structure, and manage an organizational membership.