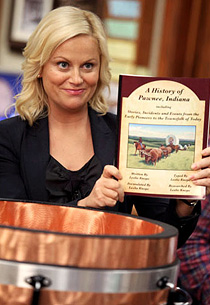 [youtube http://www.youtube.com/watch?v=SdhLJim5JxI&w=560&h=315]
The 48th Knope of the Week has been selected after a week long search for the individual who has done the most to advance the mission of ELGL. In case you haven't yet memorized the ELGL mission statement, here it is in its entirety,
THE MISSION of the Oregon Emerging Local Government Leaders Network is to enhance communication between emerging and experienced government professionals; provide for professional advancement in the field by identifying employment opportunities and through targeted training and education; and support the advancement of professional local government management.
Before we announce this week's recipient, we ask you to turn away from your computer screen and repeat the ELGL mission in an opera voice. Now that you've proven your allegiance to ELGL, we are happy to share with you this week's recipients of the Knope of the Week are….
Joe Baessler, Oregon AFSCME Political Director
Greg Schneider, Oregon AFSCME Field Services Director
At this week's forum we learned the answer to how many people it takes to  replace Ken Allen. The answer is two – Joe Baessler and Greg Schneider. Joe and Greg did an excellent job filling in for Ken and leading a discussion on the organizational structure and legislative agenda for Oregon AFSCME. They even handled a modified version of the Lightning Round with ease and political correctness in avoiding an answer to "Ducks or Beavers."
What else did we learn?
Greg Schneider with AFSCME since 1996. Extensive experience with local governments. Working to support his alpaca habit.
Schneider encourages his staff to work together to come up with bigger better solutions.
Public sector and unions need to base relationships on mutual respect. Schneider understands this as a "union manager" – a very unique position.
140 local branches in Oregon. Staff works for the Council. Staff hired by the elected representatives so they have a lot in common with local govt.
Union representatives have a lot of people looking over their shoulders and a big support network.
Healthcare costs, alphabet soup (VEBA, HSA), make progress challenging for local governments
"PERS is a target and has been villanized."
Transitioning workforce has resulted in a tipping point as older workforce retires.
AFSCME understands that it needs to offer personal growth opportunities for newer members.
Top legislative priority for AFSCME is playing defense.
PERS reform has a "base, emotional feeling" for AFSCME members.
"AFSCME needs to work with local governments on healthcare reform issues and how it impacts employees."
AFSCME sometimes feels that they are fighting and lobbying for public funds because local governments can't.
Double majority reform in 2009 was a great example of AFSCME working closely and well with the League of Oregon Cities.
AFSCME legislative agenda includes allowing local governments to enter into PEB and OEB.
Funding reforms including recording fees and cigarette preemption are also AFSCME priorities.
Long term property tax reform in partnership with LOC is another big AFSCME issue.
Language requirements for bonds and levies are another statutory improvement area for AFSCME.
Anti-govt sentiment is a major concern.
AFSCME trying to use language to convey the value of high quality government services.
"As local govts try to move levies and bonds please come to AFSCME to help."
Biggest areas of disagreement with LOC are contracting services; public employee benefit board concept; PERS.
"Younger union members are just as emotional about PERS."
"Seniority is a core union principle. This economy is a moment in time that will pass that will help younger workers in unions."
"Union members want public funds to be used efficiently and effectively."
"Spend upfront on training to make technological change a positive in organizations."