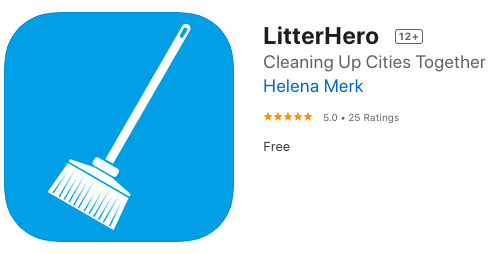 It's #ELGLHaverford time! We're pleased to recognize the top 25 local government companies as nominated by ELGL members. Learn more about the Haverford Award, and then check out our website every day this week to learn about five new companies added to the 2020 Haverford Award list.
---
Contact information:
Company information:
Industry sector(s): Technology

Minority/Woman Owned Business: Yes

Shared content/expertise with ELGL: No

Participated in ELGL events/activities: No
Nomination information:
What was the product/outcome of your relationship with the company?
As someone who works for a local government entity, I can see the value that LitterHero can bring  to empower constituents to take action in improving their municipalities, as well as enable municipalities to better serve the community by managing work-ticket requests effectively.   Willingboro's current practice for reporting issues dealing with park maintenance, potholes, illegal dumping, traffic signal outages, damaged sidewalks, blocked storm drains, overgrown weeds and trees etc., is a high friction process that involves navigating the Willingboro Township website to locate the responsible township department, calling the respective number, only to maneuver through a prerecorded phone system that is only answered during business hours. LitterHero would increase citizen engagement by cutting the issue reporting time down from 3+ minutes to 30 seconds, and allow for direct follow up to end-users mobile devices.  This improved reporting time will make for happier residents, and direct follow-up will allow for improved transparency, public trust and perception.

Additionally, the resulting data will be leveraged in the creation of a "Cleanliness Score" for cities and towns like Willingboro.  A data point that would potentially drive a purchasing decision.
What are three words you'd use to describe the company?

Innovative, Efficient, User Friendly
Describe the on-boarding process for your work with the company – either when you personally started working with them, or when your organization did. What could someone else in local government know about starting work with this company? 
Ken Burnett, LitterHero's Chief Business Development Officer, has been very responsive and is well informed on the information and communication technology industry, LitterHero's proprietary technology, and what it takes to  accomplish LitterHero's  social impact mission of empowering citizens to exercise their unalienable Right to the equitable allocation of city funds so that major capital improvement projects invest in ALL communities. When citizens from ALL communities report non-emergency issues to their municipality, the need for fair and impartial focus on ALL communities – especially the communities that are typically forgotten about in major capital improvement projects – is substantiated.  Which allows for better planning and priorities.

Someone else beginning to work with LitterHero should enter discussions with an open mind and open heart.  Despite LitterHero's proprietary technology, their executive team is engineer heavy (e.g. Helena Merk the Duke student who coded LitterHero's app and had it on the Apple Appstore in 2 days, Alexis Gros the IMT Atlantique student and engineering apprentice who is the mastermind behind LitterHero's backend database), and they are prepared  for the issues that may arise with integrating LitterHero's technology with any local government's existing technologies, no matter how antiquated.
What's the most interesting or fun aspect of your work with the company?

Not only is LitterHero serious about accomplishing their mission "to empower users to take action in improving their cities, as well as enable municipalities to better serve the community by managing tickets effectively", and vision "LitterHero is committed to building an enterprise that ushers equity into the use of city and municipal funds while remaining rooted in partnership, efficient-sustainability, and social-impact"; but they know how to have a good time while working towards the desired outcomes.

LitterHero's head engineers have a knack for remixing radio hits to get the message out of what LitterHero is achieving in the streets.  



What is the company's pricing structure? Please be as descriptive as possible.
LitterHero operates with a software as a service licensing and delivery model, which keeps client prices down by freeing local government clients from complex software and hardware management, and is ideal for short term exponential client growth. Therefore, LitterHero has a standard tiered pricing structure that takes into account inputs like population, cost savings for the local government client, work ticket request flow, etc.  LitterHero charges a base fee of $10,000/year to local city governments for licensing their products and services, with minor price increases based on inputs like ticket flow.  Community residents use the LitterHero App for free.





A town like Willingboro would be charged the base fee, while a larger city like New Orleans would be charged more.  For example, call center reps at the New Orleans Parish Communication District are paid ~$40k annually.  Currently there are 6 reps responsible for non-emergency ticket generation and dispatch.  1/2 tickets generated could be handled by LitterHero's proprietary technology, which grants non-emergency staff to focus on more important tasks.  This would save the city ~$120,000/year, and factor into our licensing fee.

 
How has your relationship with the company evolved or changed over time? How has the company reacted to or addressed any changes that your organization has requested in the scope/focus of your work together?
My relationship with LitterHero is very new. Based on first impressions I have no doubt that LitterHero would be able to roll with any new developments that may come from the township of Willingboro, and adequately adjust to any scope of work changes that may arise.
Anything else to add about the company that we haven't already asked you?
LitterHero's participation as a Host this past summer of 2020 for the US State Department Young Leaders of the Americas Initiative Professional Fellows Program is a testament to the global footprint the executive team at LitterHero have been working diligently to establish.  Part of this host opportunity was participating in the SEED SPOT Crisis Response Module that provided LitterHero the tools necessary to continue to grow and evolve despite any unforeseen obstacles.  

Actions like LitterHero's participation in that exclusive program confirms that LitterHero has what it takes to transform the culture of littering not only in Willingboro, but across the country.  ELGL's Haverford Award has historically recognized cutting edge organizations (e.g. Accela,  Qualtrics, Citibot, Open Cities, etc.)  that work with local governments, ultimately bringing awareness towards and aiding in accomplishing each organization's respective missions.