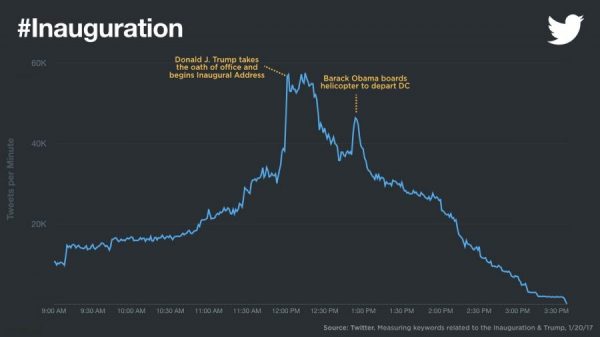 ELGL co-founder Kent Wyatt (LinkedIn and Twitter) highlights why he's in love with the World Wide Web. In this column, Kent brings you the latest in pop culture, sports, and local government.
---
Name change alert! The Confidential has been renamed "Laugh, Think, and Cry (LTC)." We borrow the phrase from Jim Valvano, former North Carolina State basketball coach, who while battling cancer summarized the keys to living each day fully were "if you laugh, you think, and you cry that's a full day."
In each blog entry, I'll cover items that will make you laugh, think, and cry.
---
Friday, January 20
Hey, did you hear its Inauguration Day? Now that I've dropped that knowledge bomb on you, do yourself a favor and don't watch CNN's coverage. It's a trainwreck full of inside reporter jokes, breaking news that happened hours ago, and constant discussion about Barron. The kid is 10-years old leave him alone for the good and bad. As I'm typing, CNN anchors had an exchange about how the White House staff bought 20 tubes of Hillary's favorite toothpaste, turns out that it wasn't her favorite toothpaste. If you're waiting for the rest of the story, you'll be disappointed as this was the entire story.
Why do I continue to watch CNN? Don Lemon has taken over the coverage and chances are high that he'll be kicking back shots like he did on New Year's Eve.
I spent my morning chaperoning a 1st grade field trip. The little tykes were not in the mode to discuss what a Trump presidency means for local government.
After last night, I can confirm that ELGL members Andy Kuhn, Austin Good, and Daniel Soto are real people. Along with Zach Navin, we spent the evening trolling the bars (there's only two) in Tigard. Great conversation and I found out who actually listens to GovLove and who says they listen to GovLove but have actually never listened. (I am talking about you, Zach.)
We've been apart from each other for a few days so it's time to drop the small talk and highlight what's going on. P.S: It's Inauguration Day!
---
Laugh
New award…ELGL member with the best door decorations…the award goes to Leisha DeHart-Davis.
My favorite video clip of the week – College basketball coach shakes hands with imaginary players
---
---
Back to the Inauguration — here are a couple gems for you. BBC News had the wrong subtitles for Donald Trump's inauguration and it's amazing and 11 things people said about George W. Bush figuring out his rain poncho.
---
Think
I'll be happy if I never read another Facebook or Twitter post about the election and Trump. I didn't vote for him but it's time to move on folks. Instead of protesting or tweeting, try volunteering for a political party, non-profit, or other cause that you care about.
I am interested in reading about the impact of the Trump administration on local government, and today, I'm interested in fun facts about inauguration festivities.
What's the cost of Donald Trump's inauguration — and who is paying the bill?
In reviewing the role of private funding in previous presidential inaugurations, Whitney found that the costs associated with Inauguration Day are rising — with the exception of a comparatively lean party budget for Bill Clinton's second term:
George W. Bush's 2nd inaugural in 2005: $40 million
George W. Bush's 1st inaugural in 2001: $40 million
Bill Clinton's 2nd inaugural in 1997: $23.6 million
Bill Clinton's 1st inaugural in 1993: $33 million.
George H.W. Bush's inaugural in 1989: $30 million
Ronald Reagan's 2nd inaugural in 1985: $20 million
Ronald Reagan's 1st inaugural in 1981: $19.4 million
Jimmy Carter's inaugural in 1977: $3.5 million
Richard Nixon's 2nd inaugural in 1973: $4 million
Lyndon Johnson's inaugural in 1965: $1.5 million
---
People forget…dads are people too. Finally, we're getting some attention in click-bait articles such as this:
Dads are now facing a conflict between kids and career that women have had for decades.
It's an equation all working families must balance: time at work (and income) on one side; time with loved ones on the other. According to new research from the UK, those who feel they're getting it wrong are in the majority, and and fathers are particularly struggling.
---
Cry
'The stress is literally killing me' – Village President, Village Manager, Fire Chief…One man held all of these positions until recently.
"I think we're going in the right direction," he said. "I think we as a council need to sit down and decide what direction we want to go, whether we hire a part-time manager, a full-time manager. I will stay on board until we make that transition, but we need to do it, we need to look for someone to lead us down the next path, the next grant. In my opinion, the quicker the better. I just can't handle the day to day things. The stress is literally killing me.
H/T to Darrin Tangeman for posting in the ELGL Facebook Group.
---
I finally watched the five-part "O.J: Made in America" documentary. I would give it a "B+." Part five is the best in the series as you learn about the downfall of OJ post trial.
The Epic Story of O.J.: Made in America's Creation
In the end, he took some 800 hours of footage—some from archive material, some from interviews with 72 people—and boiled it down into one single 467-minute movie. It took him more than two years. But he didn't do it alone. In fact, it wasn't even entirely his idea. We spoke with Edelman and his creative partners to get the story of how they created the wildly ambitious documentary.
Spoiler alert: In the last part, O.J begins acting like a gangster which is sad and funny at the same time.
---
Saturday, January 15
The Seahawks lost yesterday which can mean only thing…more bloggin' time. I promise today's entry will be vastly better than the Seahawk defense.
Our foot of snow, along with my bruised tailbone, is holding strong. Temperatures have been 32 or below for the last several days which prevents any melting and, despite a few pills, my tailbone remained severely bruised (that's right, I've upgraded the severity of my injury). I promise, you the reader, that my blog game will remain strong as I play through the pain.
"Old Man" by Neil Young was lodged in my head last time we met. Today, "Paradise" by Coldplay is firmly entrenched in my brain with no sign of letting go.
---
Laugh
Today is a time for celebration and reflection. Varsity Blues turns 18-years old. Where were you when you first heard this famous line?
---
---
Full disclosure: I watch this clip, and for a split second, I think "maybe I should try my hand at acting."
---
Cry
I watched a lot of WWF wrestling as a young tyke. Yes, I am showing my age by acknowledging that WWF had yet to become the WWE. My favorite wrestlers were Junkyard Dog and Jimmy "Superfly" Sunka.
Side note: I got Ivan Koloff's autograph at a Walmart in Wilson, NC. If only I could meet him now, I could get a more permanent memory — a selfie.
Back to Superfly Sunka, he died today at the age of 73. He was in the news recently for alleged misbehavior. I don't have an opinion on the allegations but I do have vivid memories of childhood when my brothers and I would play with our wrestling figures. I used Superfly's "Superfly Splash" to take on all comers.
---
Think
Portland is as racist as the south. This was my observation in 2007 when we moved to the Pacific Northwest, and my belief has only strengthened after living here for nearly ten years. The underlying racism in Portland is present everywhere. A number of recent articles have highlighted the history of racism in Portland.
City policy cost 98-year-old woman her home. Why she won't get it back
Hers had been a quintessential black experience. She came to Portland from the South in 1941, expecting a better, safer community. Instead, Glover found what African Americans in Chicago and Detroit and San Francisco did: Black communities anywhere were expendable.
Government officials across the country penned African Americans into less-desirable areas. Later, when white people wanted the land, planners declared the communities blighted and forced African Americans out.
The bulldozers came for Glover and 200 other families — mostly black — in 1970 when Emanuel Hospital officials decided they needed their properties. Glover found a place in East Portland, eight miles and two interstates from her church, her bank and her friends. She has given it 45 years, but the pink-and-white house at the end of a cul-de-sac has never felt like home.
Toward the end of this article, local officials admit the mistakes of the past and put some action to their words. Credit must be given to officials for formalizing acknowledging its mistakes, although it doesn't erase the past. I finished reading the article and was left wondering how many other cities would take this approach.
---
---
Over the next decade, Portland urban renewal officials plan to spend $96 million on "right to return" programs for families either pushed or priced out of the inner city. They'll subsidize apartment rentals and help older residents hold on to properties. They'll also provide down payments to buy homes, some of them new, in North and Northeast Portland.
---
Speaking of the past, I came across this TedTalk from the South Bend (IN) Mayor. What If A City Has To Rethink Its Past to Understand its Future? | Mayor Pete Buttigieg.
---
---
Cry
ELGL has a number of Packer fans and owners. I ask them to stop reading at this point. I must highlight what I find one of the oddest stories in sports, and just think, it started with the Bachelor. Aaron Rodgers Connects with His Hometown, But the Family Huddle is Broken.
---
Atlanta is not a crime ridden city. Despite hating the Atlanta Falcons for beating the Seahawks, I recognize Atlanta is on the upswing.
Businesses to Trump: Atlanta on the upswing, not falling behind
Instead of being in "horrible shape" or "falling apart," they said Atlanta is exploding with opportunity, whether you've hooked up with incubators at Atlanta Tech Village or Georgia Tech to become the next Apple computers or looking to get cast in the ever-expanding number of movies shot here, including "Captain America," "Rush Hour" or "The Hunger Games."
---
Friday, January 13
"Old man look at my life, I'm a lot like you were. Old man look at my life, I'm a lot like you"…
This verse from Neil Young's song "Old Man" resonates with me after a day of hardcore sledding with a seven-year old and five-year old. We laughed, we cried (my five-year old), and we suffered only minor bruises (let's just say my injury is a bruised tailbone). I can say with certainty that sleds are not made for a 38-year old dad. On the bright side, I didn't break the sled.
For those counting at home, I haven't been at work since Tuesday night and won't return until next Tuesday. Pretty good week especially after returning from the holiday break for a rigorous week and a half.
Enough about all of my days off and incredible fun, it's time to get our learn on.
---
Think
We'll put this in the super cool category.
JUST IN: Footage from drone crashing into Space Needle as pyro technicians installed fireworks; 3rd drone crash at @space_needle: pic.twitter.com/rIhzzRQskM

— KING 5 News (@KING5Seattle) January 11, 2017
---
Sticking with drones, here's a drone's view of the snow blanketing Portland.
---
---
Props to two solid waste workers in Raleigh, NC.
Natalie Micholic said she was struggling to back her minivan out of a driveway, with three anxious children in the back, when the two solid waste employees, Michael Edwards and Rayan Walker, drove by. When Edwards and Walker saw she couldn't get her car out of the ice, that's when they sprang into action to help her, Micholic said.
---
Words are not needed. Very effective visual.
---
Laugh
People like government services, they really like them. I know that we're heavy on the drone footage today but Matt Yager dropped this interesting tidbit in the ELGL50 Facebook group.
Millions of people have watched this viral video of a road being paved
Nearly 15 million people and counting have watched a three-minute drone video that shows a stretch of road in a remote area of Western Australia being paved. The construction was part of a $443,000 upgrade to a 4.9-kilometer stretch of property, overseen by the Roads to Recovery Funding Program.
---
Cry
We've been a little light on the crying pieces so we'll make up some ground today
Samantha Smith reflects on the dark, impossible year since her husband's death
"And I do have those questions still. How does this happen to such an amazing person? But also knowing full well that the Lord didn't orchestrate this in our lives. The Lord didn't cause Andrew to have cancer. Sickness and disease are very much a consequence of the fall of man and sin, and it's something that, to some degree, we all face with the fall of man."
Hot Take! The life of a government worker is not all roses. Occasionally a citizen cooks up a wicked scheme to stick one to the man (government). A Virginia man used a whole lot of pennies to exact his revenge.
A Man Paid His DMV With 300,000 Pennies And It Took Workers Over 12 Hours To Count Them
Nick Stafford, who has been fighting with the Department of Motor Vehicles in Virginia, decided to pay his $2,987.14 tax bill in pennies.
It took five wheelbarrows to transport the nearly 300,000 coins to the local DMV. All the pennies broke the coin-counting machine and ultimately had to be counted by hand.
Raise your hand if you think these Charger fans are upset about the team's move to Los Angeles.
---
Wednesday, January 11
Here's a surprise…it snowed again. Only another foot of snow for the Portland area. Oregon is basically becoming the Midwest except with better beer and more hipsters.
The advantage of snow? Watching Donald Trump's press conference. It was a much anticipated press conference that included a shocking revelation. Donald Trump cannot pronounce the word, "industry." I could (and maybe I did) watch this clip all day.
Trump can't say "industry" https://t.co/AgZh64SOKh

— Dan (@AtIantaDan) January 11, 2017
Perhaps the President-elect was like me and got pulled out of class in elementary school for speech class.
Trump pronouncing the word "industry" as "inDUSTRY'" is reminiscent of Jimmy Carter's pronunciation of "nuclear" as "NOO'-keeyehr."

— Michael Weinfeld (@mweinfeld) January 11, 2017
---
Laugh
This is how I'll celebrate when ELGL stock goes public.
AFTER THE SHOW IT'S THE AFTER PARTY https://t.co/cBdAxdnln2

— Barstool Sports (@barstooltweetss) January 10, 2017
---
Simon says…
Boban Marjanovic responding to instruction of how to defend this game-deciding inbounds play is why he is so great ? https://t.co/SydF2NLrMo

— Rob Perez (@World_Wide_Wob) January 9, 2017
---
Think
Bruccceee! We love Bruce and so does that President-elect. And, if you can't land Bruce at your inauguration, you find the next best thing, the number #1 Bruce cover band.
Let's climb the trust tree to learn how photos of work performed build trust in an on-demand economy. H/T to Benjamin Bitter for sending this our way.
On a non-work related note, if you are a candle guy like me, here's some advice – I Found a Fancy Candle That's Not Obscenely Expensive.
---
Cry
Today we are going to cry with laughter.
Snow day! ❄️☃️#pdxsnow pic.twitter.com/y537BrgEqv

— Oregon Zoo (@OregonZoo) January 11, 2017
---
---
Sunday, January 8
If you don't want to know who won the Seahawks vs. Lions game last night, turn away from your screen. I'll let you know when you can come back. The Seahawks won because of a killer fan effort by Hunter George, Julie Underwood, Kent Wyatt, and Kirsten Wyatt. You won't find that bit of knowledge in the Seattle Times. Alright, those who didn't want to know the outcome can return to reading this blog entry.
We stayed at the Hotel Monaco last night in downtown Seattle. I know what you're thinking – what a nice hotel and romantic gesture by you Kent. Not really, I booked the Monaco on Priceline ($120/night) and now I know why it was available on Priceline. We had problems checking in, there's was a lot of loud bangs from some sort of construction project, and the shampoo and conditioner were huge bottles that we're locked down inside the shower.
Let me not be Debbie Downer by giving props to the Monaco for rocking the lotion bar in their lobby restroom.
I need more lotion bars in my life.
The Golden Globes is on downstairs, therefore, I am upstairs. The Golden Globes is clogging up my timeline including this gem,
---
Nobody has thanked OJ yet.

— Adam Zagoria (@AdamZagoria) January 9, 2017
---
My kids are binge watching the Amazon original "Just Add Magic." I know, I know, solid parenting, putting my kids in front of the television so I can blog.
---
Laugh
I am the youngest of three boys in my family. I can related to this 5-year old who get the ol' pat on the head whil eexpressing displeasure with a family member's decision. YOUNG NEPHEW OF 5-STAR CB DARNAY HOLMES WAS UPSET HIS UNCLE DIDN'T PICK OHIO STATE
---
---
Think
The Washington Post reports some good news for cities – Uber is finally releasing a data trove that officials say will make driving better for everyone.
"One of the things that has been frustrating to cities is that they see this as a service that's making use of public right of way, public facilities, and isn't necessarily giving back on just basic openness," Bailey said. "It's definitely a step in the right direction," she said of the data release, "but there's still a ways to go for cities to feel like they're getting more than basic information."
Looking for a reason to visit Charlottesville, VA? The Hometown Summit has got your back.
Discover how small and mid-sized cities are test beds for path-breaking solutions to 21st century challenges. The Hometown Summit is a one-of-a-kind convention and celebration of leaders in small and mid-sized cities who have spearheaded some of the nation's most creative and successful campaigns for community change. Featuring dozens of keynotes, workshops, and peer-led panels, it's your chance to learn from and connect with outstanding change-makers in this dynamic segment of American communities.
---
Cry
We shouldn't be surprised but this finding is unfortunate.
Soon after the law took effect in Florida, there was a sudden and sustained 24% jump in the monthly homicide rate. The rate of homicides involving firearms increased by 32%. The authors found that in states without a stand-your-ground law over the same time period those rates remained flat, suggesting that a nationwide crime wave was not to blame for the abrupt increase.
---
Saturday, January 7
Seattle, we're coming your way. Kirsten and I are headed to the CenturyLink Field (ironically, a place with spotty wifi). Many in attendance will be rocking 12th man jerseys. We will not. The "12 Fan" jersey is the worst of the worst of jerseys. I would argue NFL jerseys in general are not a great look for any 38-year old father of two.
My 5-year old has ended her temper tantrum (for now) so let's catch on the latest news.
---
Think
From Oregon to South Carolina, cities are dealing with winter weather. Get a flavor for how cities are responding in this Twitter moment. Ben Kittelson provides even more knowledge in Walk Like a Penguin.
Initial reports from the Raleigh-Durham area have some expressing some disappointment.
When @wralweather tells you all week that we're getting 4-6 inches of snow and all we get is 2 inches of sleet #Raleigh #wralsnow pic.twitter.com/ZQhZGitjwq

— Will Oakes (@woakes93) January 7, 2017
Atlanta is about to receive 4 inches of snow. Queue the 14 box live shot pic.twitter.com/dcAIRS1rkV

— Anthony Quintano (@AnthonyQuintano) January 7, 2017
Educate your mind even more on winter weather in these 2014 articles – Two Communicators, Two Municipalities, One Message for a Weather Event, Government Communication & TriMet's Winter Weather Response, and Part II: Inside the Twitter Race – The Snowmageddon Edition.Basically just spend the day reading old ELGL articles.
---
Laugh
I am most excited for checking out Pete Carroll's new kicks at tonight's game. Pete is carrying the load in bringing the dad sneaker into the main stream. All white. Bland. Dull. Practical. This describes Pete's footwear.
Tonight he kicks it up a notch with the "most dad-ass dad sneaker of all-time just became even more dad." Apologies to our young readers, the "a##" word was not my doing.
Join me in learning about Pete's new sneaks.
Emblazoned on the tongue is "ALWAYS COMPETE," one of Carroll's go-to coaching phrases.
It's like some twisted geniuses at Nike sat down and had a conversation along these lines: 
"Is there any possible way we can make the most dad shoe of all time even dorkier?" 
"I know! The Air Monarch … but with … wait for it … a fatherly maxim on the tongue!"
And boom — there's your Don Draper moment, folks. 
The Mashable article goes a step further by suggesting other dad-like phrases for future versions of the shoe.
"I'm not mad, just disappointed."
"Money doesn't grow on trees."
"A little hard work never hurt anyone."
"Don't call me later, call me dad."
"Perhaps you should consider a major that's a bit more practical."
"Don't tell your mother."
"I can't wait to read Bruce Springsteen's new autobiography."
Keep up the good work, Pete. Steph Curry, the shoe's in your court now.
---
Pro Tip: Never let your beverage hit the ground.
You know what they say: Sometimes in life you'll slip, but if you concentrate hard enough you'll catch your beer ?

(via @barstoolsports) pic.twitter.com/gNktwueAkw

— ThePostGame (@ThePostGame) January 6, 2017
---
Cry
Retirement is an emotion time. Most local government employees, actually no local government employee, has made a video announcing their retirement. (Full disclosure: we didn't research this at all; however, we feel 100% confident in this statement.) My career goal is to change that. I plan on a Michael Jackson-like video in announcing my retirement.
One NBA player has me rethinking my approach. Matt Bonner made a retirement video and it's the most New England thing ever and I Made a Retirement Video.
---
---
Part II: Great effort by Benny the Bull.
I've watched this no fewer than 30 times. https://t.co/4LcVgsifxs

— Scott @ WFNY (@WFNYScott) January 6, 2017
---
Friday, January 6
I'm writing this blog entry after interviewing Hyong Yi, 100 Love Notes, for a future GovLove podcast. I 0nly cried a couple of times during the interview and it was well worth it. I'm excited for you to hear the podcast in a few weeks.
On a much less serious note, Julie Underwood, Hunter George, Kirsten, and myself are headed to the Seahawks game on Saturday night. We'll be in downtown Seattle starting in the early afternoon. Email or text me if you want to meet up.
Also, I've shared my love of Steak-umm's in ELGL Facebook Group. I know, I know, it's a hot take.
---
Think
I am weaker than a 2-year old. That's my takeaway from the news story – 2-year-old saving twin trapped beneath dresser. This video is INCREDIBLE.
---
---
Watching the video almost motivated me to go work out.
---
Laugh
The quality of public access has improved dramatically throughout the years; however, I cringe before I want any public access show because I fear the worse. Stephen Colbert highlights my fears.
---
---
You might be wondering if Mishawaka, Indiana is a real place. I did some research on this question (Googled it) and found it is a real city. Fear not, Mishawaka is a strong-mayor city.
Part II: Dook University has blown up the meaning of words and numbers. Apparently, the new definition of "indefinite suspension" equals one game. Props to Coach K for revolutionizing the meaning of indefinite.
1 topping on your milkshake does not mean indefinite toppings on your milkshake.

— Cook Out (@CookOut) January 5, 2017
---
Cry
As I mentioned in the introduction, I interviewed Hyong Yi, Charlotte, NC Assistant City Manager this afternoon. Here are a few takeaways:
The LoveNotes book trailer is must watch…
---
---
ELGL will give out a number of copies of #100LoveNotes when the podcast episode is released. You can get a head start to winning a copy by tweeting to #100LoveNotes.
Community is function of people, not city or certain city services.
Ron Kimball and Harry Jones are two of Hyong's mentors.
Our conversation veered into the topic of HB2. You'll have to watch for the podcast to learn more.
Hyong's Mount Rushmore of city departments – police, fire, water, and sewer.
The budget badger is Hyong's spirit animal.
ELGL member Sarah Hazel describes Hyong as:
Hyong is a great mentor to me and friend. So I know lots about his life and work. For me, he has been a huge proponent of innovation, empathy, risk-taking, letting people lead, and learn from their mistakes, oh and putting all the feels into work, and saying to the whole organization that is okay. Basically he is the reason I like working in Charlotte. He has a reputation as an innovator, a risk taker, and community builder. Sarah Hazel
Hyong's theme music: Enter Sandman by Metallica and Baddest Man Alive by the Black Keys.
---
Monday, January 2
So far, so good. I feel good about 2017. Couple of days down (almost) and all is calm, except the trash and boxes filling the garage and kitchen. Today I've anxiously awaited the arrival of the garbage truck. I can't say that I've done this before.
You know vacation is over when parents and children mutually agree that it's time to head back to school. As the snowflakes fall in West Linn, parents nor students are rooting for a snow day.
Before you head back to work and the lil' ones back to school, I must share some crucial information with you.
---
Laugh
Pre-game speeches by football coaches are the absolute worse. My man from Western Michigan strengthens my belief with a "do you know what trailblazers do" speech. Of the 80 or so players and coaches in that locker room, I hope not one of them finds an ounce of redeeming value in the trailblazer speech.
---
That P.J. Fleck pregame speech = ?https://t.co/Z0cE5NZhFd

— ESPN CollegeFootball (@ESPNCFB) January 2, 2017
---
Cry
When I think about my children leaving the nest for college, there is plenty to worry about (yes, I have a 7-year old and 5-year old so I have a few years). Having two daughters is the best ever. I am grateful every time I encounter boys of the same ages as my daughter. My worry about college and my kids is they'll end up within 50 feet of gentleman like…
---
We are Penn State ?? pic.twitter.com/iEoRDu6MUE

— Barstool Sports (@barstoolsports) January 2, 2017
I take solace in the lack of females in the video clip. It's just a bunch of dudes, drinking cheap beer, and make bad decisions.
---
Think
Are we there yet? The Wyatt family went retro (back to 2005) by watching the Ice Cube film, "Are We There Yet?" The movie is super funny especially the first half and I realized the importance of Hollywood producing movies where the stars including the children are not white. My 7-year old was thrilled that she had the same jacket as the child star in the movie.
My kids don't care whether the actors are white, black, Asian, Latino, etc. What they care about is whether the movie is entertaining, and there is a scarcity of entertaining family movies and shows like "Are We There Yet?"
Part II: BRUUCCEEEEE! I spent my afternoon walking listening to Bruce Springsteen on the "WTF" podcast with Marc Maron. Full disclosure: I am not a regular listener of this podcast, the only other episode I heard was with President Obama.
Here's a summary of the podcast – Bruce Springsteen Talks Dads, Depression, Trump With Marc Maron on "WTF". Do yourself a favor and fast forward the first ten minutes.
My takeaway: Bruce is a deep dude. He's clearly worked through issues with his dad. I am anxious to listen to Bruce's old stuff now that I've heard what was happening in his life at the time. I am excited to read Bruce's book, just one problem — I am number 57 on the waitlist at the Tigard Library.
---
Sunday, January 1
I'll add a fourth category "smile" for today. The first #CityHallSelfie of 2017 warms my heart and makes me excited for the 2nd annual International City Hall Selfie Day on August 15.
Check out #ELGLNYE to find out what ELGL members got into for New Year's Eve.
---
Laugh
2016 went out with a bang (kind of) thanks to this powerful performance and follow up apology (?) from Mariah Carey. Mariah's performance gives me hope for a my daughter's music career.
---
---
Pro Tip: If you mess up your next council presentation, don't use this tweet to apologize.
Shit happens ? Have a happy and healthy new year everybody!? Here's to making more headlines in 2017 ? pic.twitter.com/0Td8se57jr

— Mariah Carey (@MariahCarey) January 1, 2017
---
We need less Mariah, more William Hung…
---
---
Part II: Don Lemon had a slightly better night than Mariah although his head and ear lobe are hurting today. I flipped on CNN last night just in time to witness Mr. Lemon gets his ear pierced.
---
---
I admit to watching this because I couldn't believe it was happening. Yes, I apparently will also stare at your next car accident.
Don wasn't done although I was fast asleep while he continued on his drunken journey – Don Lemon downs shots, gets ear pierced in bizarre broadcast. I guess I am a prude. I don't remember when getting drunk on national television was a thing.
Next year, the CNN cameras should follow Michael Jordan around as he seeks a quiet place from the fireworks. MJ did not have a good night as my county neighborhoods were launching mortar shells in advance of any future invasion of West Linn, OR.
---
Think
I wanna (classic) rock! Pearl Jam, Nirvana, and REM are classic rock headliners?!?! This 538 piece on the new classic rock is a rude awakening for anyone in their 30's. Takeaway? Your music (and yes that includes me, although my wife is older) is officially considered classic rock.
---
---
Part III: (Ladies, you can skip ahead to the next entry.) The older that I get the more trouble I have finding the right undershirt. Cue the sympathy music. Some undershirts are too thin, others have a wrinkly neck, and others are quick to get the unsightly stains in the armpit region. New York Magazine steps up to provide help in The Best Men's White T-shirt, According to Men. Let me be the first to say, 2017 will be a success if I can find a reliable, non-pit stained undershirt. I'll circle back on this as the year gets going.
Part IV: ELGL is pro-live tweeting. Big surprise. The live-tweeting craz entered the press box today in Philadelphia as a reporter live-tweeted another reporter being ejected from the press box.
---
Cry
I love sanitation departments, and I love sanitation workers however it's sad that sanitation/garbage trucks serve as a weapon against terrorism.
Like Almost Everything in 2016, NYC's New Year's Eve Security Plan Includes a Garbage Element
"…law enforcement has been experimenting with using Sanitation Department trucks as blockades, filling them with sand and parking them along the Macy's Thanksgiving Day Parade route and outside of Trump Tower on Election Day. When full of sand, the vehicles weigh nearly 32 tons, making them "pretty immovable," according to Sanitation Department spokesperson Vito Turso. This Saturday, Coney Island, Central Park, and Times Square will be protected by a combined 65 garbage trucks — a fitting tribute to a truly garbage year.'
Welcome to 2017…