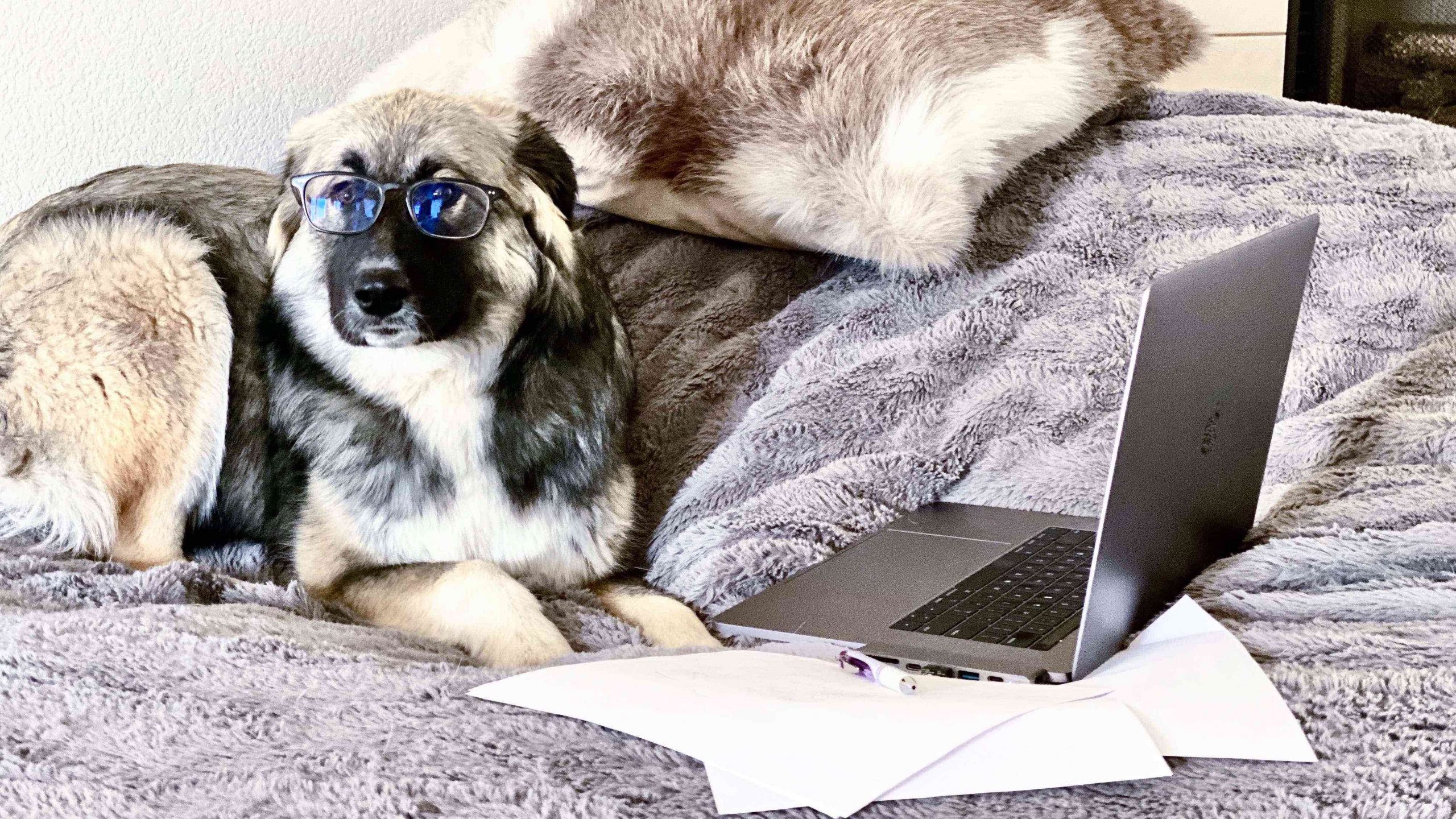 This guest blog is by Angelica Wedell with Polco/National Research Center.
---
City and state-wide physical office closures related to coronavirus quarantines are changing the work-from-home game. That means most everyone who can is now working from home. Polco / National Research Center (NRC) staff and our local government friends are happy to do our part in helping protect our communities. But we know working from home can be especially challenging in these crazy times.
Yes, there are definite perks to working from home: skipping the daily commute and saving money on gas, wearing comfier clothes, running laundry while you answer emails, etc.
But at this point, with cabin fever creeping in, the dog barking, kids running around, your partner trying to chat with you, your neighbor shouting from across the street, your work space a hot mess – you suddenly realize, as you stress-munch an entire bag of "quarantine snack" Doritos, that you haven't seen the sun in the last 6 hours, and you still have to crank out that emergency report due ASAP. There is a sun out there, right?
I think we could all use a survival guide right about now.
Many Polco / NRC staff are already quite accustomed to working from home. Some of us have even worked exclusively from home over the last few years. I usually spend two or three days a week in my home office. I suppose you could even call us work-from-home experts. 
So I asked my coworkers to share their top tips on how to survive working from home during COVID-19, and still be productive.
Set up your home workspace, remote tech solutions, and online access with cybersecurity in mind.
 My town recently sent a notice that unfortunately there are terrible people out there trying to scam or hack Work-from-Homers online. Because home networks are often less secure than corporate ones, we need to be extra vigilant about links we click and how we handle sensitive information saved on our own computers. Fortunately for me, my brother Nathan Riley is a cybersecurity expert and the work from home king.
He became one of the top cybersecurity experts in the world back in his days working in an office for a leading information security firm. Since then, he has become an online cybersecurity instructor and business owner of notiaPoint. Nathan does penetration testing with SIEM, SOC, staff trainings, and cybersecurity consulting for local governments.
Tend to your posture.
"As you might not be used to the ergonomics of the home office, find a space to construct a standing desk to give your back and neck a break." – Brian Smith, Marketing Manager
Get in the zone with background music.
"I went to an 'open space' elementary school where all grades 1-6 were in one large room together, with the 18 'classrooms' created by rolling chalkboards and rolling dividers. So now, I need the right amount of background noise to be productive. I have music on almost always — usually new age instrumental type music, but sometimes something more upbeat if I need some motivation!" – Erin Caldwell, Senior Vice President of Data Science
Dress for successful working from home.
"A tip I've found helpful if I'm struggling to feel productive in the mornings: get dressed as if you are going into the office, instead of wearing comfy clothes." – Parker Quinn, Data Scientist
Manage family interruptions.
"Let your kids (and your spouse LOL) know they need to treat your office at home just like you are at work and not available. Texting you can be a good alternative if they need something so they don't interrupt your workflow or a meeting. Make time to check in periodically with them so they can get their needs met while also allowing you to be productive." – Cory Poris Plasch, Vice President of Client Success
Take breaks and refresh.
"Create a schedule that includes lunch and coffee breaks. I've noticed sometimes that I don't get up from my desk for 2-3 hours straight. Gotta stretch the legs – even take a walk – to keep creativity and productivity flowing!" – Heather Locke, Research Analyst
Don't let bad days become bad weeks.
"The best advice I can give anyone working at home for the first time is to not let bad days snowball. You've had a routine for years, and you love that routine…and now it's gone. You'll get a new one, for sure, but it's going to take time, trial and error, and might not be the most natural thing in the world. (Who loves working at their kitchen table for days…or weeks?)
Just know that bad days are going to happen, and it's OK. Go for a long walk, work out extra hard, cook your favorite meal, or just read a book and go to bed determined to wake up early and leave the bad day behind you. It gets very difficult to compartmentalize bad days at work and not let them affect your entire life when your entire life is at home. So you need to be extra aware of that and ready to shake things up, so bad days don't turn into bad weeks." – Nick Jeffress, Director of Growth
Preserve your normal routines.
"Keep your morning routine, even if it is more relaxed (like I'm not bothering to wear makeup). If you are used to getting up, showering, eating breakfast, and checking the news before your workday starts, keeping these routines intact at home will help you feel more prepared and productive for the rest of the day." – Angelica Wedell, Director of Communications and Marketing
Keep distractions out of sight, out of mind.
"Claim a space that is away from others, preferably with a door. That helps me to not want to do house chores while I'm supposed to be working." – Laurie Urban, Director of Operations
Set in-home office hours.
"Let others (kids) in your home know when you are in "work mode" and when they can expect you to be available for them." – Ann Michelle, Office Manager
Set a timer for motivation. 
"If you are having a hard time motivating yourself to work on a specific task, set a timer for 20 minutes and commit yourself to work on it for that long before you can stop. I find that I almost always continue longer because the starting is the hardest part." – Michelle Kobayashi, Senior Vice President of Innovation
Engage your residents remotely, safely.
Even while office spaces are closed and most everyone is staying at home, city and town leaders must still move their communities forward through this pandemic. Resident engagement must continue. So Polco / National Research Center is providing COVID-19 Response Surveys designed for municipalities. Developed by our survey scientists with backgrounds in local government and epidemiology, we've made these surveys available for you on Polco at no cost. You can learn more here.
---
About Angelica:
Angelica Wedell leads the communications and marketing efforts of Polco / NRC. She speaks professionally and facilitates workshops at local government conferences and events around the country, writes guest articles for syndicate sites and journals, and acts as Editor-in-Chief of Polco / NRC's newsletter The Civil Review. Through Polco / NRC, Angelica helps leaders better connect with their communities.