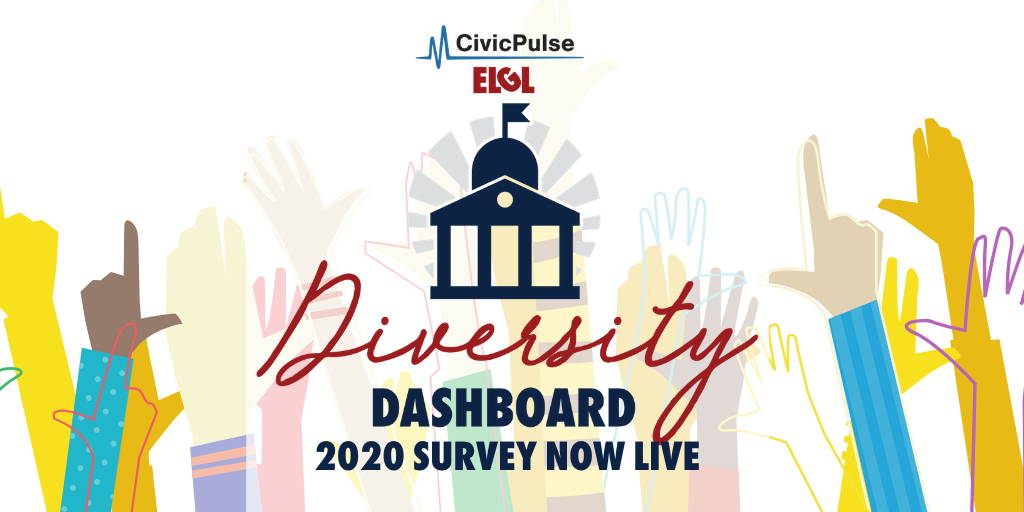 The 2020 Diversity Dashboard Survey is Now Live!
The ELGL Diversity Dashboard is the first national data collection on gender, race/ethnicity, age, and prior education/work experience of local government leadership. We're excited to launch our third full year of data collection! 
Why does this matter?
What gets measured gets improved.

You measure what you treasure.

What gets measured gets done.
No matter your favorite quote about data collection, the gist is the same: when you're paying close attention to trends, you're better suited to solve or fix a challenge. We know that local government leadership can more closely mirror our community demographics, and the Diversity Dashboard is the starting point to understand what leadership looks like in our communities.
The best way to improve the diversity of local government leadership is to understand who local leaders are.
Last year, we learned that 30 percent of CAO respondents and 54 percent of ACAO respondents are female – just a sampling of the kinds of comparisons this data can help us make. This year, we hope to get more respondents for a more representative sample and compare last year's data across a variety of local government leadership positions.
Please ensure that your local government is represented in the 2020 data collection.
The Diversity Dashboard collects information on all local government leadership positions and only takes a few minutes to complete. Data is compiled and shared without names and contact information into an open-source dashboard, where we can share the demographic data in charts and maps as well as in a format in which researchers can access the data freely. 
This year, we're seeking state-level champions willing to help conduct outreach to local governments to get more folks involved. We're also convening our academic partners to discuss ways we can make this research useful to local governments in future projects. If you're interested in these ideas or being a champion for this data collection, email [email protected]. 
This year's survey – hosted on PublicInput's survey platform – is slightly different than in previous years. 
ELGL is teaming up with Civic Pulse, a nonprofit organization founded by recent PhD graduates from Stanford University, who are committed to gathering data on the most critical issues facing local governments. They have been surveying and gathering data on diversity in local governments as well as a number of other topics and we are excited to work with them to expand Diversity Dashboard collection and analysis this year and in the future. 
In an effort to get a better understanding of diversity across a wider variety of local government positions, this year's survey will be sent to local government leaders working in many different positions, not just CAOs and ACAOs. We look forward to hearing from department heads, project managers, analysts, and others as we hope to get data on the diversity of more local government leaders.
You're encouraged to respond both for yourself as a local government employee and for others in your organization if you are able. Data will be uploaded in real-time to the results page and used to create a dashboard launched in 2021.
Local governments do not need to be members of ELGL to complete the survey. Please be sure to fill out the survey as soon as you receive it and feel free to share it with others in your local government network or complete it for the leaders in your organization! 
Help build diversity in local government – take the 2020 survey here! 
With questions, please email Chanté, ELGL Data Coordinator, at [email protected].
---
FAQs:
What is the Diversity Dashboard?
The Diversity Dashboard is a nationwide data collection on the diversity of local government employees in towns, villages, cities, and counties, across all forms of government in the United States.
Why are you collecting this information?
This information is being collected to learn more about employment and leadership in villages, towns, cities, and counties, and to determine how local government demographics reflect local community demographics.
What type of data are you collecting?
We're collecting gender, race/ethnicity, age, and prior education/work experience of local government leaders.
What are you going to do with the data?
Data will be uploaded in real-time to the results page and used to create a dashboard launched in January 2021. All data is anonymized and does not reflect specific names or titles, but does report at the local government level – i.e., you'll be able to look up your town or city, and see what their specific demographic representation looks like. 
How can I check if my local government's data is submitted for myself or someone else?
Check the data results pages and search for your local government name. If you don't see it and you think the data was submitted, it might be a slight delay between survey submission and the data upload. This year, the survey will also be tied to the Census data on government agencies, so you'll be able to see right away whether anyone else in your organization has already submitted the form. 
Is my data secure?
Your contact information will not be shared with other organizations or used for ELGL content. Reported data from this survey will only be shared by locality, and the names and contact information for respondents will not be shared.
How long does the survey take?
Most respondents say it takes about five minutes.
We have a mayor and a clerk. I'm a library employee. I'm an analyst.  – should we take the survey?
We are collecting data on all forms and types of local governments. We know that leaders in local government are working in different organizations and there's no one way to define a "leader." Please choose the level of employment that most closely matches your own. 
We're not a member of ELGL – should we take the survey? 
Local governments do not need to be members of ELGL to complete the survey. However, your support means that we can continue important work like this – and you can join for only $50 per year, less than the price of a cup of coffee per month.