It's the most wonderful time of the year! We're counting down the top 100 influencers in local government. Today, met ten amazing local leaders who are making a difference in their communities. View the full list on the #ELGLTraeger page, and share your congrats using the hashtag #ELGLTraeger on social media!
---
#1 – Cassie Johnson
Manager of Planning, Research & Accreditation, City of Scottsdale
Three words to describe the nominee: 
Dedicated, Professional, Intelligent
Why does the nominee deserve a 2020 Traeger Award? 
Cassie is a consummate professional that always strives to bring out the best in everyone around her.  She dedicates herself to world of public safety in a time where we know intelligent and inclusive people need to have a seat at the table.  She is committed to the profession of local government in every way.  
Cassie does quality work for the city's police department week in and out, and added to her responsibilities by taking on a master's degree with the Naval Postgraduate School in homeland security (quickly rising to cohort class president). She has excelled throughout the current emergency and is frequently called on by the chief of police to tackle coordinating the most difficult assignments. She was promoted during the past year to manager and is part of the command staff as a civilian.  Cassie continues to serve as the Team Leader of the City's Data Analytics Team, President of the Arizona Police Accreditation Coalition, and Executive Vice President of the International Association of Law Enforcement Planners. Cassie seems to know everyone in her department, sworn, civilian, hoofed and paws alike. She is a smart, helpful professional and is certainly deserving of Traeger recognition.  
This year has certainly had its challenges for everyone. Cassie was promoted early in the year with responsibility to oversee several significant ongoing projects for the police department (in a normal year). She led the transition of her department to a new accreditation manual through CALEA, initiated several high priority policy revisions, shared department policies online, and is supporting her team through the transition to NIBRS. Because of her role she also assumed management and oversight of the COVID staffing and organization, while balancing the wellness of her new team of employees. 
A few months after COVID began she also jumped into the organization and oversight of unrest response, taking the lead on authoring several reports and memos throughout the response. She balanced these work priorities while also leading the City's Data Analytics team, navigating through the 2020 action plan, creating new monthly symposiums for the International Association of Law Enforcement Planners (IALEP), and becoming a masters candidate at the Naval Postgraduate School in the Center for Homeland Defense and Security, studying Homeland Security.  
Not only does she have an incredible ability to create positive change, she also supports the growth of others by frequently hosting and instructing in our conferences and Police Planner's Courses. As a Certified Law Enforcement Planner, she has proven her expertise and is always willing to share that understanding with others.   Ms. Johnson is an impactful law enforcement professional who has achieved great things in her tenure in the field. As a candidate for the Master's in Homeland Security from the Naval Postgraduate School she will continue to make a positive influence in policing and public safety, using her research and education to advocate for best practices to be implemented in policing. 
---
#2 – Amanda Graor
Chief Innovation Officer, Mid-America Regional Council (MARC)
Three words to describe the nominee: 
Brilliant, incisive, caring
Why does the nominee deserve a 2020 Traeger Award? 
Amanda is TIRELESS in her efforts to make Kansas City and the region better for our citizens. She has such an interesting leadership story and yet, she's so humble about all of her achievements. Her approach to problem-solving is inventive and I just love talking through challenges with her. This woman influences everyone about data trends, she knows science and is able to translate that from government speak to day to day conversation 
Amanda Graor, of Kansas City, Mo., is the Chief Innovation Officer at the Mid-America Regional Council in Kansas City.  MARC works with nine counties and more than 100 cities in Kansas and Missouri. Amanda Graor brings new technologies to solve problems across the Kansas City region. She recently coordinated regional data about the COVID-19 pandemic.  A meteorologist by trade, Amanda has worked at MARC for 12 years on air quality, transportation, energy efficiency and climate issues.   Amanda focuses on regional collaboration efforts to pool resources, strategies and talents across local jurisdictions to solve regional problems.   Amanda earned a Masters of Public Administration from the University of Kansas in 2016.  
Anything else to add? 
She is the first to volunteer for hard projects and is a deep learner. She is highly respected in not only KC but around the nation. 
---
#3 – Amrinder Singh
Code Enforcement Manager & Building Code Official, Municipality of Norristown, PA
Three words to describe the nominee: 
dedicated, ambitious, caring.
Why does the nominee deserve a 2020 Traeger Award? 
Amrinder started his career in local government at the age of 25 with the City of Reading, PA (5th largest city in PA) as an inspector and quickly moved up the ranks and became the Code Enforcement Supervisor. At the age of 27 he was selected/appointed to the position of Director of Code Enforcement and Building Code Official for the Borough of Steelton, PA. It is said that at the age of 27,  Amrinder was one of the youngest Building Code Officials in PA to ever be appointed. At 30, he was selected/appointed to the Municipality of Norristown, and now at the age of 32, he still is the youngest Building Code Official in Pennsylvania.
Amrinder Singh is the Building Code Official and Code Enforcement Manager for the Municipality of Norristown, PA (3.5 sq miles and the county seat) and is responsible for ensuring the health, safety, and welfare of approx. 45,000 residents and making sure that the approx. 10,500 buildings, assessed at over $1 Billion, in the Municipality are in compliance with State and Municipal Codes and Regulations. He manages the Department of Buildings and Code Enforcement, which has 5 divisions: Administrative, Buildings, Code Enforcement, Housing, & Property Transfers. The department has 11 employees with a budget of $1.3 million dollars. 
Anything else to add? 
The Norristown Department of Buildings & Code Enforcement was the first Department in Pennsylvania and 2nd in the country (the first was the City of Plano, TX) to achieve national accreditation for its Code Enforcement Program from the American Association of Code Enforcement (AACE). 
---
#4 – Rebecca Fleury
City Manager, City of Battle Creek
Three words to describe the nominee: 
Loyal, Dedicated, Accommodating
Why does the nominee deserve a 2020 Traeger Award? 
I think it says a lot about Rebecca that her evaluation process this year found her rated higher than ever by her staff, commission, and community. She does not hesitate to jump in and help this community find success – most recently with a new homeless shelter. She practices and recognizes the importance of family, and life outside of work, and pushes and allows us to hold those priorities, too. She often presents to groups and classes, and is an inspiration to all women in local government. I am proud to work for and with her.
Rebecca is one of the colleagues to whom I turn when I need advice in difficult situations. She is thoughtful and precise in her guidance and is an incredible listener. Rebecca often goes out of her way to reach out to those new to the profession and regularly checks in on those she has mentored along the way. She is widely respected by her peers in Michigan and will serve as the President of our statewide association (Michigan Municipal Executives) in 2021. 
---
#5 – Joshua Barr
City of Des Moines, IA, Civil & Human Rights Director
Three words to describe the nominee: 
Thoughtful, considerate, leader
Why does the nominee deserve a 2020 Traeger Award? 
He won an Emmy (an Emmy!) for a project he conceptualized, directed, and executively produced called "Breaking Bread, Building Bridges," documenting people's experiences when they are matched up based on their differences and have dinner together over the course of a few months. If that's not Traeger-worthy, I don't know what is!
I am nominating Joshua Barr as a way of thanking him for the "A Better Way" series he wrote for ELGL this year. The amount of thought and time he put into the series was incredible and showcased how he views his work in local government not just as a career, but also as a calling for which he's perfectly suited. I encourage everyone to read his series:
Joshua's "50 actions to combat racism" series was incredibly well done. I have no doubt that if Joshua wants to become a city manager, mayor, governor – basically anything in public service leadership – he can achieve it. Would love to see him on your "TRAEGER" list.
Anything else to add? 
I know this is silly but I love how he poses in this job ad, to me it shows that he's committed to making hard and important local government work as engaging as possible!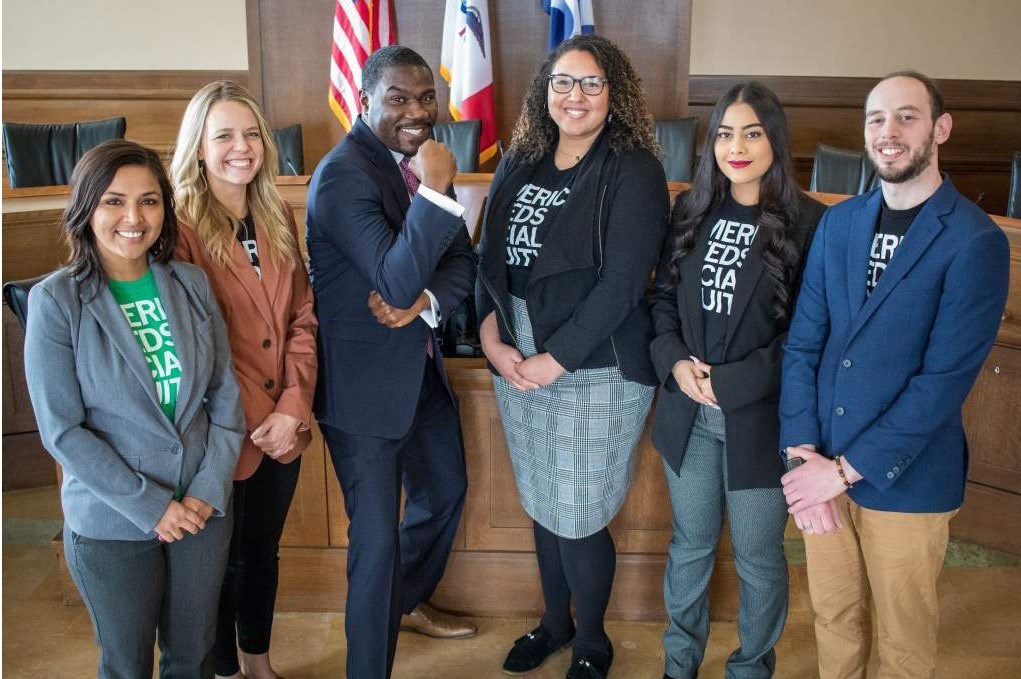 ---
#6 – Hillary Ostlund
Library Manager, Hillsboro Public Library
Three words to describe the nominee: 
Committed, compassionate, innovative
Why does the nominee deserve a 2020 Traeger Award? 
In a strange year, Hillary has doubled down on her commitment to staff and to the community she serves. Serving staff is at the heart of everything Hillary does, from ensuring equitable practices to creating systems of support for staff. In a year when many libraries have taken a step back, Hillary has been the driving force to keep Hillsboro moving forward to thoughtfully and safely serve the community.
While she's currently working in libraries, Hillary has the potential to be an innovation director, city manager – anything she puts her mind to because she's that good at managing people, projects, and is tremendously creative and collaborative.  If the Traeger List includes "influencers" then Hillary should be on it because of her relentless positivity and innovation in local government!
---
#7 – Joy Marsh Stephens
Director of Race and Equity, City of Minneapolis, MN
Three words to describe the nominee: 
Passionate, Considerate, Caring
Why does the nominee deserve a 2020 Traeger Award? 
Joy is an inspiration and model for how to incorporate equity into local government. She helped the City of Minneapolis establish its Strategic and Racial Equity Action Plan and has provided leadership on why local governments need to incorporate equity into their regular work.
I would like to nominate Joy because of how much I learned from her at #ELGL20. Even though the conference was virtual I felt a real connection to her and her work, and also admired her vulnerability in talking about her work for the City of Minneapolis as a Black woman. It takes intelligence to establish actionable plans but it takes empathy and courage to be a leader, which she most definitely is.
Anything else to add? 
Joy was a GovLove Podcast guest and a keynote speaker at #ELGL20.
---
#8 – Josh Edwards
Assistant Manager, Athens-Clarke County, GA
Three words to describe the nominee: 
Humble, Kind, Insightful
Why does the nominee deserve a 2020 Traeger Award? 
Josh never hesitates to say "yes" or lend a helping hand to local government officials. His leadership in ELGL is exemplary and because of his involvement, ELGL has produced amazing events and trainings on innovation. 
Josh is a friend and a professional. I always like working alongside him because I am continually learning new things and am encouraged by his positivity and creativity. Most importantly, Josh isn't afraid to ask "why" and "how can we improve" and that is a wonderful trait for a local government influencers and why he should be on the Traeger list!
We have had the privilege of partnering with Josh in areas related to strategy and performance management while he was with the City of Durham, now Athens-Clarke County and through ELGL.  He is kind and thoughtful always.  His experience and knowledge coupled with his humble approach fosters tremendous respect among his peers.  And he's generous with his time, which is why it wasn't suprising when he jumped at the chance to serve as a mentor for the ELGL Strategy Cohort.  We can't say enough about how amazing Josh is! 
---
#9 – John Gonzalez
Manager of Communications, Northeast Ohio Regional Sewer District (NEORSD)
Three words to describe the nominee: 
Funny, Innovative, Engaging
Why does the nominee deserve a 2020 Traeger Award? 
John is the person behind the @NEORSD twitter account, also known as the best account on Twitter. He is funny, timely, and engaging on a platform that many organizations struggle with. I learn a lot from his account and he makes me laugh, it's a great goal for us all to strive for on social media.
I am nominating John Gonzalez because I learned so much from him at #ELGL20 about making local government communications authentic and human. I also was impressed by his dedication to both his job and his family. That kind of balance and focus is meaningful and something that many of us can learn from.
I love how John weaves history and ecology into his timely and relevant messages about the sewer district. Some people might think "a sewer district has the best local government twitter account on the internet?" Because of John – yes, yes it does.
Anything else to add? 
John spoke at the ELGL20 Conference and is a must-follow on Twitter at @neorsd.
---
#10 – Emily Uselton
Budget and Policy Manager, City of Norfolk
Three words to describe the nominee: 
Organized, Creative, Leader
Why does the nominee deserve a 2020 Traeger Award? 
Emily leads the City of Norfolk's Budget Team and is responsible for the planning, development, and implementation of the city's annual $1.4 Billion Budget.  Emily's budget – the budget her team spent more than eight months preparing, was rendered irrelevant just weeks prior to its planned presentation to City Council due to the COVID-19 pandemic.  All the sudden the city faced more than $40 million in revenue loss.  
In just a couple weeks Emily's team completely rebuilt the city's budget within these new revenue constraints.  It was an extremely difficult task that required identifying service level reductions across nearly all city departments – often mentally and emotionally exhausting work.  In the end Emily and team produced a budget that reflected the city's new financial reality and clearly communicated the impact of the pandemic on city services.  Emily's leadership and ability to quickly plan and organize work flow gave her team the confidence needed to be successful during a uniquely challenging time. 
Anything else to add? 
Emily leads the City of Norfolk's budget team from more than 300 miles away in Philadelphia.  She has been a full-time mobile employee for over three years.  Emily is a CPA who often turns to hand drawn T-accounts during times of stress – the city's budget staff does not hold this against her.

---
We'll release ten new names each day from December 7 – 18, 2020!