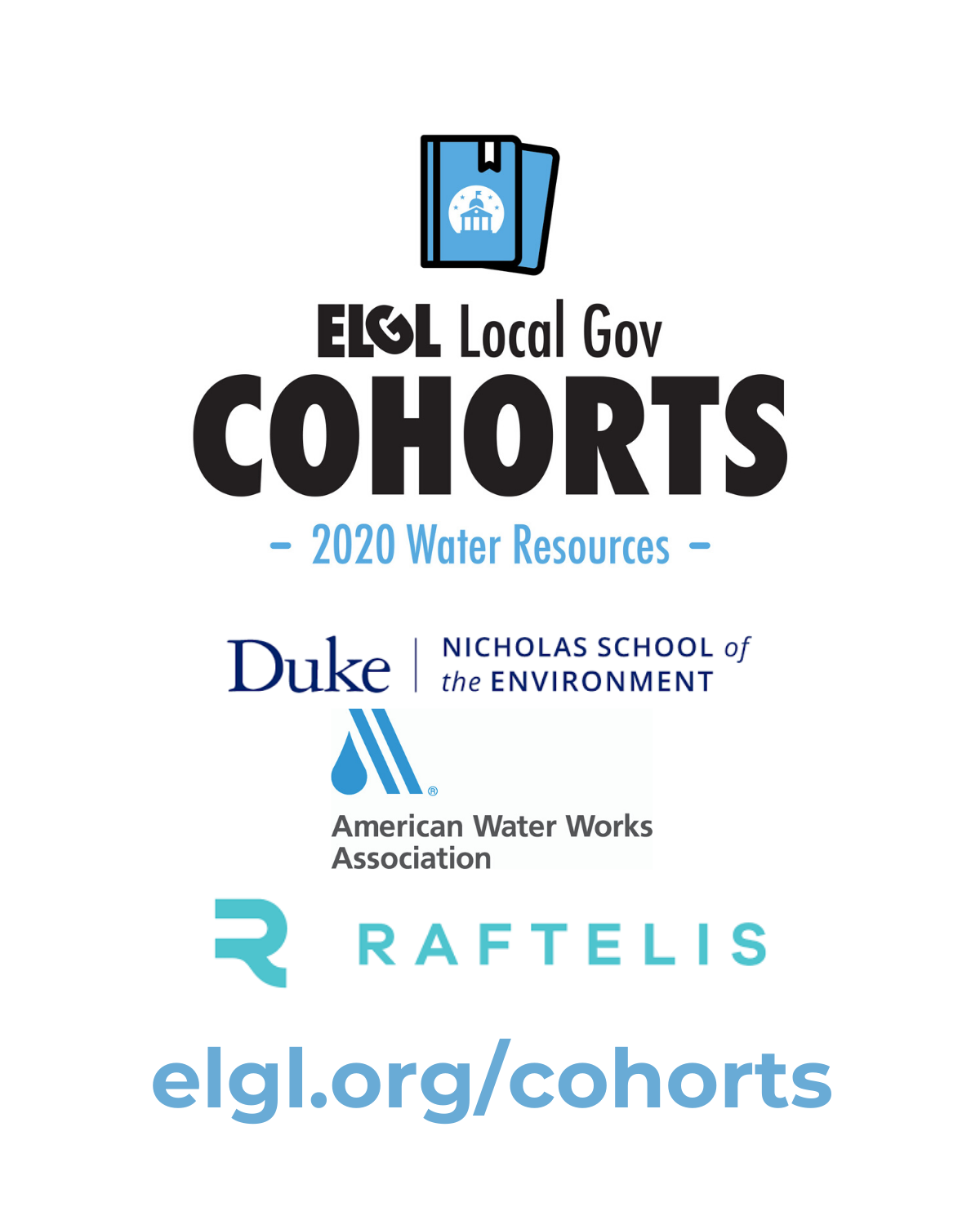 As part of our mission to help our members find joy in public service, ELGL offers high-quality, accessible, affordable learning opportunities in a variety of formats. This month, we're opening applications to our next Cohort Sprint, focused on learning about water resources and water management in modern governance systems.
Wicked Problems might be the theme of 2020 – a year that has highlighted issues that municipal governments work hard to address every year. We don't hear about water issues often – but a significant result of both the COVID-19 crisis and the past year's natural disasters is how these occurrences challenge America's water systems. 
ELGL has partnered with the American Water Works Association (AWWA), Raftelis, and the Duke University Nicholas School for the Environment to offer a six-week online cohort focused on the challenges and opportunities within modern water resource management. Participants will learn about how water resource management shapes everyday decisions in communities across the country and how local governments can respond to the new needs being highlighted every day by both climate events and public health crises. 
Apply today for the 2020 Water Resources cohort!
The group will cover resources specific to local government and municipal challenges, potential solutions, and policy ideas, ranging from a history of water management in the US, to environmental, economic, and social impacts, to fiscal considerations and communications best practices. Professionals from all departments are encouraged to apply to learn more about how water issues impact their communities and their agencies. 
Cohort participants will attend three live sessions, receive a weekly course email with required and recommended resources, participate in discussions with peers around the country, learn from experts in a customized training, and write an article on a subject they're working on for publication. 
Thanks to sponsorship from Raftelis, each cohort participant will also receive a copy of The Source to use in weekly readings – a book from Dr. Martin Doyle, Director of the Water Policy Program at Nicholas Institute for Environmental Policy Solutions and a professor of river science and policy at Duke University's Nicholas School of the Environment.
Over six weeks, cohort participants will:
Examine the history and background of water management in the US. 

Explore the principles of modern water resource management, including challenges, potential solutions, fiscal considerations, and environmental impacts. 

Discuss models from around the country to learn how other local governments are managing and responding to water resource needs, especially during COVID-19.

Explore equity issues in the history of water resources and in modern systems, and learn ways to address this in your own work. 

Attend a training webinar with experts from around the globe to learn more and have virtual video discussions with your peers. 

Complete an article about your organization's challenges and what you've learned that may be useful, take peer feedback, and finalize the article for publication.

Have the opportunity to attend optional remote coworking sessions each week to meet and work with peers around the country. 
The cohort will run from August 3-September 9, 2020. A short application form is required. 
Who is this for and how much does it cost? 
This is available for free to ELGL members, and at a cost of $75 for non-members. Not a member? You can join today as an individual for just $40 per year. We encourage local government employees in all departments to participate – and nonprofits, universities, and other local government partners may also find this content useful. 
How does a boot-camp cohort work? 
Cohort participants will receive weekly email guides to resources focused on that week's theme, with a collaboration platform and discussion board available for sharing information and knowledge with their peers. You'll attend one online webinar training and two class collaboration sessions, and have the option to attend remote coworking on a weekly basis with your cohort peers. You'll also complete a short article about your learning, which will be shared with each organization's readership.
What am I committing to? 
If you are accepted, cohort resources will require no more than 10 flexible hours of your time over six weeks (around 1 hour per week plus an additional 3-4 hours to write your article). However, we are looking for people to commit to completing the full program in the allotted time.
To get started, all you need to do is complete the short application form by July 26.
What's the timeline? 
Applications Accepted: July 10-26, 2020

Selections Announced: July 29, 2020

Program Dates: August 3-September 9, 2020

Online Training: August 13, 2020
What's the course structure like? 
Weeks 1-6 – Boot camp:

A structured email micro-series drawing on wide-ranging content, which reflects the topics of most interest to the cohort.

Week 1: Online live collaboration session, Thursday, August 6, 2020

Week 2: Online training

: One online event where you will hear from a panel of experts and have an opportunity to discuss issues with your cohort peers.

Week 2 Required Training: August 13, 2020

Weeks 5-6: Finalizing your short article with a peer reviewer

: You'll write a short article about what you've learned and a particular issue you plan to work on, work with a peer to review and share feedback on blog posts before publication on ELGL.org.

Week 6: Online live collaboration session & graduation
More about Duke's Nicholas School for the Environment: Duke Environment provides opportunities for purpose-driven individuals to learn about or pursue careers that make positive contributions to the environment and the world. We bring together bright, talented and ambitious people from across the globe whose interests vary from conservation to climate change and everything in between. Read more here.
More about AWWA: The American Water Works Association is an international, nonprofit, scientific and educational society dedicated to providing total water solutions assuring the effective management of water. Founded in 1881, the Association is the largest organization of water supply professionals in the world. Our membership includes over 4,300 utilities that supply roughly 80 percent of the nation's drinking water and treat almost half of the nation's wastewater. Our 51,000 total members represent the full spectrum of the water community: public water and wastewater systems, environmental advocates, scientists, academicians, and others who hold a genuine interest in water, our most important resource. Read more here.
More about Raftelis: We are consultants focused on helping our clients solve their financial, organizational, and technology challenges, achieve their objectives, and, ultimately, make their communities better places to live, work, and play. Read more here.
What if I have more questions? 
Contact Emily, our program manager, at [email protected].