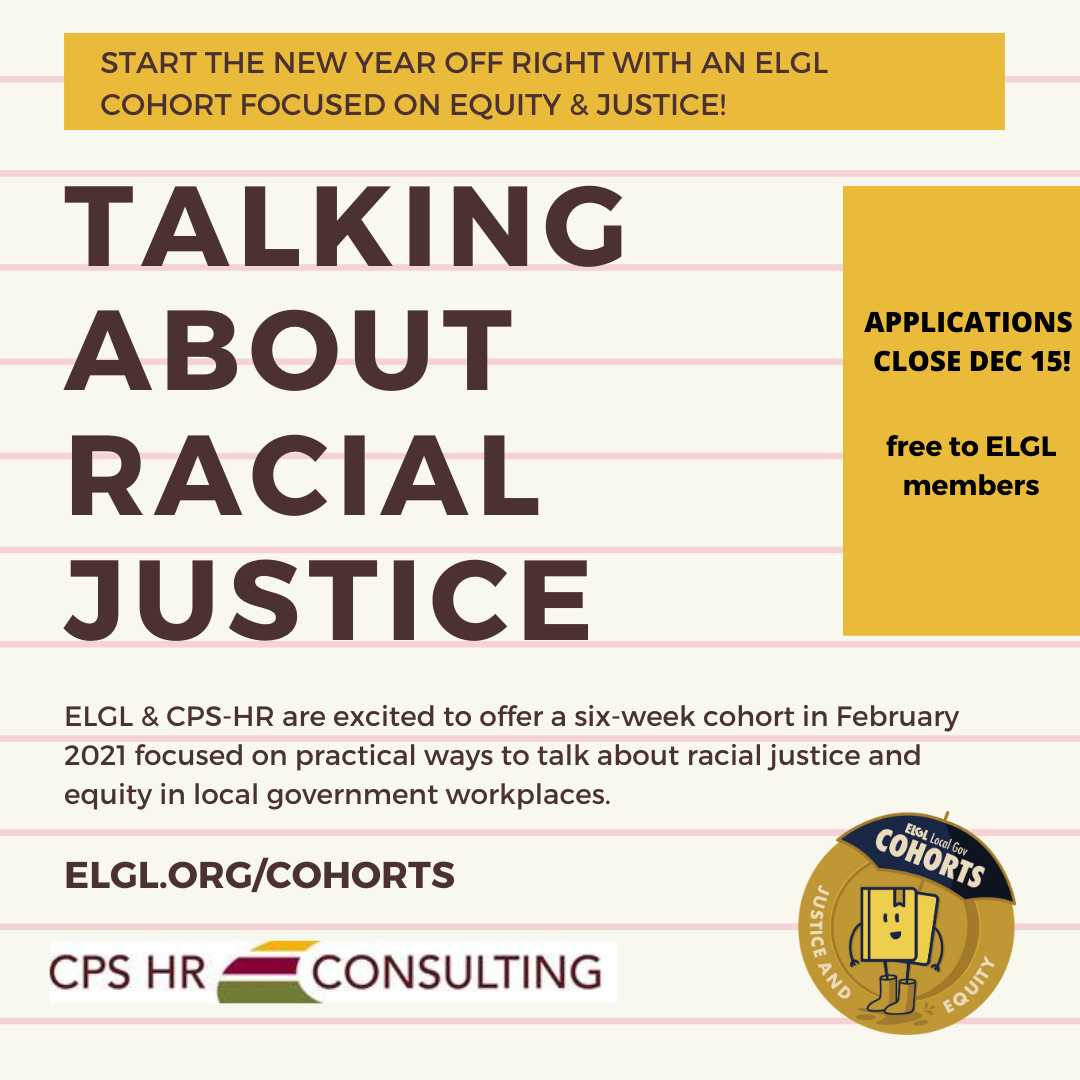 The 2020 twin challenges of the pandemic and the racial equity crisis in the US are driving local governments to address inequities and injustice in all their systems, from HR to services and everything in between. This six-week course will focus on preparing participants to have hard conversions that address the current environment of racial justice and equity. We will explore topics like what cultural intelligence is; Black Lives Matter vs. All Lives Matter; how to be an ally; and the best way to address employees. In partnership with CPS-HR's Senior HR Consultant and DEI Team Training Lead Jacques Whitfield, JD, you'll work through weekly resources and online collaboration assignments and attend a live training session. You'll receive practical and timely guidance on how to engage employees around the complex and passionate issues related to systemic racism, the need for transparency and accountability in police practices, and the need for civil discourse. You'll write a blog post about what you learned and how to implement it where you work at the end of the cohort and be featured on elgl.org. 
To get started, all you need to do is complete the short application form by December 15, 2020.
Program Dates
Applications Accepted: Nov 9-Dec 15, 2020
Selections Announced: Dec 18, 2020
Program Dates: January 15-March 1, 2021
Who is this for?
We encourage local government employees at all levels to participate – and nonprofits, universities, and other local government partners may also find this content useful. 
How much does it cost?
The cohort cost is free to ELGL members with the support of CPS-HR. Non-members will pay a registration fee of $75. Not a member? You can join today as an individual for just $40 per year. 
How does this kind of cohort work? 
Cohort participants will attend one optional introductions session in the first week; receive and complete weekly readings & discussions on an online collaboration platform for each of the six weeks; attend a live training in Week 4 (see this flyer for more details!); and complete a short blog post and attend an optional closing session after Week 6. You also have the option to attend remote coworking on a weekly basis with your cohort peers. Your short blog post about your learning will be shared with the ELGL membership. 
What am I committing to? 
If you are accepted, cohort resources will require no more than 1-2 flexible hours of your time each week for the duration of the cohort. However, we are looking for people to commit to completing the full program in the allotted time. To get started, all you need to do is complete the short application form by December 15, 2020.