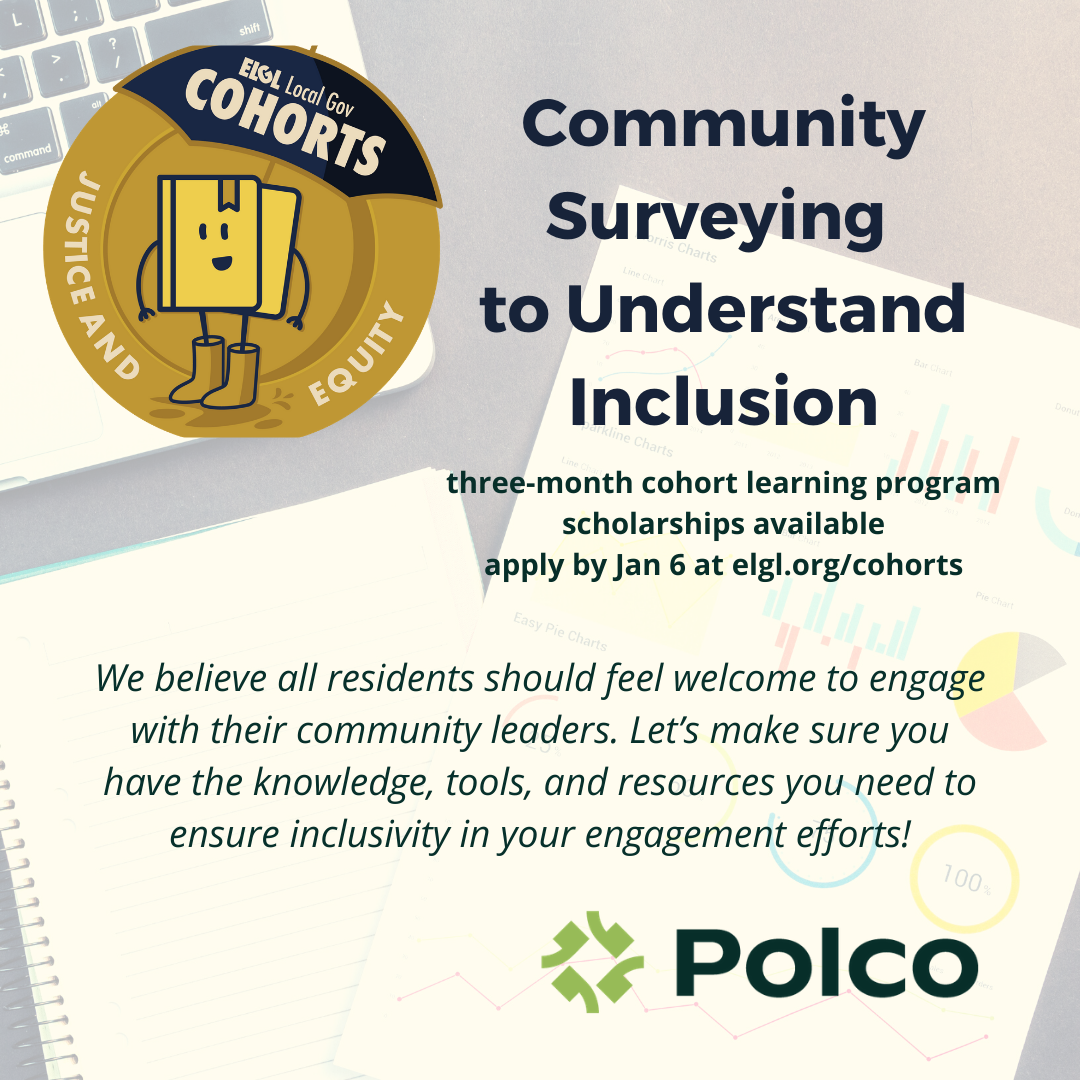 2021 Community Surveying to Understand Inclusion
A Justice & Equity Cohort from ELGL & Polco / National Research Center
2020 showed us how imperative inclusivity is to the civic process. When any group of residents feels unheard or undervalued, we see all aspects of community livability suffer. But we know equally that inviting resident voices into local government is easier said than done.
Nowadays, inclusivity is a top concern for many local government leaders everywhere. It is especially so for those leaders of diverse communities who worry about receiving participation from their less engaged demographics. We believe all residents should feel welcome to engage with their community leaders. Now let's make sure that lack of know-how, tools or resources are not a barrier to your engagement efforts!
Join Polco / National Research Center (NRC) civic engagement expert Cory Poris Plasch and other subject matter experts to learn and discuss the most effective ways to get more participation from a wider range of residents. Joining this cohort includes a free subscription to Polco, with survey tools designed by experts to help you engage your diverse community. You'll also have opportunities to talk with your peers to share innovations and ideas for overcoming challenges. We look forward to working together, taking steps to make communities inclusive places for all.
Applications are currently being accepted and must be submitted by midnight EST on December 15, 2020. 
Program Dates
February 1 – May 1 
Who is this for?
We encourage local government employees at all levels to participate – and nonprofits, universities, and other local government partners may also find this content useful. 
How much does it cost?
The cohort cost is $1,500, and all participants receive an automatic $750 scholarship thanks to the generous support of Polco & NRC, which includes access to the Polco surveying tools and engagement platform. Additional full and partial scholarships are also available on the application form, but all registrants must be members of ELGL. Not a member? You can join today as an individual for just $40 per year. 
How does this kind of cohort work? 
Cohort participants will work together in biweekly sessions with an instructor and guest speaker, with a collaboration platform and discussion board available for sharing information and knowledge with their peers. You also have the option to attend remote coworking on a weekly basis with your cohort peers. You'll complete a community survey of your own that you can implement when the cohort ends and a short blog post about your learning, which will be shared with the ELGL membership. 
What am I committing to? 
If you are accepted, cohort resources will require no more than 3 flexible hours of your time each week for the duration of the cohort. However, we are looking for people to commit to completing the full program in the allotted time.
To get started, all you need to do is complete the short application form by December 15, 2020.
What's the timeline? 
Applications Accepted: Nov 9-January 6 2020
Selections Announced: Dec 18, 2020
Program Dates: February 1-April 1, 2021
What's the course structure like? 
You'll meet biweekly with an instructor and participate in live facilitated discussions, and have a collaboration platform for online conversations with your peers along with remote coworking, short assignments, and mentorship opportunities.