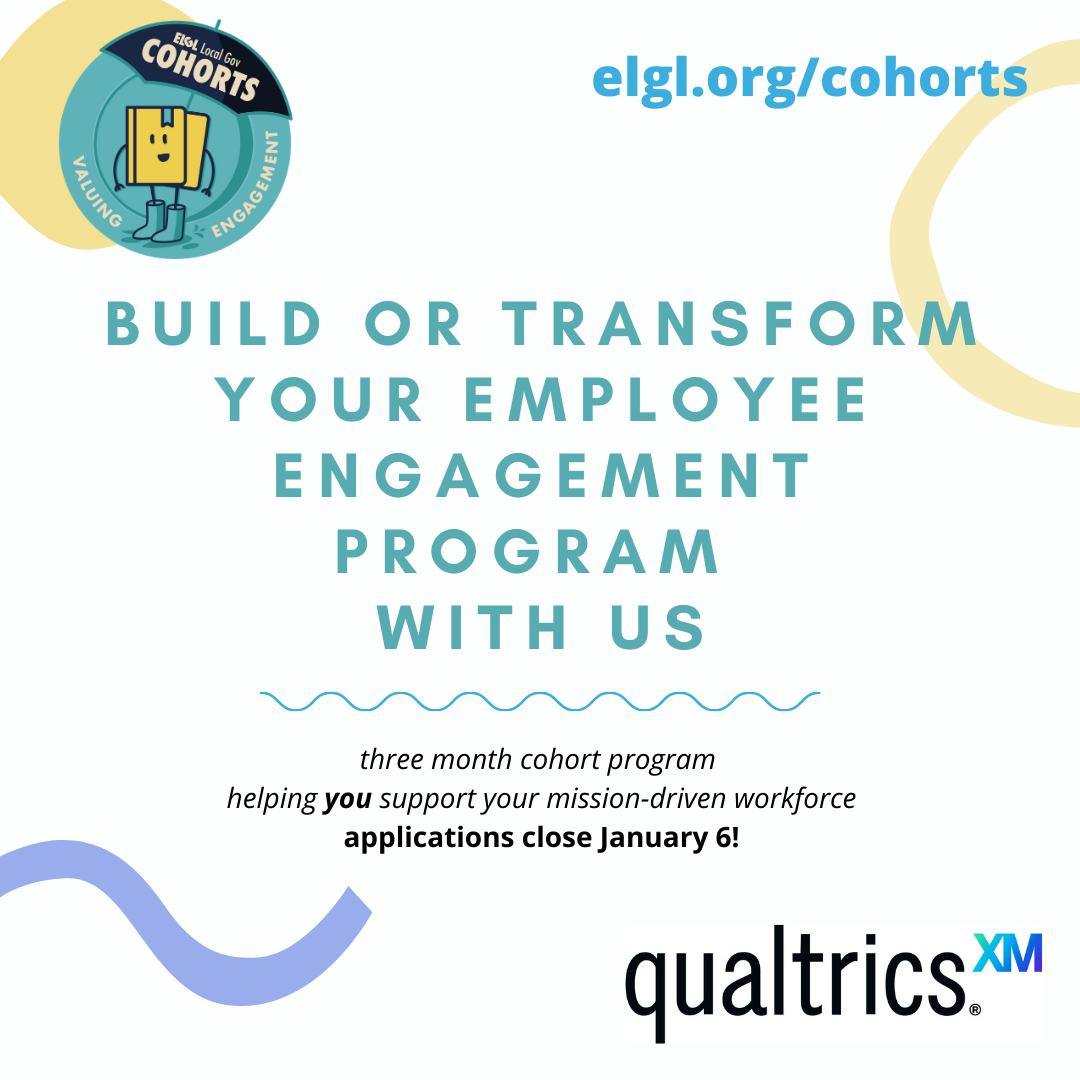 Cohort Overview
The Employee Experience Cohort is designed for local governments that are interested in building or transforming an employee engagement program. The events of 2020 have completely changed the workplace for a public sector employee. With unprecedented freedom to telework, concerns about health and safety, as well as feelings of isolation and disconnectedness between government employees, it is more important than ever that organizations work to empower, connect, and engage their workforce. Whether onsite or at home, this cohort will take you through the ins and outs of leading employee experience programs, focusing on the government "secret sauce" that even private sector businesses envy – our mission-driven workforce.
The cohort will run from January 15-April 30, 2021. A short application form is required, and scholarships are available through the application form. 
Who is this for?
We encourage local government employees at all levels to participate – and nonprofits, universities, and other local government partners may also find this content useful. 
How much does it cost?
The cohort cost is $1,500, and all participants receive an automatic $750 scholarship thanks to the generous support of Qualtrics. Additional full and partial scholarships are also available on the application form, but all registrants must be members of ELGL. Not a member? You can join today as an individual for just $40 per year. 
How does this kind of cohort work? 
Cohort participants will work together in biweekly sessions with an instructor and guest speaker, with a collaboration platform and discussion board available for sharing information and knowledge with their peers. You also have the option to attend remote coworking on a weekly basis with your cohort peers. You'll complete a validated employee engagement survey you can implement when the cohort ends and a short blog post about your learning, which will be shared with the ELGL membership. 
What am I committing to? 
If you are accepted, cohort resources will require no more than 3 flexible hours of your time each week for the duration of the cohort. However, we are looking for people to commit to completing the full program in the allotted time.
To get started, all you need to do is complete the short application form by January 6th, 2021.
What's the timeline? 
Applications Accepted: Nov 9-Dec 15, 2020
Selections Announced: Dec 18, 2020
Program Dates: Jan 15, 2021-April 30, 2021
What's the course structure like? 
You'll meet biweekly with an instructor and live facilitated discussions, and have a collaboration platform for online conversations with your peers along with remote coworking, short assignments, and mentorship opportunities. 
Month 1:

Introductions and Overview of Employee Engagement Foundations

Month 2:

Program Development, Creating a Culture of Employee Engagement

Month 3:

Understanding ROI, Data Protections, Special Considerations (DEI, Labor, etc.)

Project Closing:

Finalize a complete and validated employee survey you can implement at the cohort's end, and write a blog about your learning for elgl.org. 
More about Qualtrics, our partner on this cohort: 
Qualtrics is the leading experience management platform that enables governments to listen, understand, and act on the feedback of their most important stakeholders. With our flexible platform, intuitive UI, and purpose-built solutions, Qualtrics enables governments to harness the power of resident and employee sentiment. Finally, you can understand the "why" behind your data trends – all without a statistician. To learn more about Qualtrics, visit our website here.