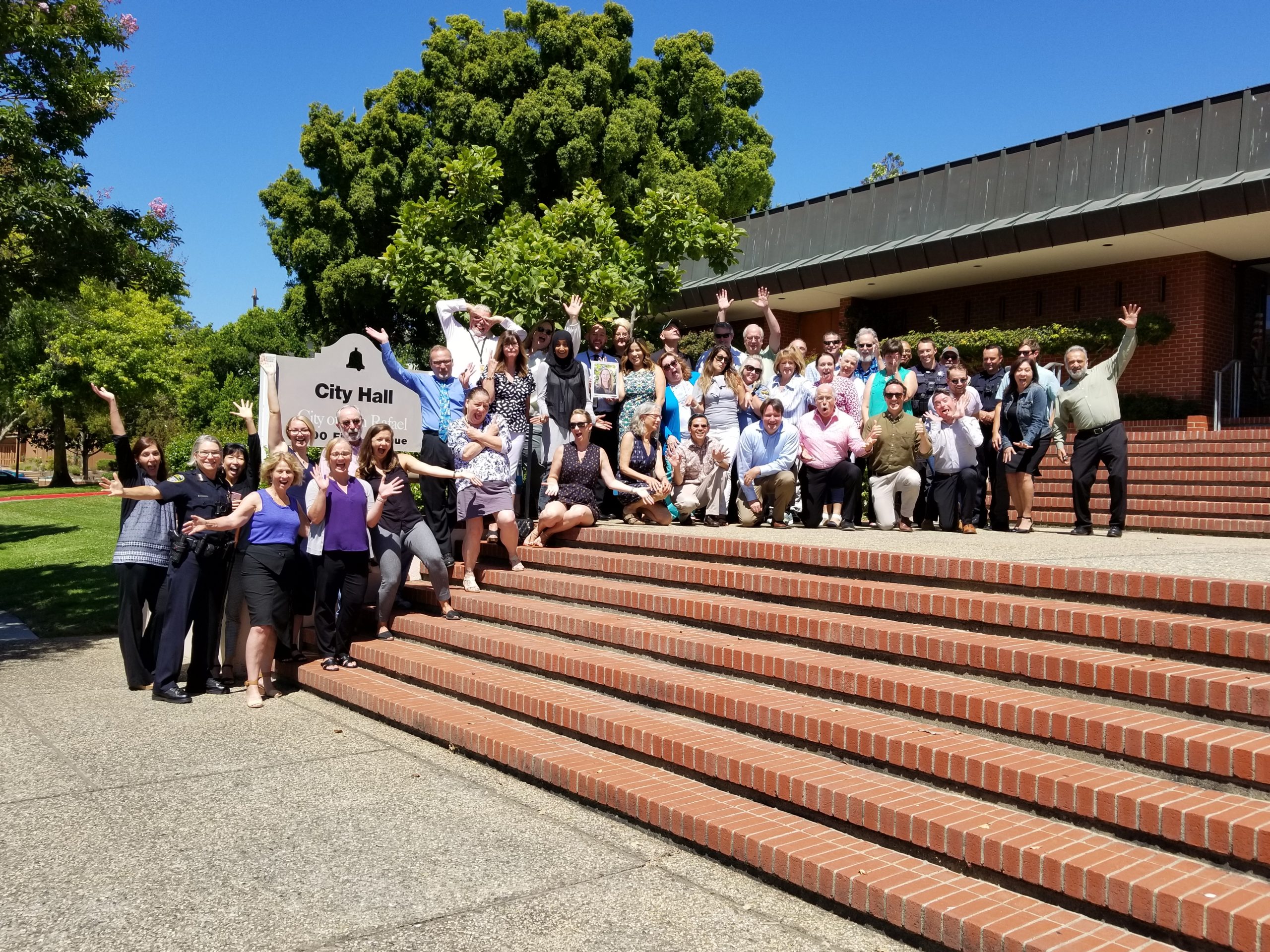 From Bernadette Sullivan, City of San Rafael, CA Senior Management Analyst
Employee Driven Innovation
What makes the City of San Rafael such a great place to work is that it is made up of like-minded employees who are driven by innovation and have a passion for working alongside our community to get things done. Employees have support to do this from the highest level, the San Rafael City Council, which encourages staff to take risks and try new ways of service delivery. Also, executive management fosters a collaborative, silo-busting atmosphere where employees are free to work together to help solve our biggest challenges.
One example of this is through our Innovation Labs, where employees learn how "to rethink how to approach problem-solving, learn ways to redesign processes, and quickly put ideas into action." In each session, a cross-departmental cohort of employees gathers to learn human-centered design, project management and process improvement skills, which are directly applicable to their day-to-day work. Employees are encouraged to ask questions, iterate, "fail fast," and come up with new ideas and solutions to use moving forward. We shun the "this is how things have always been done" model…and instead we innovate and reimagine the status quo. Solutions are refined based on community input and real-time problems are solved collaboratively.
A strong emphasis on innovation, equity, and a commitment to providing ongoing learning opportunities to all staff are just some of the perks that make San Rafael the Best Place to Work.
Together San Rafael: A Collaborative Work Culture
Together San Rafael is the culture initiative, developed in collaboration with staff at all levels of the organization, to create a new model of local government that uses 21st-century tools to solve today's problems and improve services for our community. Together San Rafael's foundation is our six guiding principles: Together in Service, Start with Community Needs, Find Something to Say Yes To, Reimagine the Status Quo, Practice Openness, and Be Mindful. In 2019, the City of San Rafael received the Helen Putnam Award for Excellence for Together San Rafael, which was highlighted in a Western Cities article.
Lead by Example
City leadership doesn't just support Together San Rafael; they live it alongside the rest of the city team. Together San Rafael principles are woven into everything we do, including our recruitments, performance evaluations, recognition program, and employee life. Executive management has built a strong and dedicated Department Director and management team who lead through these guiding principles. They are supported by a Mayor and Council who encourage the internal culture, and participate by coming together and innovating with staff. The City's leadership team also co-created 10 tenants that guide how they lead, called "Let's Lead Together." For example, Lead with Heart, Broaden and Share Perspective, Support your Team, Demonstrate Vulnerability, and Be Inclusive.
Love who you Work With
We call it "San Rad-fael" for a reason. When asked why San Rafael is the best place to work, employees have said they love the "working together" environment, the support and trust they receive from their peers, City leadership, and the community we serve. Employees describe one another as committed, kind, competent, compassionate, and always wanting to see one another succeed. It is this support, energy, and passion for San Rafael and public service that makes it the best place to work.
++++++
Check out the announcement post for all three of the 2022 Best Places to Work in Local Government, and the other guest blogs! Congratulations, San Rafael!