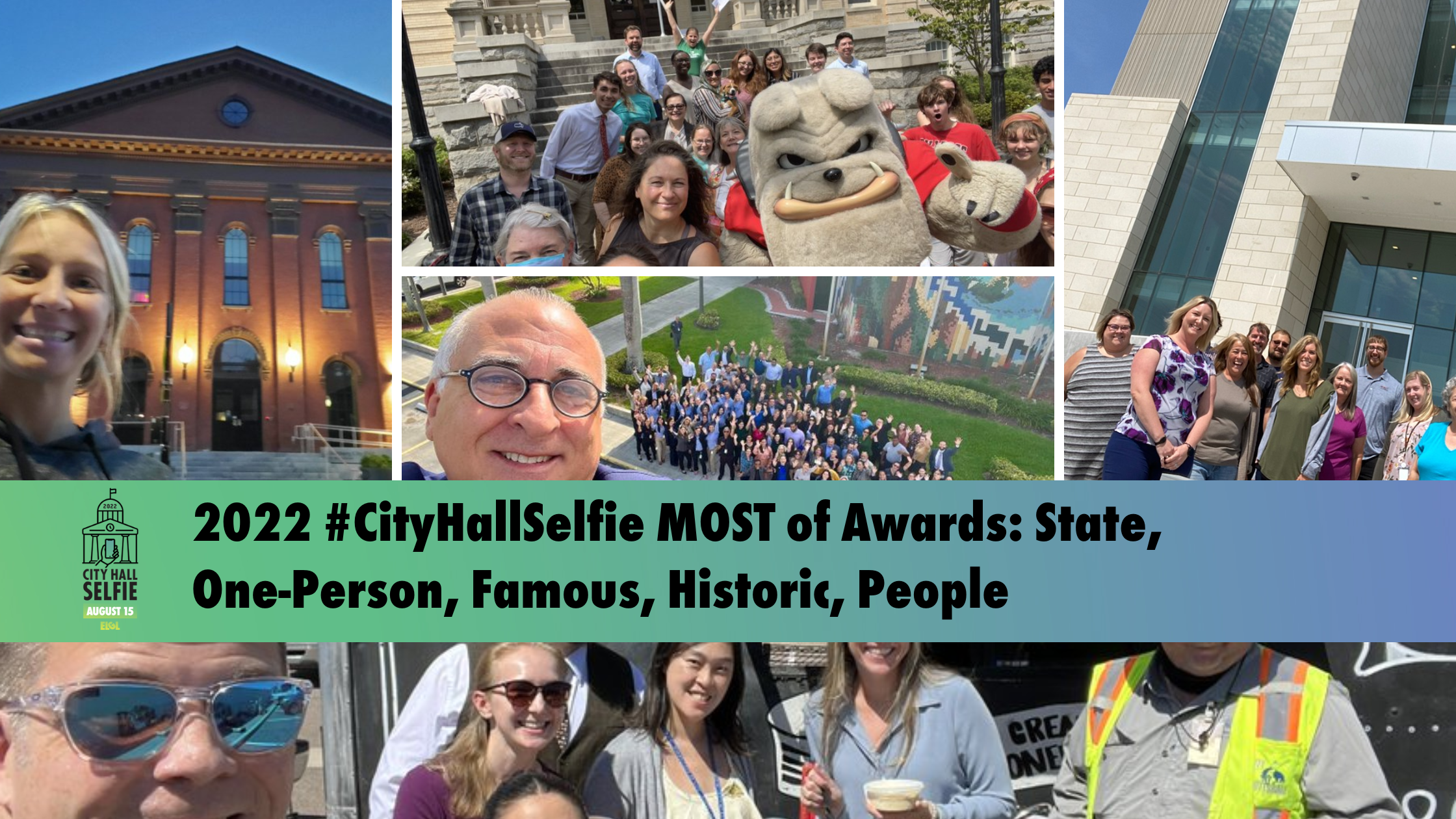 #CityHallSelfie Day on August 15, 2022 was a huge success – people from across the world took a minute to snap a selfie in front of their local government building. We'll announce some winners each day so we can remember all of the great selfies that were shared on the big day. See all the 2022 winners.
---
State With the Most #CityHallSelfies: Kansas

We had so much fun celebrating #CityHallSelfie Day!
A big THANK YOU to all the awesome public servants who visited with us.
We made it to all nine counties and 79 cities!
Not bad for a first try. There's always next year.#50Forward @ELGL50 pic.twitter.com/urfUNQHBbd

— MARCKCMetro (@MARCKCMetro) August 16, 2022
---
Most Selfies Taken by One Person on #CityHallSelfie Day: Brent Stockwell, Scottsdale, AZ
#CityHallSelfieDay and #EmployeeAppreciationDay has started here in @scottsdaleazgov ! We are at the South Corporation Yard / @ScottsdalePD District 1 / Crime Lab handing out ice cream! First of six stops at our five major campuses. @CityHallSelfie @ELGL50 @SWELGL pic.twitter.com/SOxqLhvtzf

— Brent Stockwell (@brent4cities) August 15, 2022
Honorable Mentions:
---
Most Famous #CityHallSelfie: Athens-Clarke County, Georgia, featuring UGA's Hairy Dog!
It's #CityHallSelfie Day! What better way to celebrate than with snuggles from some small furry friends from ACCGov Animal Services and a guest appearance by larger furry friend, Hairy Dawg, from the @universityofga who happened to be nearby? @ELGL50 #KittyHallSelfie pic.twitter.com/suiBegS3OC

— Athens-Clarke County (@accgov) August 15, 2022
---
Most Historic #CityHallSelfie: Sam Squailia – Fitchburg, MA
#CityHallSelfie #CityHallSelfieDay #fitchburg @FitchburgMass @CityHallSelfie pic.twitter.com/70SjvQ3jHg

— Sam Squailia (@SamSquailia) August 16, 2022
Honorable Mentions:
---
Most People in one #CityHallSelfie: City of Hialeah, Florida
No selfie stick? No problem. 😅🤳

Today we celebrate #CityHallSelfie Day! The @ELGL50 created #CityHallSelfie Day as a worldwide celebration of service and pride in local government. We in Hialeah are full of pride in our city! #MyPrideHialeah 🦩 pic.twitter.com/bTRdqyKWXT

— City of Hialeah (@cityofhialeah) August 15, 2022
Honorable Mention: