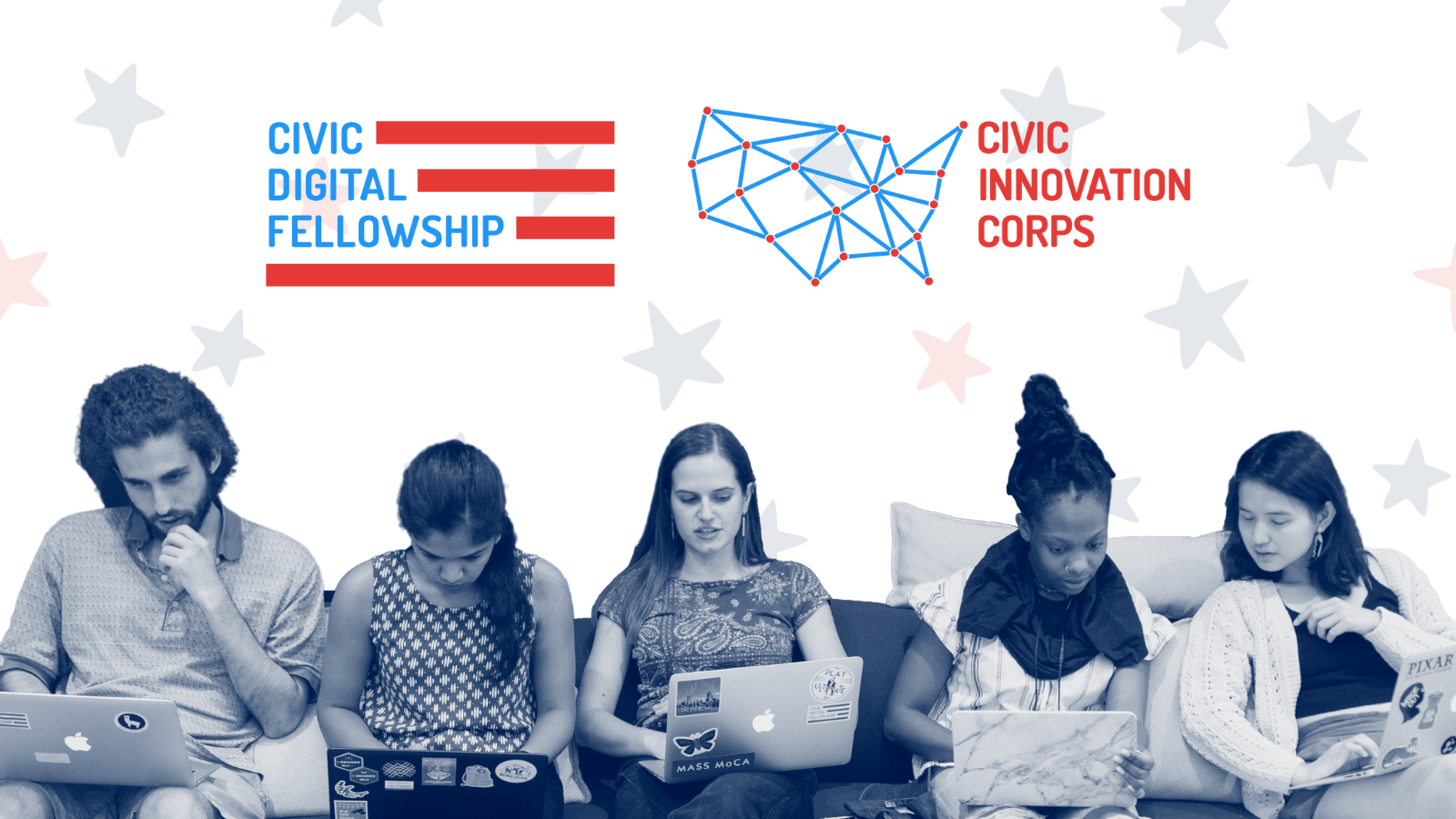 This opportunity was shared with us by our friends at Coding It Forward.
---
OVERVIEW 
The Civic Innovation Corps is a first-of-its-kind, 10-week summer internship program mobilizing the next generation of technologists to create civic impact in state and local governments across the United States. In its inaugural year, the Corps placed 55 Civic Innovation Corps Fellows in 3 states and 6 cities. Fellows are recruited to work across four main project areas: software engineering, data, product management, and design. 
The 2022 program will be fully remote, with the exception of one week, which will be in-person to facilitate community amongst Corps members. Partners will not be required to make a financial contribution to host a Fellow in 2022, but are expected to engage in conversations with Coding it Forward about program sustainability over the course of 2022. 
HOST OFFICE CRITERIA 
We've found that teams with the following qualities are most successful in hosting Fellows:
High impact positions:

Host office teams have concrete position descriptions that match the technical rigor of the applicant pool, are tightly scoped around a specific business need, and allow for substantial contributions10 weeks;

Capacity: Host office teams should have the bandwidth to support a cohort of at least two Fellows in their office for the duration of the 10-week program;
Technical colleagues: Host office teams have technical employees available to guide and support Civic Innovation Corps Fellows as they innovate over the course of the summer.
2O22 TIMELINE 
November – December:

Host offices express interest in hosting Fellows to Coding it Forward.

January:

Application opens and Coding it Forward begins the applicant review process. Host offices finalize position descriptions.

February: Coding it Forward reviews candidates and refers them to host offices, which interview and select Fellows by late February.
March: Cohort finalized no later than March 18th to allow enough time for the onboarding process.
March – May: The onboarding process takes place.
June – August: Civic Innovation Corps Fellows report to host offices (10 weeks).
INAUGURAL COHORT 

Number of Fellows: 55 Fellows (3.6% acceptance rate)
19 host offices: 
Austin Transportation, Data &

Technology Services

Boston Citywide Analytics Team
Boston Department of Innovation and Technology
California Office of Digital Innovation
Los Angeles Mayor's Data Team
Los Angeles Innovation Team
Miami's Department of Innovation and Technology
New Jersey Office of Innovation
NYC Department of City Planning, Data Engineering Team
NYC Department of City Planning, Planning Labs
NYC Department of City Planning, Regional Planning
NYC Department of City Planning, Urban Design Office
NYC Department of Health & Mental Hygiene's Center for Health Equity & Community Wellness
NYC Mayor's Office of Data Analytics
NYC Mayor's Office of the Chief Technology Officer
NYC Taxi & Limousine Commission
San José Mayor's Office of Technology and Innovation
Utah Governor's Office of Planning and Budget
Education: 62% undergrad, 31% grad students (masters, PhD), 6% bootcamp and certificate programs, 1% associates from 39 academic institutions 
Gender: 54% Female, 46% Male 
Race and Ethnicity: Race – 43% Asian, 28% White, 7% Black, 7% Other, 11% Two or more, 2% Asian/Pacific Islander, 2% Undisclosed | Ethnicity – 9% Hispanic 
DEMONSTRATED IMPACT 
Corps Fellows have delivered high-impact projects, including conducting the first equity analysis of the City of Los Angeles's procurement opportunities in 20 years to building out the first performance measurement portal for the State of Utah. Host offices reported substantial cost savings, ranging from the salary of a developer over 10 weeks ($14,000) to savings upwards of $100,000, as well as notable time savings (doubling the speed of an automation process). Supervisors have shared consistently high feedback about Fellows' contributions. At least three Fellows are joining their government teams on a contractual or full-time basis. A full list of projects is available on GitHub. 
CONTACT 
Interested offices are encouraged to reach out to [email protected] with any questions.