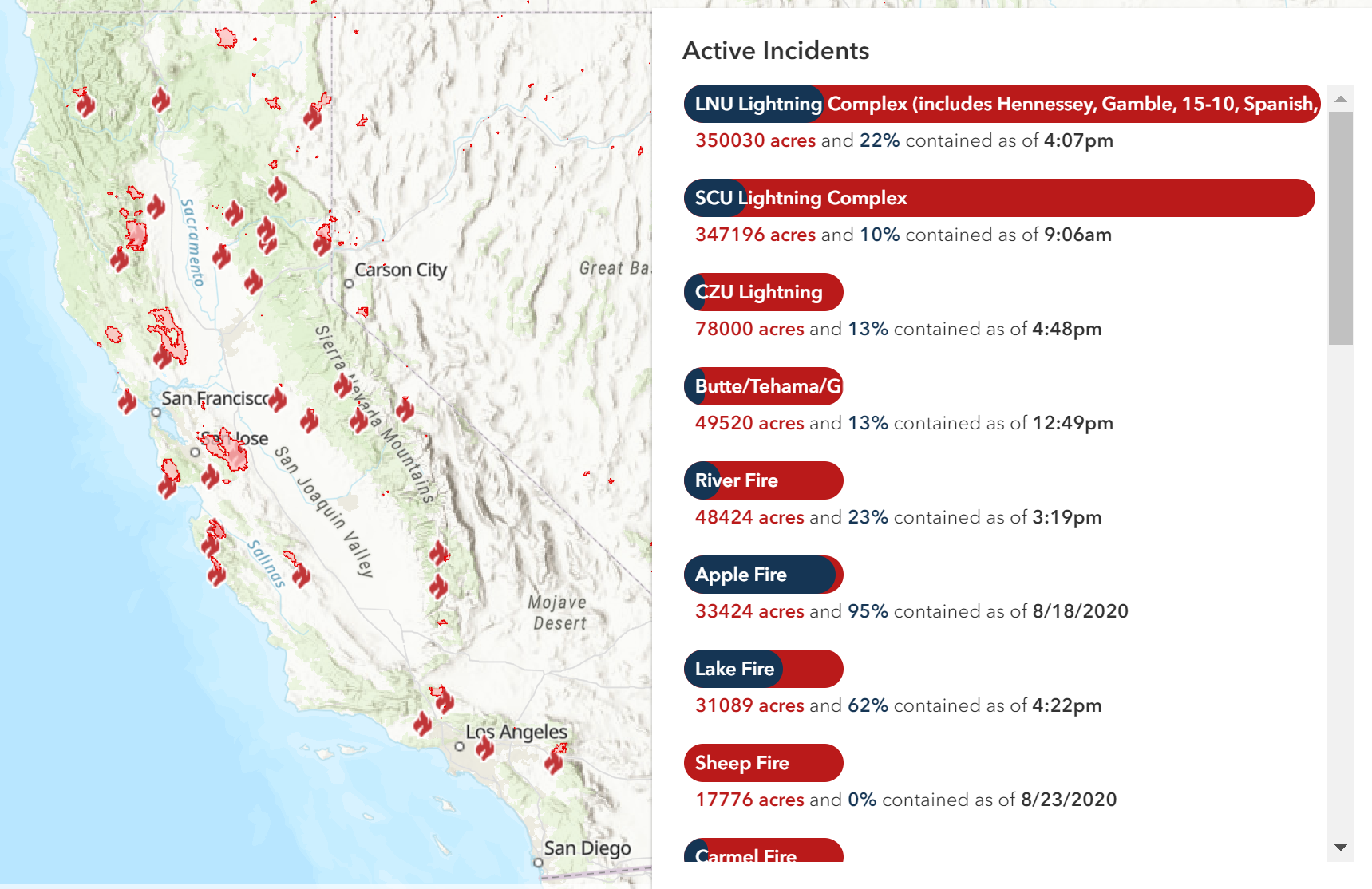 Today's Morning Buzz is by Sarah Henricks, Special Projects Services Consultant with the Los Altos Hills County Fire District. Connect with me on LinkedIn.
---
Not sure if you've heard, but California is burning right now. According to its website, CalFire lists at least 17wildfires across the state, plus an additional 7 that are labeled as "Not a CALFire incident." More than 1 million acres of land have been burned by these fires, about 775,000 of those acres are in the Bay Area, and less than half of the fires are more than 20% contained. Tens of thousands of Bay Area residents have been ordered to leave their homes and seek refuge elsewhere. It is devastating. News coverage is heartbreaking as peoples' homes are engulfed in flames and firefighters are risking their lives, working around the clock, to battle these blazes.
I work for the Los Altos Hills County Fire District as a Special Projects Services Consultant, which is a long and fancy way of saying a general analyst. The District does not provide actual fire suppression services – we contract those out to the County Fire Department. Our focus is on fire prevention and emergency preparedness programs. We've been closely monitoring the Bay Area fires, particularly the #CZUFire, which is nearing the western part of Santa Clara County, where the District is located. Working for this agency during this specific scenario has really emphasized a major lesson for me: the importance of inter-agency collaboration. We've become quite practiced at this during the pandemic. Now, not only are we trying to connect the community to COVID-19 resources, but we're also alerting it to the fire's movement, to evacuation warnings, and reminding residents to be prepared to leave at a moment's notice. We work closely with the Town of Los Altos Hills, where about 80% of the District is located (the remaining 20% is in unincorporated Santa Clara County), the County of Santa Clara Office of Emergency Management, the Santa Clara County Fire Department, and other agencies to be sure we are aligning our messaging and providing necessary resources to our community. 
I've been thrust into a semi-PIO role, monitoring and posting to social media and our website. (Revelation: I do not want to be a PIO). I learned plenty in grad school about how important it is to collaborate and leverage the different skills and resources of various individuals or agencies to achieve a shared goal. However, this lesson is truly unfolding before my eyes and I am so grateful to have the resources of these other agencies to lean on. These are just a few of the things I'm thankful for during this crisis:
Constant communication: The County OEM holds a weekly PIO call to provide a status update on COVID-19 within Santa Clara County – we're now including wildfire updates during this call.
Consistent messaging: County EOM and the County Fire Department have been providing social media toolkits with properly sized images and content – this ensures consistent messaging across all agencies and makes my job easier because I don't have to take the time to create an image to accompany the message. The County frequently creates and provides collateral and content at the request of the local jurisdictions to help with clear messaging.
Sharing of resources: While the District hasn't had to make such a request, there are calls for support for certain agencies and PIOs and other staff are more than willing to step up to the plate to fill in gaps as needed
Vulnerability and support: A local PIO shared her very recent experience of serving in her community's EOC while her neighborhood was evacuated. She even gave a news interview a few blocks from her house about the local evacuation, watching her neighbors leave their homes and getting choked up while trying to explain the situation. She expressed her gratitude at the fact that so many people had supported her during this time.
I cannot thank these people and agencies enough for the expertise and experience they bring to this situation. It will be so important to maintain the relationships we've built over these past 6 months of the pandemic and the last weeks of the wildfires. When the fires are extinguished, this will be an eye-opener for our community members who haven't prepared themselves or their homes for an emergency like this, so our services will be in high demand. As the fires burn on, I continue to do the work necessary to deliver our programs, to improve our data capabilities, and to preserve our resources, because, unfortunately, this will happen again and our communities need to be ready. And our agencies will be there, working side-by-side to preserve and protect life and property.