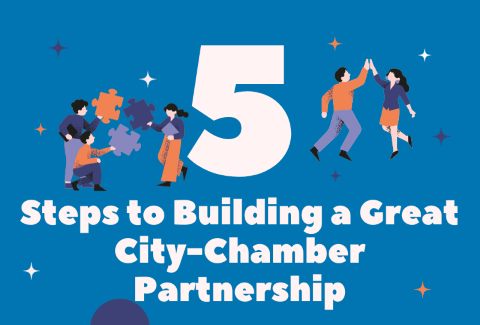 Today's Morning Buzz is brought to you by Chris Keefer, owner of K2 Communications of SC, LLC in Blythewood, SC. She loves to write about (and for!) local government, small businesses, and the arboriculture and residential construction industries. Connect with Chris on LinkedIn or Facebook.
What I'm reading: Circe by Madeline Miller (this month's book club pick)
What I'm watching: The Good Wife on Paramount+
Who my pets are: Butkus and Buster, two "good boy" dogs we adopted over the last four years
Businesses are essential to a thriving community. They create employment opportunities, attract more business, and generate revenue in and for a community. Businesses may do this alone, but that impact is multiplied when businesses work together as a merchant association, business association, or Chamber of Commerce and partner with community stakeholders, including local governments. (For our purposes here, I'll refer to these business groups collectively as "Chambers.")
By simply driving through a town or city's business district, you can tell which local governments have solid, effective partnerships with their Chamber and which ones do not. When storefronts are occupied, when people are walking through the business district, and when parking spaces are full, these are indicators of a productive partnership between a local government and its Chamber. If you see the opposite, then that's a warning sign that the local government needs to build a better partnership with its business community.
If that's the case in your community (and I hope it's not!), here are five easy steps you can take over time to forge and nurture a great city-Chamber partnership.
Support Chamber programs and events. One way to partner with your local Chamber is to provide needed and valued financial, human, and information resources. Consider sponsoring an event, paying the membership fees for a staff member to represent local government, connecting Chamber members to other government agencies, or providing meeting space for a Chamber meeting or event. A local government that sponsors, belongs to, and encourages its staff to participate in and volunteer with its local Chamber demonstrates that it is truly invested in the success of its business community.
Regularly and actively participate in Chamber meetings and events. The two Chambers I belong to (the Greater Blythewood Chamber of Commerce and the Columbia Chamber of Commerce) offer pre-election candidate forums and economic development updates as regular programs. My local Chamber allows our town and county officials time at each monthly meeting to provide brief updates to the business community. Chamber meetings and events offer local government leaders ample opportunity to engage one-on-one with business leaders. Go to a Chamber meeting, tell the business people at your table what you're working on, and ask for their take on it. Talk to the Chamber's executive director or program committee chair and offer to come talk at an upcoming Chamber meeting about town programs or policies that impact businesses.
Do business with Chamber members. We tend to do business with people we know and trust. If you've taken the time to engage with your Chamber, you probably already know and trust members who specialize in landscaping, janitorial, printing, catering, and other services your organization needs from time to time. Buy from them, as your organization's purchasing policies allow. This again shows that a local government supports its business community — and it's just good business.
Be willing to answer questions. Good relationships are built on trust. Trust is built on open, transparent communication. If your organization wants to build trust with the business community, you can start by being open and honest with the business leaders in your local Chamber when they have questions. For instance, share what you can about commercial and residential development projects, zoning requests, and policy changes. By doing so, you help the business community better prepare for new competition, business opportunities, and regulations.
Be an ally. Chambers represent the collective voice and power of your local business community. When the Chamber's executive director or board members come calling, be an ally by listening to their concerns and bringing them to the attention of elected officials and other government bodies that can help address those concerns. This goodwill will pay off when, at some point, you may need the Chamber to be an ally for the local government's proposed policy or program changes.
The take-away here is this: You don't have to take all five steps at once. But, taking just one step today will help build a better partnership with your local Chamber and business community.