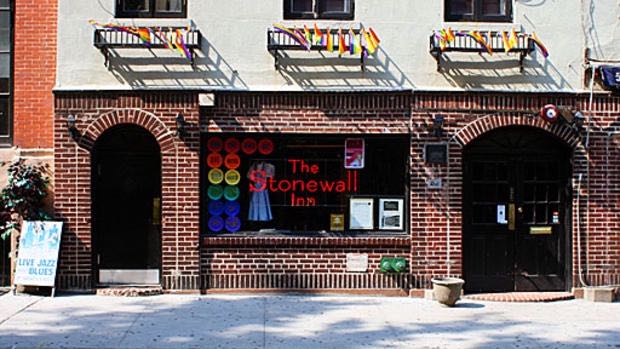 Today's Buzz is by Warren Kagarise — connect with him on Linkedin, Twitter and Instagram!
What I'm watching: Taking a break from a string of Ken Burns documentaries ("The Dust Bowl" and "The National Parks: America's Best Idea") for both — yes, both — nights of the 20-person Democratic primary debates.
What I'm listening to: Reply All's recent podcast about the internet's embarrassing permanent record, encompassing cringe-worthy photos and a career-sabotaging MySpace profile.
---
When the Stonewall rebellion erupted on June 28, 1969 — 50 years ago today — the event barely earned a mention in contemporary media, and when newspapers did report on the Stonewall riots, slurs and derision shaped the coverage.
A few weeks ago, when New York City's police commissioner kicked off Pride Month with a long-overdue apology for the NYPD's raid on the Stonewall Inn, James O'Neill's words generated global coverage and set social media abuzz.
It would be irresponsible of me to go through #WorldPride2019 & not speak of Stonewall in June 1969. What happened should not have happened. The actions taken by the NYPD were wrong, plain & simple. The actions & the laws were discriminatory & oppressive &, for that, I apologize. pic.twitter.com/HMLfVpTY7K

— Commissioner O'Neill (@NYPDONeill) June 6, 2019
The apology showed the dichotomy in the fight for LGBTQ+ rights in the half-century since Stonewall: While the push for equality is often seen as shaped by the federal government, milestones at the community level — and particularly the actions of local governments — have played a watershed role in advancing equality or hindering progress.
Stonewall sparked a half-century of change in cities large and small, in the election of gay and lesbian officials, and the adoption of policies friendly to LGBTQ+ people.
Not long after Stonewall, Washington, DC, in 1973 adopted protections against discrimination based on sexual orientation.
A year later, Kathy Kozachenko became first openly LGBTQ+ person elected to public office in the United States when she won a seat on the Ann Arbor, MI, City Council.
1974 – Kathy Kozachenko wins her seat on the Ann Arbor City Council, becoming the first openly LGBTQ person to win an election. She joins two other councilors who came out together while serving on the council in 1972. #InternationalWomensDay pic.twitter.com/a412FxW6Ae

— Victory Fund (@VictoryFund) March 8, 2019
Then, in 1978, Harvey Milk made history with a brief, groundbreaking and ultimately tragic tenure on the San Francisco Board of Supervisors. Milk's assassination at the hands of a fellow supervisor galvanized the gay rights movement.
#OnThisDay in 1978, Harvey Milk became the first openly gay elected official in the US after he was elected to the San Francisco Board of Supervisors. Milk made massive strides for gay rights and equality during a time when there was a lot of homophobic rhetoric & discrimination. pic.twitter.com/qNuFh181QI

— Katie Couric (@katiecouric) January 8, 2019
Seemingly every step forward invited backlash.
In 1977, Dade County, FL, outlawed discrimination based on sexual orientation, drawing the ire of ex-beauty queen Anita Bryant, who led a successful campaign to overturn the county ordinance.
The fight came to my community — Seattle — a year later, when Bryant's Save Our Children organization led a failed effort to defeat on a similar ordinance. With the November 1978 repeal of Initiative 13, Seattle became the first city in the nation to vote in favor of gay rights.
In 1991, with fewer than 50 openly LGBTQ+ elected officials serving nationwide at any level of government, activists formed the Victory Fund with a goal of electing more.
Support from the Victory Fund aided Seattle City Councilmember Sherry Harris, who in 1991 became the first African-American lesbian woman elected to a city council anywhere in the United States.
Since 2000, voters in local elections have demonstrated a greater acceptance of LGBTQ+ candidates.
Silverton, OR, with a population of 9,000 people, turned out in 2008 to elect Stu Rasmussen as America's first openly transgender mayor.
A year later, Annise Parker broke a barrier as the first openly lesbian big-city mayor in the United States — not in New York or San Francisco, but in Houston. (Just five years later, on Parker's watch, Houston voters rejected the city's Equal Rights Ordinance, continuing the unfortunate one-step-forward-two-steps-back trend.)
While reflecting on the milestones in progressive Seattle in 2019, pivotal moments from the last 50 years can seem distant. Our mayor is a lesbian. So is the King County sheriff. And the Metropolitan King County Council includes two openly gay members.
Happy Pride, Seattle! June 1 is the official start of Pride Month here in Seattle. Thank you to everyone who joined us for the 7th annual @CityofSeattle Pride Flag raising. S/o to @IngersollGender and Seattle Indian Health Board for joining, and @SeattleLGBTQ, for planning! pic.twitter.com/oHtmENFgP1

— Mayor Jenny Durkan (@MayorJenny) June 1, 2019
A half-century after Stonewall, openly gay public officials serve in municipalities across the United States and, in a sign of how attitudes have changed, celebrating Pride Month is a routine observance in many communities.
But we should never forget the difficult fights and painful setbacks leading up to our recent milestones.
Yesterday, I spent a few moments with my colleagues at the annual Pride flag-raising ceremony outside the King County Administration Building, a simple gesture unimaginable in many places within my lifetime.
In King County, we're dedicated to being a welcoming, inclusive community.

Today, as part of our #Pride celebration, we raised the ?️? at our Administration Building and marked the 50th anniversary of #Stonewall — a turning point in the fight for LGBTQ+ rights.#KingCountyPride pic.twitter.com/7cbMhXtGQu

— King County, WA (@KingCountyWA) June 27, 2019
On Sunday, several hundred King County employees plan to take to the streets with a glammed-up King County Metro Transit bus for the Seattle Pride Parade, billed as the fourth-largest such event in the nation.
King County Metro is PROUD! ??
Please join us as we celebrate at the Seattle #Pride Parade this Sunday, June 30, at 11am, starting at 4th and Pike! Find out more at https://t.co/cCVyAdEuA2 pic.twitter.com/Y6OGRk7qwf

— King County Metro ???⛴? (@kcmetrobus) June 25, 2019
With the Equality Act stalled in Congress, cities continue to expand equal-employment opportunity policies to include sexual orientation and gender identity, and extend non-discrimination requirements to businesses bidding for municipal contracts.
Increasingly, local government is a more hospitable place to LGBTQ+ constituents than the state or federal level, where indifference or hostility is common. While our local governments may lead the way toward equality, benefits remain unevenly distributed depending on the place you call home.
Where to start? With the Human Rights Campaign's Municipal Equality Index, a helpful introduction to how inclusive a local government is to LGBTQ+ residents, workers and visitors. (Seattle earned a perfect score, thanks in part to King County's regional policies.) Another factor in the ranking is the city leadership's support of equality.
While America's largest cities — and municipalities in liberal-leaning states — reliably earn high scores, so too do smaller cities in places we do not immediately think of as inclusive or progressive.
Xavier Persad, senior legislative counsel with the Human Rights Campaign, recently sat down with ELGL's GovLove Podcast to talk about the Municipal Equality Index rankings.
The list includes some pleasant surprises. Birmingham, AL, and Cedar Rapids, IA, earned the same perfect score as New York City, San Francisco, Seattle and other communities more readily associated with LGBTQ+ equality.
Another statistic worth celebrating for Pride Month: Since the rankings debuted in 2012, the number of cities with perfect scores has climbed each year.
Among the more than 500 cities evaluated for @HRC's #MEI2018, a record 7️⃣8️⃣ cities scored ? for adopting LGBTQ-inclusive laws, policies and services to help advance full equality for its residents. https://t.co/ZA2WoZ03Z7 pic.twitter.com/ZPvYDMJ0ra

— Human Rights Campaign (@HRC) October 10, 2018