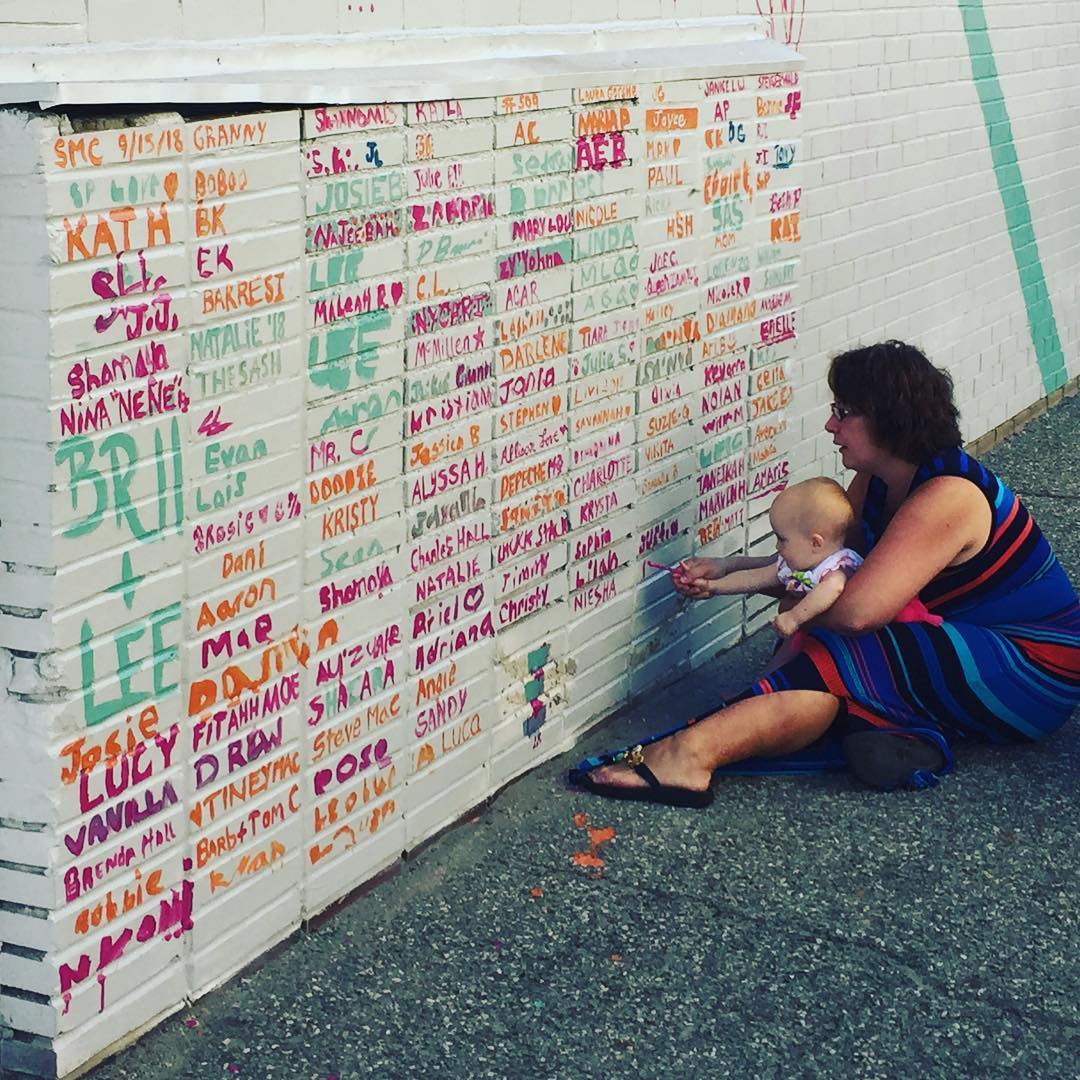 No one was too young to participate in Euclid's first community-painted mural. Space along the 75' wall was reserved for signatures of everyone who picked up a brush and contributed to the artwork.
Allison Lukacsy-Love AIA, EcoDistricts AP, Community Projects Manager, Acting Planning & Zoning Commissioner, Department of Planning & Development at City of Euclid, Ohio. Connect with Allison on her blog or Twitter. This blog is part of ELGL, ArtPlace America, and Civic Art's "Creative Community" learning series about the role of arts and culture in local government.
---
When local artist Charley Frances stood in front of the City of Euclid's Architectural Review Board presenting her proposal for a new mural in downtown Euclid, she knew it could be a long evening. In my dual role as Community Projects Manager and co-chair of Keep Euclid Beautiful, a Keep America Beautiful affiliate, I had been working with Charley for months leading up to this final meeting.
Earlier in the spring of 2018 I had secured an in-kind paint grant from Sherwin Williams and funding from the Akron Cleveland Association of Realtors, both of which enabled the hiring of Charley and implementation of improvements planned for a then desolate pedestrian alleyway. The concept, a tried and true placemaking tactic, was to turn public art into the catalyst for community-building and economic development. But this was Euclid's first painted mural in downtown in a long while, ever since a ban on painted murals was enacted in the business district. That's correct: a codified section of Zoning code that requires the demonstration of hardship to grant a variance to paint anything pictorial.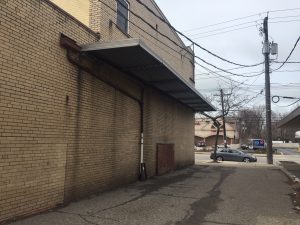 The project – Art Alley – as proposed to the ARB that summer evening in 2018 created a place (and a name) out of an underutilized, forgotten space. A prominent (aka very visible) stretch of asphalt, once a service driveway, was now inaccessible to vehicles due to a decade-old downtown streetscape project that removed the curb cut. The common assertion, however, that it had become a pedestrian alley was far from reality. People did not use the 75' long, dark and deserted passageway even though it sits adjacent to a well-used public transit stop and links a municipal lot with the front doors of numerous businesses. It was unwelcoming and unsightly, facts not negated by neighbors who had turned their backs (and doors and windows) away from the alley. The alley stood out to me as a "light, quick, cheap" opportunity to make a place out of a space. My desire (and confidence) to create change was buoyed by the fact that it was easily funded and that the future mural's building owner – with vacant storefronts to spare – signed on quickly.
So Charley and I sat, describing the content of the "Expansive Embrace" (an octopus), its meaning (a intuit animal with arms a-plenty to draw each of us in, to unify us) and the process with which we would create it (by the community, all hands on deck in one afternoon). While there were certainly anticipated, answerable questions (why not a creature native to nearby Lake Erie? Why teal?) the question of how we could control the quality by allowing anyone to participate caught me off guard. Charley had facilitated community murals before and responded deftly. The case passed (including the additional required motion for the aforementioned variance) at this special meeting and seemingly overnight an outline of a majestic, giant sea creature came to embrace Euclidians.
I've been afforded many opportunities in my four years as a public servant of an urban, diverse municipality of approximately 50,000 residents. In many ways, I've been able to live out my dream of leading community change, making an impact on issues I care deeply about, professionally and personally. Despite (or perhaps because of) my heart being in the work, it is easy to get discouraged. The pace is slow compared to decision-making in the private sector and steps forward are often challenged by leaps backwards. Like my colleagues in this work, we persist.

Youth are often under-represented in the traditional formal meetings of community planning processes. While some adults hesitated to pick up a brush, kids dove right in.
While I was surprised by the question of quality, I was more so driven to demonstrate that a community painted mural would benefit the community tenfold compared to one painted merely by Charley, a professional muralist. In the nearly two years that the mural has existed, it has not been defaced. It is loved by the community not because it is the most beautiful mural in the world (although we think it is pretty great) but because it was painted by hundreds of people. On a hot Saturday in September 2018, people of all ages and abilities came together to paint the mural as part of a larger annual Art Walk that I began in 2016. Whether they spent a minute or an hour, whether they needed coaxing by our amazing (and persuasive) volunteers or jumped right in (after signing the waiver of course), the people who painted represented the truest sample of a population a statistician could try for.
And not only did we end up with a piece of art that tells a story – a story that anyone can tell, for they or their aunt or their son was part of the magic that transformed this lifeless space – we learned from so many people their stories that Saturday afternoon. We learned that when the paint flows, the conversations flow, too. Histories of Euclid, why people chose to live and love in the City, why others were contemplating leaving… the concerns, the hopes, the opportunities each and every one of us face. Conversations that are not often provoked. It is the stuff planners dream of emerging from traditional, formal processes. It's the type of organic, unprovoked but much needed community engagement our residents want but don't know how to ask for. On this one weekend, it was the opportunity for anyone and everyone to voice their opinion and literally leave their mark on a signature panel at the end of the long brick wall mural. We know the youth are our future. The grandparents raising grandkids, the millennials just moved back from college, the high school students itching to make their own way, the list goes on of people we miss over and over again by making decisions only at City Council meetings.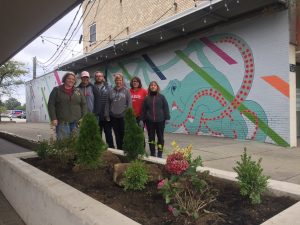 After the weekend was over, Charley did spend time touching up the mural. We couldn't help but to leave a peace sign delicately (yet rebelliously) painted inside one of the hot pink suckers of the octopus's tentacle. In the end, we got the professional mural desired by the ARB. And we got so much more. I unabashedly point to the success of murals – those driven by the City and otherwise – created in a short time after "Expansive Embrace". We are working to repeal that pesky ordinance. The bank is a better steward of its planters bordering Art Alley. The vacant storefront attached to the mural is now activated by a café that equally activates the alley.
Most important is that we achieved that intangible feeling of togetherness and pride working outside of our differences to achieve a common goal. We felt it that Saturday and I think we remember that feeling each time we experience the space. People thank me often for bringing such a unique opportunity to engage with their City to their city. And I in turn thank them for teaching me that the best way to gather community input isn't through poster board and sticky dots – it's paint!
---
About Allison:
I started working for the City of Euclid in 2016, my first foray into the public sector after years in private architectural firms and real estate. While not under my job description, I am driven to bring both temporary and permanent public art to the City. As an architect and artist myself, it not only is imperative to demonstrate the power of art in public spaces but to urge them to occur, despite the inevitable hurdles. It is my life work and privilege to create places for people with the people who use them.