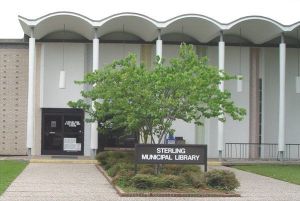 Know before you go… Meet other #ELGL18 attendees before you head to Golden, Colorado. Continue the conversation in the #ELGL18 Facebook Group. 
---
Jenna Harte-Wisniewski

Marketing Librarian – Sterling Municipal Library – Baytown, Texas
---
My favorite adventure in life was….
Following my boyfriend of the time (now my husband!) from Chicago to Texas after finishing my MLIS degree. I was having a hard time finding a full-time job as a librarian in Illinois, so when he said he was moving to Texas my response was, "Okay, I'll start looking for jobs!" We landed in Houston, and even though it's not our favorite city, we're making the most of our biggest adventure to-date.
The most important decision that I've made in life was…
Becoming a librarian. Growing up I never had dreams of being a librarian; it mostly sprung up on me after I graduated with my Bachelor's Degree in English. I didn't know what to do with my life, so when researching careers for English majors a friend suggested looking into librarianship. After laughing it off, I gave it serious consideration and have never been more grateful to that friend for bringing it up!
If I was booking the guests for the GovLove podcast, I would book…
Would you be mad if I told you I haven't listened to the GovLov podcast yet?
If I couldn't work in my current position, I would…
Be a professional photographer (or at least spend more time capturing photographs)
I made the choice to attend #ELGL18 because….  
My library came so close to winning the Leslie B. Knope award, and our interactions with ELGL were amazing. The people there seem to love what they do, so it should turn out to be a great conference!
I'll know that I made the right choice to attend #ELGL18 if…
(cliché answer alert) I make some great connections and can bring home some useful and insightful info to my coworkers.
If I was writing the questions for the feature, I would have asked…
How long have you worked in a local government leader position? Or maybe, Have you ever seen Parks and Recreation?
---
#ELGL18
Additional Learning Opportunities at #ELGL18
A Taste of #ELGL18 with Emily Edmonds 
A Taste of #ELGL18 with Enessa Janes, City of Arvada, Colorado
A Taste of #ELGL18 with Justin Cutler, City of Westminister, CO
A Taste of #ELGL18 with Jessica Prosser, City of Arvada, Colorado