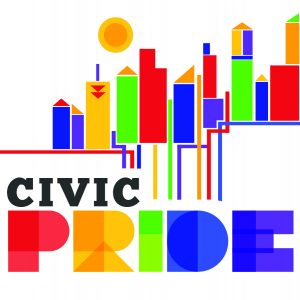 CivicPRIDE was created to advance inclusive local government by empowering LGBTQIA+ leadership.
We want to increase the number of LGBTQIA+ people serving in all areas of local government — administration, public works, parks and recreation, police, fire, planning, and others.
We also serve as a professional support network of LGBTQIA+ leaders and their straight allies who are already leaders in government who volunteer their time to speak on issues of equality within our profession.
Our goal is to inspire action, and build bridges of opportunity for everyone in government.
Meet Our Steering Committee (A-Z)

Nathan Bassett lives and works in the City of Gaithersburg, Maryland, where he is a Senior Budget Analyst. His interest in local government stems from his desire to use policy to create change in the world, which he developed after grad school while working for ICMA and then the City of San Antonio. Nathan spent his early childhood in New York's Hudson River Valley, and afterward moved with his Mormon family to the suburbs of Salt Lake City, Utah. He later became active in the vibrant Salt Lake City LGBTQIA+ community and spent time volunteering for LGBTQIA+ causes.  Nathan earned his Master's in Public Policy from the Hertie School in Berlin, Germany, and his bachelor's in finance from the University of Utah.

He/him/his

Connect with Nathan: @nathanjbassett Nathan's LinkedIn

Local government service is Pam Davis's passion because she believes we accomplish more working together than separately. For the past seven years, she has worked on behalf of communities to promote equity, partnership, and innovation. Pam is currently Senior Management Analyst for the City of Boulder, Colorado. Prior to Boulder, she served two different communities in Arizona, as the Assistant to the City Manager in Goodyear, and the Budget Officer in Sierra Vista. Pam's local government service began as the Management Assistant in Fort Collins, Colorado. During that time, she also served on a temporary assignment with the town of Estes Park, Colorado, assisting the town with disaster recovery efforts from the autumn floods of 2013.

Pam holds a Master of Public Administration with a concentration in Urban Management from Arizona State University and a Bachelor of Arts in Government from Smith College in Northampton, Massachusetts. Leading CivicPRIDE is her effort to be the person she needed when she was younger.

She/her/hers

Connect with Pam: @heypamdavis Pam's LinkedIn

Sara Hancock is a Budget and Management Analyst with the City of Greensboro and serves on the LGBTQ+ Task Force at the City.  She has previously served as the LGBTQ+ Liaison to the Manager at the Town of Chapel Hill and was a founding member and active participant of the LGBTQ+ Employee Resource Group (ERG).  Sara works with her colleagues to create an inclusive and welcoming environment for City employees and community members. Sara has a passion for public service, project management, and equity efforts in community spaces. Sara has a Masters in Public Affairs and a BA in Media Studies from UNC-Greensboro. She lives in Greensboro, NC with her husband, son, two dogs, and two cats. When she isn't shaking up the status quo, she spends her time enjoying her family and spending time outdoors.

She/her/hers

Logan Masenthin is a Budget Analyst for the City and County of Denver. She received her Master of Public Administration from the University of Kansas in 2018. Logan is passionate about social justice, equity, and diversity in communities. Her personal background and identity lead her toward involvement in organizations such as CivicPRIDE, and she loves that local government provides a way for her to work toward these ideals in her community. Logan loves spending time with her family, including her wife, dog, and two cats. She enjoys camping, listening to audiobooks, swimming, and great food.

She/her/hers

Connect with Logan: @LoganMasenthin Logan's LinkedIn

Justyn Miller is Assistant to the Village Administrator with the Village of Berkeley, Illinois. He graduated from Western Illinois University with a BA in Political Science and has an MPA from Northern Illinois University. Justyn's previous work experience includes jobs as a Management Analyst with the City of Warrenville, Illinois, Assistant to the County Administrator with Boone County, Illinois and Management Intern with the City of DeKalb, Illinois. His current role in Berkeley provides administrative support for the Village's daily operations while overseeing Human Resources, Information Technology, and Risk Management, among other things. Justyn is a strong advocate of promoting inclusion, equity, and diversity. He is extremely passionate about local government and hopes to share this passion within his role in CivicPride. Justyn enjoys reading, music, traveling, and spending time with his husband.

He/him/his

Connect with Justyn: [email protected]   Justyn's LinkedIn

Taylor Reimann serves as the Steering Committee Secretary and provides organizational support for committee meetings and event planning activities. At her role in Boulder she supports the needs of Council by assisting in community engagement activities, as well as working on larger strategic policy efforts on behalf of the city. Taylor attended Arizona State University where she earned a Master of Public Administration and a Bachelors in Sustainability. She is a champion for equity and inclusion, with a strong background and interest in advancing sustainable materials economies. In her free time Taylor enjoys cooking, camping, DIY projects, and exploring local coffee shops.

She/her/hers

Connect with Taylor: Taylor's LinkedIn

Tony Winney currently serves as the Assistant to the City Manager for the City of Vista, CA. Tony has over 18 years of experience in local government, leading teams involving budgeting, redevelopment, public works, economic development, and labor negotiations. Tony serves on a variety of boards, including as the 2019 Cal-ICMA Vice President, and has previously served as the Municipal Management Association of Southern California (MMASC) San Diego Regional Chair. He has a Masters degree in Public Administration from San Diego State University, and enjoys hiking, reading and spending time with two children. Tony strongly believes in making local government inclusive and accessible for everyone.

He/him/his

Connect with Tony: @tlwinney

Hallee Haygood is currently a graduate student at UNC- Chapel Hill, working towards a dual degree in Public Administration and City & Regional Planning. She specializes in housing and community development, hoping to work in the housing field at the local level upon graduation. During her graduate career she has had the privilege of working for ELGL as the Membership and Special Projects Manager. In her free time, Hallee enjoys watching stand-up comedy, spending time with her cat, and finding the best oat milk latte in Chapel Hill. She looks forward to creating equitable change at the local level.

She/her/hers

Connect with Hallee: LinkedIn