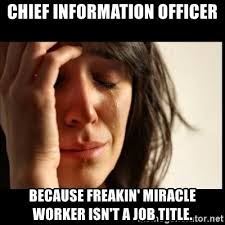 Guest post brought to you by City Sourced
CitySourced (LinkedIn, Twitter, Facebook) is an enterprise platform that provides governments with a complete native mobile app for residents to communicate with every department of their community.
---
The title of Chief Information Officer (CIO) in government organizations has never been as accurate a title as it is today. Over the last 40 years, technology has dramatically changed the way that governments operate. In the early days of the tech wave, the technologists, people who understood the core technology, were typically the ones selected to lead and manage this area of the business. However, this approach has dramatically shifted.
Instead of the CIO being the technologist who oversees databases, core systems, and interactions between the two, the CIO is now responsible for a massive amount of internal business processes which have been fundamentally altered due to the infusion of technology.
"While IT delivery is still a responsibility of the CIO, achieving revenue growth and developing digital transformation were identified most often as top business priorities for organizations in 2018. If CIOs want to remain relevant, they need to align their activities with the business priorities of their organizations," – Andy Rowsell-Jones , vice president and distinguished analyst at Gartner
Technology is no longer a few systems for core operating procedures. Instead, digital technology has changed nearly every facet of local government operations, including the way that residents interact with their government.
This change has caused the CIO role to dramatically shift in recent times, 95 percent of CIOs expect their jobs to change or be remixed, in 2018, due to digitalization. The CIO is no longer the chief technologist, quite the contrary, it is impossible for them to really know, understand, and master all the different technologies inside their organization.
Because it's no longer a focus on technology, the CIO role has become a more rounded business leader. It is a role requiring someone that can create an organizational plan, communicate the plan, and ensure that the proper culture is in place to remove any barriers that would hinder a digital transformation.
Gartner, Inc.'s annual global survey of CIOs showed that the CIO role is transitioning to business executive, from controlling cost and engineering processes to driving revenue and exploiting data.
CIO's role is about the sharing of information, both internally and externally. Today's CIO leaders are tasked with ensuring that large complex systems interact with one another, that security has been locked-down, and that the systems in place are nimble and agile enough to adapt to changing business needs.
But, the CIO isn't just about software systems operating at full capacity, he/she is also challenged with the users' experience. Users being both the internal employees and the residents who interact with the government through increasingly digital methods. Additionally, consumerization of IT means that users expect things to be fast, intuitive, easy to use, and require minimal or no training. As a result, CIOs increasingly need to ensure that their team is always thinking about the end user's experience.
An Agent of Change
CIOs were previously responsible for expensive systems that were procured as a large capital expenditure and intended to last years, maybe even decades. Now, he/she must break this model and completely embrace the digital change the organization is experiencing. The CIO needs to make changes, and more importantly accept changes—the de facto attitude within the organization.
The cost of technology, be it software or hardware, has dramatically decreased and there is less often a large, upfront cost to adopt new technology. As a result, more new technologies are coming online, and organizations need to be built to embrace these types of changes. That mindset has now become the responsibility of the modern CIO.
During an interview with statescoop.com, Michael Cockrill, whose last day as Washington's CIO was October 20, 2017, said he's "totally convinced" that an information technology organization within a state government needs to constantly be changing, as the technology market continues to evolve.
"If you're not creating a context where change is a normal thing, you're not really doing your job," Cockrill says. "So hopefully, the legacy that I have left is a culture that embraces the idea that they have to always be learning something new, they have to always be focusing on their customer, and getting smarter about how to solve their customer's problem."
Bottom line
Because technology is changing the way services are provided and even the services that are provided by local government, the CIO role has become a critical role in shepherding the digital transformation that government offices are experiencing. In a recent McKinsey study, it was shown that the single largest barrier to digital transformation wasn't IT talent nor access to resources. Instead, the biggest factors impeding organizations successfully embracing and tackling a digital transformation were cultural and behavioral factors. Therefore, a CIO's top priority is now creating a culture which embraces innovation and change.
Being a CIO of any organization is not an easy task, let alone being one of a government organization. There are many challenges that they'll have to face related to the business and IT operations. These new business leaders are under pressure to lead strategic initiatives for the business and plan everything according to a digital future with extensive technologies, and most importantly to embrace change!