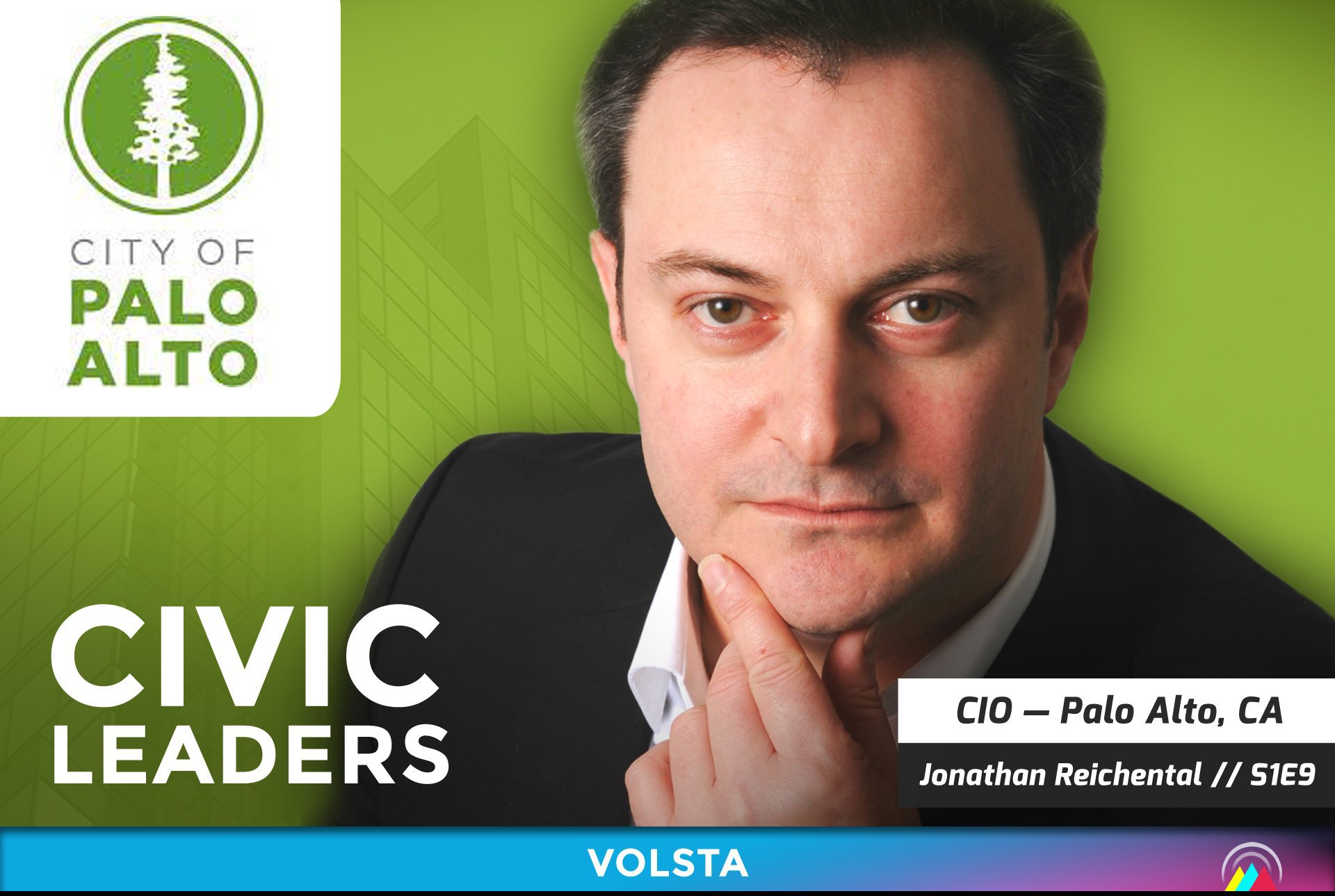 The latest Civic Leaders episode is here! Civic leaders is an exclusive local government web-interview series hosted and operated by Springbrook Software, produced by the VOLSTA Media Network, and syndicated on ELGL.org. This time they sat down with Jonathan Reichental from the City of Palo Alto, CA.
Jonathan Reichental
City of Palo Alto, CA, Chief Information Officer
Connect: LinkedIn, Twitter, World Wide Web
In this special "Attracting Top Talent" episode, we talk with the world-changing Jonathan Reichental. Jonathan is the CIO of Palo Alto, CA and in 2013 was selected by Government Technology as a Top 25 Dreamer, Doer and Driver; he was also selected by Forbes Magazine this month as a Top 20 Social CIO in America. Here he describes his approach to attracting talent in a fierce market and how you can beef up your own strategy.
 Q & A with Jonathan
Episode Chapters:
00:35 – Gut Check: Advice on setting up a recruitment strategy?
01:41 – Precedence: Incredible results–how'd you do it?
03:21 – Beyond the Process: The Civic Technology Center–show us around?
07:00 – Innovate Here: How can Hiring Managers excite prospects?
07:58 – Negotiate Right: How can community work their strengths?
09:02 – Know Your Worth: Are communities undervaluing their offer of a public career?
Can't watch videos at work? Don't worry we've got a transcript of the interview below.
Q & A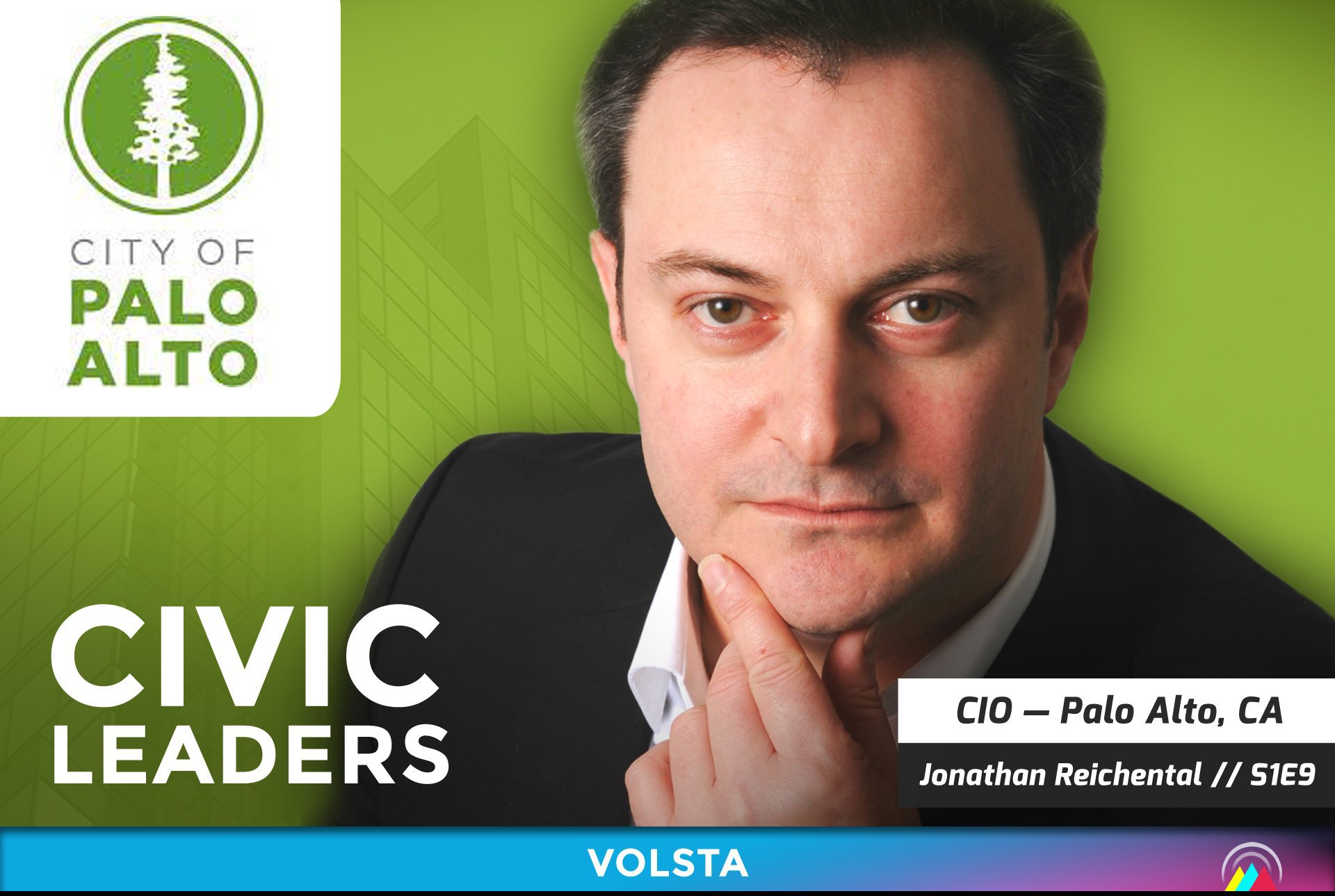 GUT CHECK: Every community today faces the challenge of competing with the private sector for talent, how can Managers set course on an effective recruiting strategy?
I'm glad you're asking this question because have a selfish desire to answer it–because we're hiring people now…and we'll continue to hire people…but [I] also want other agencies to think about hiring in a completely different way. We probably have the worst hiring environment in America–in terms of hiring technical people–it's a candy shop for technologists–the best jobs are here. People have choice…[and] the sooner we realize that we're not competing with Facebook–we're not competing with Google–the sooner you realize that, the better. And in your particular government context and city–the sooner you realize you that you're not trying to attract people through salary or global challenges–that's an important thing, but you [have to] realize, what are your strengths? What are you selling to recruits?
PRECEDENCE: Your changes to the city's recruitment strategy saw incredible, positive return–could you explain what happened?


When the City of Palo Alto–historically, before my time–would have an opening for a technical person, we wouldn't get many respondents. Here's the reason: The job openings didn't sound necessarily glamorous, [they] didn't really describe what it means to work in technology government, [it] just listed responsibilities. You know, Database Administrator or Help Desk Technician…"You'll solve tickets". It didn't tell the story sufficiently…we would barely get a handful of applicants.
Today, when the City of Palo Alto has an IT opening we get over 200 qualified applicants. I mean–we're overwhelmed with applicants. And the question is, how do you do that? How do you go from a small handful…to having people really be excited about the work and the opportunity? You have to create a compelling vision. That's where I spend a lot of my time–convincing people internally, and in the marketplace, that cities are a really important place to work. And as a technologist–[with] technology at the center of our work today you really have a big impact on that work and on the people of that community. People need to know that and you have to be sincere about it–it's not an empty promise. When you've got a small team and you come in and you have responsibility for a system or process–you're gonna have some impact.
BEYOND THE PROCESS: Beyond process improvements, what other changes have you implemented to help modernize the IT department's work environment?
I came to the City of Palo Alto three and a half years ago; I walked into the IT department and I knew it had potential–I really did. I would never have done this if I didn't think we could do great things together. But the environment wasn't necessarily conducive to great work. It was a little dark, a lot of IT were in cubicles and offices–and they weren't really collaborating. So I started to think about–how will we be able to create an environment over time that allows us to work closely together–that is a bright, inviting environment?
I talked to the City Manager and said "What are your thoughts on modernization here?" By the way–the City Hall in Palo Alto had't been really refurbished since the seventies. So, it was time for some improvements. This is where persistence and patience really pays off it–it didn't happen overnight–it took a bit of time. In fact, it took a couple years…where we could really realize a vision for–what does an IT Department physically look like at a City Hall or in a facility at a city? I didn't want cubicles…and sort of a more traditional look…I really wanted to have an environment that reflected the community that we served.
When we would go out and meet at startups, that's what we would see–these big, open environments. People working at their open desks, sitting with each other. They had a lot of technology at their disposal–multiple screens, laptops, tablets, big Smart Boards–well, I was modest in our ambition…I wasn't going spend a lot of money on this but I was going to try to get the right mix. So we really set out to build a really nice physical environment for our IT department.
As we progressed and we were seeing the results of this, I began to think about–how can we push this further? What are we really creating here? And it occurred to me that we were creating a center for civic technology…primarily for us as a team–but for others, too. Others to visit, to work with us. We have this track record now of collaborating with a whole range of stakeholders–some startups, academics and others. Historically it's been quite improvised–we didn't formalize it, and so I felt here we have a physical environment, a destination where people can come, collaborate with us, understand city problems–a place where we can bring in city leaders who are experts on transportation or on energy or sustainability. And so it was born this idea of this Civic Technology Center, [the] CTC.
It was a case where I had to begin to tell that story…and convince the City Manager and convince his colleagues and my colleagues…and my team! Yet another crazy idea from Jonathan about our work…and it takes time. I have to say, the open workspace was not a brisk, today it's a brisk. People love it, they love it.
INNOVATE HERE: During the recruiting process, how can communities work their strengths while also providing realistic expectations for both themselves and the candidate?
Cities aren't necessarily at the forefront of people's imaginations when they think about a great place to innovate…but I'm here to set the record straight. You can apply the best computer science in a city setting. The problems are hard, they're complex–they really impact people's lives on a day-to-day basis. People need to understand what it means to work for a government. We're on the precipice of the development of smart cities. People need to understand that the demands are complex–everything from transportation challenges, and energy challenges, and smart buildings and creating healthy cities. People need to understand this is really interesting…these are tough problems to solve, and you can be part of the solution.
NEGOTIATE RIGHT: During the recruiting process, how can communities work their strengths while also providing realistic expectations for both themselves and the candidate?
It's a number of things–and you have to work hard at it. We don't try to compete on salary–we have some good benefits…the salary's not insignificant–you get paid well. Lastly, and this is really a key point that is missed a lot of cities. You can't be selling the retirement package–to a twenty year old, or even a thirty year old. If you're going to be working in government today making a real difference–and know that there is a lot of temptation, and there's a lot of other things you can do in the marketplace–you ought to be telling people come for five years. Come, make a difference–and then, when you're ready to leave we'll help you. We'll help you move on to the next career. This is very new thinking for government.
KNOW YOUR WORTH: Are communities under-valuing what they can truly offer in terms of demanding, interesting and rewarding work? What can be done?
When I have a person, perhaps later in their career, [interview with me]–and I ask them why are you interested in what we're doing here–and interested in government? And this happens less and less–I've had people come in and say "Well, I want to downsize my career…I don't want to work as hard. I want something that is predictable–and I want the retirement…" That is not really going to work on me–that's not what I'm selling. You're probably at a disadvantage if you come into the interview with some of that sentiment–because you don't realize that this is high performance and this is like working at a startup. This is an area of government we have to radically change–way way beyond Silicon Valley–every city, remember what you're selling to the employee, and tell them–convince them, this is really valuable work.
Supplemental Reading