Beau Bernhoft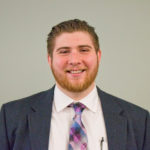 Masters Student & Management Intern, City of Oak Creek
---
Favorite song from 2018:
Simple by Florida Georgia Line
Favorite book from 2018
The Final Day by William Forstchen
Proudest work accomplishment in 2018
As an intern, I did a complete policy analysis for winter parking in the city of Oak Creek, and updated our current policies. These changes have been approved and are affected this winter season.
People who most positively impacted you in 2018
Andrew Vickers, the City Administrator in Oak Creek has mentored me and really taught me as much as he can in the last year. He has been a huge asset for my career and is continuing to help prepare me for my future management position.
New Year's Resolution(s) for 2019
I want to completely get rid of Soda and sugars this year.
Prediction(s) for 2019
I will receive my Masters in May and hopefully begin my career smoothly after!
What question(s) should we ask on the next new member questionnaire?
A good question would be what college did you graduate from?