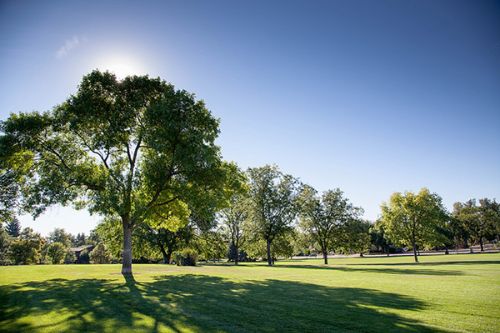 Each year, ELGL honors the "Best Places to Work in Local Government" by sharing the policies and programs that make towns, cities, and counties great places to work. This series showcases our 2021 honorees. View all 2021 award winners here.
---

City of Fort Collins, CO
---
Why they're the best: Work-Life Balance & Benefits

Programs they offer: Remote work policies, Mental health training and a culture of mental health support, Space to chill out, Mentorship/sponsorship/coaching program(s), Innovative health benefits, Walking or active meetings, Sabbaticals or other non-traditional training opportunities, Flexible scheduling
Learn more:
Benefits Philosophy:
We attract and retain exceptional talent by offering meaningful, competitive benefits as part of our overall culture of wellbeing. At the City of Fort Collins, we are differentiated in that we do not provide benefits to achieve retention but enjoy retention because our workforce benefits from working at the City. We recruit highly qualified employees who are innovative, and community conscious. Our benefits program reflects those who work for us and supports them by being life-friendly. What does it mean to be "life-friendly?" It means looking at employees holistically and offering high-quality, relevant programs for every stage of life in a convenient and accessible way. It also means considering our hourly and seasonal employees and bringing them and their families into the fold of services when possible.
Platinum Program – Wellness:
Our Wellness program, charted in 2001, is a well-recognized platinum-level benefit designed to improve the health and well-being of our entire workforce and their families through wellness programming. The City of Fort Collins has three full time employees dedicated to reducing safety and health risk factors, which is progressive of in our industry. As our workforce takes full advantage of the wellness benefits, we have seen a decrease in our health costs. It is a simple formula – as employees become healthier their visits for health-related issues decrease and our costs as an organization decline. For the fifth year in a row, the City of Fort Collins has been recognized as a 2020 Certified Healthy Workplace™ Leader for our commitment to workplace health and safety. This honor was awarded by Health Links™, a nonprofit program of the Center for Health, Work & Environment at the Colorado School of Public Health. This certification level is awarded to organizations that have continually demonstrated the highest level of commitment and dedicated resources to team members and community health and safety. Employees have the option of joining the Well Days Incentive Program, earning points towards a day off or gift card as they participate in Wellness activities.
MINES & Associates:
We recognize the importance of mental health in a life centered approach to overall wellbeing. The City has partnered with MINES & Associates, an Employee Assistance Program, where employees receive 8 counseling sessions per year, classified and hourly, for themselves and each household member. Employees also have access to a free 30-minute legal & financial consultation, work/life referral services, access to online training and tools, and 4 free wellness sessions with professional coaches to set wellness goals.
WorkLife Partnership:
In considering other support an employee may need throughout their life, we have established a relationship with WorkLife Partnership. This resource connects our employees to free confidential support and resources for finding affordable childcare, transportation, budgeting and financial wellness, understanding medical benefits and how to use them, how to find housing, and stress management. This program is available to all City employees.
Lifestyle Management Program:
Employees who participate in the City's medical plan, have access to the Lifestyle Management Program through UMR. This program covers preventative services, such as, registered dieticians, therapeutic massage therapy, acupuncture, and biofeedback.
CityCare:
Employees and their dependents who participate in the City's medical plan have access to our on-site health center, CityCare provided by Marathon health. Our workforce has the convenience of receiving care for common illnesses, acquire basic health assessments, visit with health coaches, and receive access to a portal for personal health information and records.
Care.com:
The City added Care@Work from Care.com this year during the pandemic to provide our employees with additional resources. It includes a subsidized premium membership at a value of $480 per year. It provides unlimited access to find caregivers, tutors, senior caregivers, pet walkers and sitters, housecleaners, errand runners as well as access to other families looking for shared-care arrangements like a Nanny Share or Learning Pod. It is available to all City employees. In addition, backup Care for children and adults is part of the offering. It provides access to in-home or in-center vetted and subsidized care for your children when your regular care is not available. We provide in-home Backup Care for adults or elders for times when regular care isn't available, for rides to doctor appointments, help recovering from surgery, meal prep, and more. Even if an aging loved one lives across the country, we can help.
Family Care Connection:
Family Care Connection is a Colorado-based corporation and has been in business since 1990. They offer experienced, personalized non-medical care for both children and the elderly. Caregivers are available 24/365 to provide care in the convenience of your own home anywhere in the Northern Colorado area. The City of Fort Collins rate is $7 per hour for backup child and elder care with a 4-hour minimum and 100 hours annually. Until further notice, the copay is waived for essential on-site staff.
Retirement Benefits:
The City of Fort Collins offers employees participation in 457 and 401(a) plans. These plans offer investment options to employees that utilize cost-effective share classes, reduction in investment expenses for each fund utilized by the Plan. Nationwide supports our workforce with a full time Retirement Specialist and an annual offering of free webinars and on-demand financial-focused tools.
Financial Wellbeing:
Elevations Credit Union and our retirement recordkeeper Nationwide, offer our employees information, webinars, and one-on-one consultations to help set and meet financial goals.
Mental Health Training/Culture of Mental Health:
During the pandemic, the City began offering HR Check-Ins for Managers and Employees. Topics addressed wellness, and many were focused on mental health. Here is a link to check-ins. – internal only. They are also recorded.
---
Why they're the best: Workforce Development

Programs they offer: Succession planning, Welcoming employee orientation program, Organizational structure, Cross training opportunities, Innovative performance management policies, Radical transparency in decision making
Learn more:
Talent Development
Talent Development exists to support, grow and develop employees – so they can deliver on the organization's priorities of providing exceptional service to an exceptional community. Investment in our workforce matters! As our community evolves, our organization needs to evolve, too,thus, our ability to adjust to dynamic conditions requires a learning culture. Talent Development enables our learning culture by offering and supporting a variety of programs and services to inform, develop, engage and grow your capabilities – with the goal of unleashing individual passions, talents, and commitment to co-create our community. Our programs target the life-cycle of the employee, from hire to retire, thus from onboarding to volunteering. Employees will find personal and professional skill development, managerial and leadership development, career exploration, team building and performance support and coaching, mentoring, and volunteer opportunities.
Mentoring Program:
For employees interested in growing and connecting with a mentor or mentee and for peer-to-peer mentoring. The program runs March – October. Created in 2016, the Mentoring Program was founded to be an inclusive program for all City employees to:

Connect co-workers across City departments
Teach staff about our organization
Provide growth opportunities
Breakdown department barriers

Flexible Scheduling and Agile Policies:
Temporary Teleworking Policy enacted 7/15/2020 – By reason of the continued threat by COVID-19 (Novel Coronavirus 2019)and executive orders recommending employees to work virtually, and the potential of alternative school schedules in the fall, the City continuedits temporary Teleworking Personnel Policy. This ensures employees have enough time to support their children's learning and development and other parental responsibilities, and time to care for other individuals in the household and live outside of the home. The teleworker may adjust scheduled work hours to allow for caretaking and educational responsibilities. Work is currently being done on developing an ongoingTeleworking Policy to adjust to the new work environment.

Temporary Reassignment of Work Duties Policy – The temporary Reassignment of Duties policy is necessary due to pandemic-related closures or reduced services in certain departments. The policy will allow us to continue services needed in the community with employees whose current position does not require their regular hours, and their skills or experience are a match.

Quarterly Performance Assessments (QPA) – The QPA process links employees work and contributions to the City's long-term success and strategic goals. These frequent reviews are intended to be short discussions that last about 30 minutes, focusing on the results of the quarter, strengths demonstrated by the employee this quarter, provide constructive feedback to allow for timely course corrections, offer learning that has taken place over the quarter, discuss the next quarter's goals and objectives, and finally explore what is next for the employee's contribution and growth. Each quarter employees and managers reflect on the previous 90 days and anticipate the next 90 days, with respect to individual, team and City goals.

All Manager's Meetings – occurs 2x per year (spring and fall). Opportunity to learn, share, network for leaders – also hear from ELT.
Career Development – As a learning organization, the City of Fort Collins is dedicated to your career growth and wants to help you achieve greater levels of satisfaction, contribution, and success – components of engagement and career resiliency. CareerWOW! is a self-paced tool that will help you establish career goals that may lead to career growth and success.
Leadership Link – Meet virtually bi-monthly to:

Ensure organizational alignment for successful implementation of initiatives, programs and decisions:
Offer personal and professional learning and knowledge transfer with peers;
Provide networking opportunities for members

Leading at the City – put on hold for 2021 – Targets all leaders, specifically upper-level managers and department directors. This six-month program is designed to accelerate key leadership expectations through the means of assessments, high-impact curriculum, and coaching to strengthen best-in-class leadership.
Managing at the City – This program targets all newly hired and promoted leaders, who direct the work of other employees in the organization, including current leaders. This 10-week virtual program is designed to provide clear expectations for the role and accountabilities of people-manager in our organization; build capabilities and focus on enhancing skills necessary to translate the organizational strategic plan into team and individual objectives in order to deliver results. Managing At The City is required within the first six months of an employee's new leadership role.
Coaches, Facilitators, and Trainers – These resources are designed to support managers and their teams. Managers and their teams are on the front lines every day working through issues like never before. For many, there is an overwhelming feeling because so much work needs to be done and there is not enough time in the day to develop and support team members and provide self-care. Many have asked . . . who can help me and where do I start? The resources listed are meant to equip managers and their teams with consultation, coaching, facilitation, and training to bolster the resiliency of the team so each member can cope with whatever the situation demands of them.
---
Why they're the best: Employee Engagement

Programs they offer: Creative engagement policies (e.g. employee-driven programs and events), "Dedicated space for employees (out of the public, for lunch, relaxing, meetings, etc.)", Awesome internal communications strategies, Employee recognition, Employee health and wellness focus – and investment, Innovation teams and cross-departmental teams/trainings/focus
Learn more:
Employee Engagement Programming
Listening Sessions with a licensed counselor from MINES & Associates 2021 – open to all employees – launched after mass shooting in Boulder. During the pandemic, we started offering HR Check-Ins for Managers and Employees. Topics addressed wellness, and many were focused on mental health.
Inclusive Benefits & Language
Benefits are available to benefit-eligible employees and recognize marriage, domestic partnership, and common law relationships. Our Plans include transgender medical benefits as well. All personnel policies are being updated and inclusive language added.
Nursing Employees
The City has a dedicated space for nursing employees on site and recently updated policy language to be inclusive of all nursing employees.
Updated EEO Policy
The update includes language that allows customers and employees to use restrooms and facilities that align with their gender identity.
Baby Bonding Policy
Updated to recognize both birth parent and partner.
Employee formal and informal Recognition Programs
World Class People
Thank you Board
---
Why they're the best: Recruitment

Programs they offer: Creative recruitment (e.g. using social media and other digital tools, or holistic and values-based evaluation of candidates)
Learn more:
The City uses a variety of ways to attract new talent including:

Career fairs
Targeted posting promotion (Job boards, associations and affinity groups)
Social media (LinkedIn, Facebook, Twitter, Instagram)
Third-party recruitment support

Engagement:

For executive level recruitments, the City will engage the community and workforce for input using in-person, remote and online engagement forums and tools. One current example can be found at:https://ourcity.fcgov.com/csdirector

Materials:
Improvements:
Work is underway to create an inclusive recruitment guide. The project began with employee focus groups and work will continue into 2021."
---
Special thanks to Amanda King, Communications Director for this information. Please contact Amanda to learn more about Fort Collins, CO: