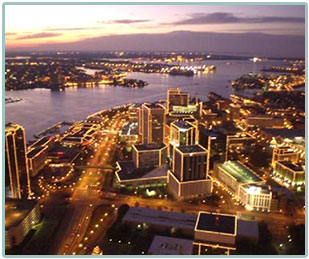 Each year, ELGL honors the "Best Places to Work in Local Government" by sharing the policies and programs that make towns, cities, and counties great places to work. This series showcases our 2021 honorees. View all 2021 award winners here.
---

City of Norfolk, VA
---
Why they're the best: Work-Life Balance & Benefits

Programs they offer: Floating holidays, Mental health training and a culture of mental health support
Learn more:
Sure, we get the standard accrued personal leave and sick leave, but I appreciate the birthday leave and diversity leave days that we receive every year. These are two days that you can use any time of the year for any reason you want. I appreciate the city of Norfolk for recognizing diversity and creating days for a person to celebrate as they choose. Another holiday to celebrate is the addition of Juneteenth. Norfolk was one of very few local governments in the Commonwealth of Virginia to make this an official holiday in 2020. But of course, we like to be trend setters.
As for mental well-being, I give a high-five to the city for encouraging employees to take advantage of the resources. Along with having an EAP (Employee Assistance Program) that offers free counseling sessions for an array of needs, both personal and professional, there are several work-life resources. Life happens, and we have needs outside of work. If you're looking for a place to rent, need reliable child care, or your vehicle is on the fritz, you don't have to figure this out on your own. If you're new to the city and already overwhelmed by relocating to a new place, this is a welcome resource. And the one thing I absolutely appreciate is the Wellness Credit that allows me and other employees to save $120 on our healthcare premiums by engaging in easy efforts. Who doesn't like saving money?
When the pandemic caused many of us to shift from in-office work to work from home, resources and courses were offered to help with the unexpected transition. As a mom managing work and trying to figure how to help her son stay focused on virtual learning, the wellness emails were welcomed. Focusing on me during whole-self Wednesday was a reminder that "girl, you've got this." The city of Norfolk is concerned and committed to mentally and physically healthy employees. It shows in the financial investment and the physical actions.
A fun visual of how people were coping during the pandemic is reflected in a video created by Jason Somma, our former Artist-in-Residence.
Resources:
---
Why they're the best: Employee Engagement

Programs they offer: Creative engagement policies (e.g. employee-driven programs and events), Employee health and wellness focus – and investment, Employee recognition
Learn more:
The City of Norfolk deserves a shout out for the MANY employee engagement opportunities. I've been with the city since 2011 and I try to participate in as many events as I can. This is not an exhaustive list but it's a healthy reflection of the ways employees comes together for fun, for the collective good, and to make impacts across the city that go beyond us doing our everyday jobs.
Volunteer hours provided to employees to spend time engaging with students in Norfolk Public Schools
Holiday Door Decorating- an opportunity to show the talent and creativity during the winter holidays
Game night at Harbor Park- we get to eat a few hotdogs, and cheer every time the Norfolk Tides has a home run
Annual employee cookout- no matter whether it's at Lakewood Park or the Virginia Zoo, we're sure to enjoy the BBQ and each other
Team building activities like the Keep Norfolk Beautiful scavenger hunt. The bonus is we're also promoting environmental cleanliness
Every year we have an opportunity to participate in a Day of Giving. Employees from across the city can form teams and volunteer in a number of locations across the city. Not only does this reflect a 'we over me' attitude, it just feels good. Our city leadership supports this and gives employees an opportunity to serve in a way that's different from what we normally do.
Every year we recognize Public Service Week. It makes me feel good to know that I work with so many amazing people who are committed to the work of serving Norfolk citizens.
Something pretty cool that was started a few years ago was the Gainsharing initiative. Similar to Shark Tank, this is an opportunity for employees to pitch ideas that results in efficiencies and cost savings. The employees whose ideas are selected may receive a 10% cut of the cost savings.
The annual wellness fair- we can take a break from our day-to-day operations and stop by Harbor Park to talk with wellness exhibitors, maybe a quick wellness check-up or a chance to win a prize by participating in a health quiz or two. This outside event allows us to connect with employees from other departments, focus on our health, and take in the sun on a warm spring day.
Resources: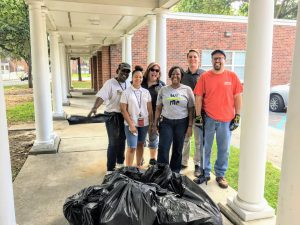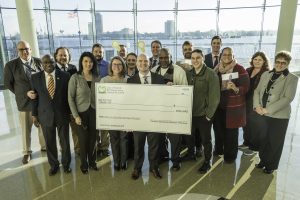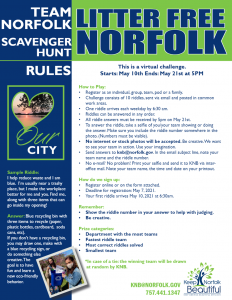 ---
Special thanks to Oneiceia Howard, Divsion Head, Department of Neighborhood Development and James Rogers, Deputy City Manager, for these nominations. Contact them to learn more about the City of Norfolk, VA: